OAE Early Childhood Education Exam (012)
As you prepare to take the Ohio Assessments for Educators (OAE) Early Childhood Education (012) exam, we've put together this article with information and resources. You'll learn details about exam registration, testing fees, items to bring and not to bring on the day of the test, types of content that will be covered on the exam, other available resources, and more.
Check Out Mometrix's OAE Printed Study Guide
Get practice questions, video tutorials, and detailed study lessons
Get Your Study Guide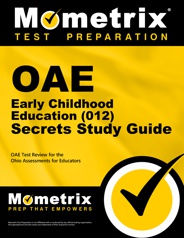 Exam Purpose and Background
The OAE Early Childhood Education (012) exam is designed as a tool to assist the State Board of Education of Ohio and the Ohio Department of Education to boost performance of students and prepare them for college and success as early childhood level educators.
Registration
You can register for the OAE Early Childhood Education (012) exam online at www.oh.nesinc.com.
Costs/Payment Options
The fee for the OAE Early Childhood Education (012) exam is $105. The fee can be paid with a VISA® or MasterCard® branded credit card, debit card or check card. Note: You won't be able to use a bank card that doesn't carry either a VISA® or MasterCard® logo to pay your exam fee.
Times/Locations
You'll learn more about the options you have for testing locations and times when you register online.
When to Arrive
It's a good idea to plan on arriving 30 minutes prior to your testing time to make sure you're set when your testing time commences.
Test Duration:
You'll have three hours to complete the OAE Early Childhood Education (012) exam.
What to Bring:
You'll need to bring one form of original, government-issued identification printed in English that shows your name, photograph and signature. Note: Copies aren't accepted, and it's very important that your name on your ID matches your registration materials.
What Not to Bring:
Electronic devices, including cell phones, recording devices, eyeglasses that have the capability to record or transmit information, any kind of cameras, any type of watch and calculators
Personal items, including coats, bags, wallets and purses
Headwear (other than for medical or religious reasons)
Writing instruments of any kind, including highlighters
Paper, notes or books
Any kind of food or drink
Medical devices (unless those approved in advance)
Tobacco or tobacco products
Weapons of any type
What to Expect During Your Exam
Format/Number of Questions: This OAE Early Childhood Education (012) test will be taken using a computer and consists of 150 multiple-choice questions.
Content Domains
The OAE Early Childhood Education (012) exam consists of four content domains. Here's an overview of each domain, including the approximate percentage each area represents as part of the overall exam.
Domain 1: Child Development and Learning (21%) — Assesses knowledge of early development beginning at birth through age 8, along with elements that have an impact on the way young children learn and develop. In addition, this part of the exam looks at assessment uses, types, benefits and goals. Also, there's a review of what it takes to maintain favorable outdoor and indoor environments for learning.
Domain 2: Language and Literacy Development (29%) — Reviews knowledge and concepts in language development and developing speaking and listening skills for young children. This portion also assesses knowledge of literacy development, as well as reading and reading comprehension, and strategies and concepts in creating writing competence among young children.
Domain 3: Learning Across the Curriculum (36%) — Looks at a variety of curriculum elements, such as enhancing learning in areas such as visual arts, creative movement, dance, drama and music. This area also reviews the facilitation of safety, health and participation in physical activities. In addition, this section will cover concepts such as mathematical skills, processes and concepts, social studies curriculum elements, and topics related to the various areas of science.
Domain 4: Professional Relationships and Responsibilities (14%) — This portion of the exam reviews building solid, collaborative bonds with families, agencies, organizations and professionals. This section also includes a review of early childhood education roles and responsibilities.
Passing Score:
The score needed to pass the OAE Early Childhood Education (012) exam is 220 points.
Check Out Mometrix's OAE Flashcards
Get complex subjects broken down into easily understandable concepts
Get Your Flashcards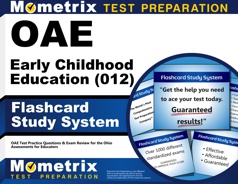 Additional Resources
As you prepare for the OAE Early Childhood Education (012) exam, there are other important resources available to you with Mometrix Academy. For a fee, you'll have access to the OAE Early Childhood Education (012) exam Study Guide, including exam preparation details and informative videos. You'll also be able to access a set of flashcards that will help you test your knowledge and boost your recall.
OAE Early Childhood Education Study Guide
Mometrix Academy is a completely free OAE test resource provided by Mometrix Test Preparation. If you find benefit from our efforts here, check out our premium quality OAE Study Guide and OAE Flash Cards to take your studying to the next level. Just click the OAE study guide link below. Your purchase also helps us make even more great, free test content for test-takers.
OAE Early Childhood Education Study Guide
OAE Early Childhood Education Flashcards