AEPA Theatre Test
Arizona educators are required to demonstrate subject mastery by taking the Arizona Educator Proficiency Assessments (AEPA) as determined by the State Board for Educator Certification (SBEC). The AEPA series of tests is a group of examinations that prove that Arizona educators have the necessary knowledge to teach students in the Arizona public school system.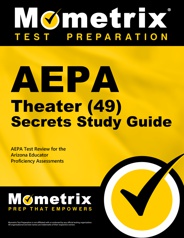 The AEPA Theater Study Guide will prepare you for the 100 selected-response questions on your AEPA Theater Examination, which will assess the general and specific teaching skills needed to become a certified Arizona educator. The AEPA Theater Practice Test will prepare you for the different sections of the test. The practice questions will introduce you to the nature of the questions that you will be answering when you take your official test.
It will also be helpful for you to gather additional resource materials, such as your college textbooks, to help you prepare for your test. The Educational Testing Service administers the tests at an official testing center. Plan for 2 ½ hours to take your test, which will consist of 100 selected-response questions. About 37% of the questions cover Playwriting, Performance, and Direction of Dramatic Works. This section includes questions on the principles of playwriting and dramatic structure, principles of acting, and principles of directing.
You will also see about 19% of the questions on Design, Production, and Management of Dramatic Works. This portion of the test covers information on the principles of producing and managing theatrical performances, and set, costume, and lighting design and execution. One of the other objectives of the Theater test covers Theater History and Dramatic Literature.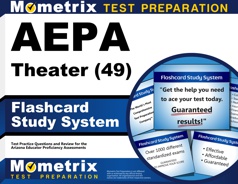 Expect to see about 31% of the questions on the history of drama and theater, British and other European dramatic literature from ancient times through the present, dramatic literature of the United States, and dramatic literature from other cultural traditions. There will also be a small section of about 13% of the test on Theater Education. These questions will cover theater education for children and adolescents and the interdisciplinary nature of theater. A passing score of 240 will award your certification in Theater.
AEPA Theatre Practice Test
Mometrix Academy is a completely free resource provided by Mometrix Test Preparation. If you find benefit from our efforts here, check out our premium quality AEPA Theatre study guide to take your studying to the next level. Just click the AEPA Theatre study guide link below. Your purchase also helps us make even more great, free content for test-takers.