AEPA Dance Practice Test
Prospective Teachers who want to teach Dance in Arizona will need to become certified by taking the AEPA Dance Examination. The Arizona State Board of Education adopted rules for educators that apply for state certification. Those rules require that teaching candidates pass a test of professional knowledge. AEPA tests ensure that Arizona teachers are knowledgeable and have mastered the subject matter, so that they are appropriately equipped to teach students.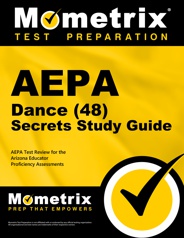 The questions for this test were written with input from Arizona educators, the ADE, and applicable Arizona standards. Arizona review committees approved the content of the test items. Test-takers should be prepared to take an AEPA Dance Examination of 100 selected-response questions using a computer-based format. To adequately prepare for your test, it will help you to know that 36% of the test will cover Dance Elements, Concepts, and Skills. About 23% of the questions cover Creating and Analyzing Dance. Expect to see about 18% of the questions on the History and Roles of Dance. Finally, questions on Dance Education make up about 23% of the questions. The AEPA Dance Practice Test and AEPA Dance Study Guide will help you to prepare for your exam.
You will be able to take the test all year round, but be aware that testing seats are offered on a first-come, first-served basis. You will have 2 ½ hours to take your test, so be sure to give yourself plenty of time on the day of the test so you can do well, and won't feel rushed. Test-takers who achieve a score of 240 will pass the test and become a certified teacher. You will be able to check your test score within 1-4 weeks from your testing date to see if you passed. Your score will be sent to the email address that you provided at the time of your exam registration. Test-takers who achieve a score of 240 will pass the test and become a certified teacher. Mometrix has committed their time and efforts into making sure that our AEPA Dance Practice Test will cover the test topics thoroughly, and prepare you for your test day.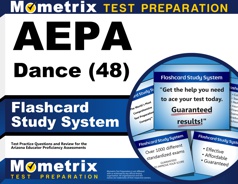 AEPA Dance Practice Test
Mometrix Academy is a completely free resource provided by Mometrix Test Preparation. If you find benefit from our efforts here, check out our premium quality AEPA Dance study guide to take your studying to the next level. Just click the AEPA Dance study guide link below. Your purchase also helps us make even more great, free content for test-takers.