– The pass rate for the ANCC FNP certification exam in 2018 was 86.2%.
– The occupation of Family Nurse Practitioner is the most popular specialized nursing role.
– The cost to take the ANCC FNP exam is $295 for ANA members, $395 for non-members; $340 for AANP members, $290 for AANP student members.
Many nurses choose to specialize during their career and some of those nurses choose to specialize as a nurse practitioner. The nurse practitioner profession covers a wide range of specialties including Family Nurse Practitioner.
A Family Nurse Practitioner, or FNP, is a registered nurse who has received specialized clinical and educational training that is necessary to practice in family-focused care. They work with patients of all ages to diagnose medical conditions, treat illness, prescribe medications, and maintain health over the lifetime.
The ANCC FNP exam is designed and offered by the American Nurses Credentialing Center (ANCC).
If you're one of the many nurses who want to specialize as a family nurse practitioner, you'll need to take and pass the FNP exam to earn your specialized certification.
Taking any exam can be overwhelming, but before you become too overwhelmed, we have compiled a list of tips and tricks to help you feel better prepared when it comes time to take your FNP certification exam.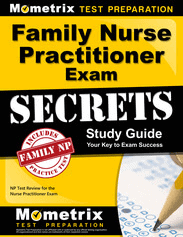 1.ANCC FNP Study Guide
One of your best assets for preparing for any exam, including the FNP Certification exam, is a study guide. Using a study guide that is specifically geared towards the FNP exam can help you focus on the details of the exam. Using a study guide to prepare for the FNP certification exam helps you to dig deeper into key concepts such as pharmacological therapies.
2. Understand the ANCC FNP Exam Content
You know that you'll read, study with a study guide and other materials to help you prepare for the FNP exam, but you may not have thought about learning the content of the actual exam, such as the format. Learning more about the FNP exam can give you a better idea as to what type of questions you'll be given, how many questions, and how many sections are on the exam.
Here are a few things you need to know about the FNP Certification exam:
The total time to take the FNP Certification exam is 4 hours which includes check-in, instructions, and a practice session on the computer. The actual time allowed for the exam is 3.5 hours.
There are 175 questions on the FNP exam. Of those 175 questions, 25 are pretest questions.
There are four domains included on the FNP Certification exam.
ANCC Certification Exams Study Guide
3. Create a Study Plan
Plan to start studying for the FNP exam about six months prior to taking your exam. Starting 6 months in advance will allow you to make sure that you're completely prepared for the exam. Sit down with your calendar and develop a study schedule. Try to plan to study 2 to 3 hours a day 5 to 6 days a week. During the times that you schedule yourself to sit and study, plan out ahead of time which areas of the exam you're going to work on for that day. Give yourself a day off from studying so you don't start to feel overwhelmed or burnt out.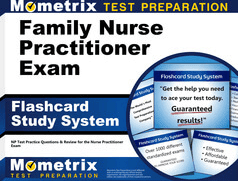 4. ANCC FNP Flashcards
The best way to retain information for a longer period of time is to study with FNP flashcards. They help you engage what's called active recall which teaches your brain to remember a term, process, or concept without context clues. They also allow you to repeat the act of learning and memorizing the term or concept. Using flashcards to prepare for the FNP exam can also allow you to study without becoming overwhelmed. They give you the chance to look at one concept at a time.
5. Know the ANCC FNP Domain Areas
There are four domain areas of the FNP exam.
Foundations for Advanced Practice
Contains 64 questions-37% of the total exam
Advanced physiology/pathophysiology across the life span
Advanced pharmacology for treating patients across the life span
Advanced health/physical assessment across the life span
Clinical prevention and population health for improvement of outcomes
Research methodology
Informatics
Professional Practice
Contains 30 questions-17% of the total exam
Leadership, advocacy, and inter-professional collaboration
Quality improvement and safety
Healthcare economics, policy, and organizational practices
Scope and standards of practice
Independent Practice
Contains 81 questions-46% of the total exam
Health promotion and maintenance across the life-span
Illness and disease management
Care of diverse populations
Translational science/evidence-based practice
Advanced diagnostic reasoning/critical thinking
Nurse Practitioner Certifications
6. Be Prepared to Mentally Change Gears
Part of being completely prepared for the FNP exam is understanding the scope of information. You'll need to be able to answer questions about Gerontological Issues and Pediatrics, and then immediately switch back to other topics that you answered before. Changing gears mentally from one subject to the next and then back is something that you'll need to learn before taking the FNP exam.
7. FNP Practice Questions
Practice makes perfect. Taking as many practice exams as you can prior to taking the actual ANCC FNP exam can dramatically increase your chances of getting a higher score. This is because with practice tests, you're able to see which areas you're doing well in and which areas you're not doing so well in. Taking practice tests can also help you build up the stamina you need in order to complete the 4-hour exam!
8. FNP Online Prep Course
Check out the Mometrix University FNP Prep Course for additional, in-depth review. The course includes three full-length practice tests, 50+ review videos, 760 flashcards, and 89 study guide lessons.