Ambulatory Care Practice Test
To gain the ANCC Ambulatory Care Nursing credential, you will need to complete and pass the Ambulatory Care Nursing exam. The ANCC credential shows that the applicant shows knowledge and skill in a clinical domain of practice by excel in given standards.
It is very important to get a head start on studying and preparation for this test, so be sure to check out our Ambulatory Care Nursing practice test to make sure you are ready to succeed on the test! Another key to success on the exam is to understand rules of the test. Be sure to check out our free Ambulatory Care Nursing practice test as well as some questions in our question bank below!

Firstly, this exam is offered as a computer-based assessment with multiple-choice questions.
In total, an applicant will have a test with between 150 and 175 scored questions with 25 pilot test items. These pilot items are not scored and are used for further development of the exam.
The scoring of these questions is based on a scale with a maximum score of 500 and a passing score of 350 or higher. Results are offered to test-takers on-site after the exam. The time limit for most tests is 3 1/2 hours. However, the total time you will spend during the test process at a test center is about 4 hours. Now that you are prepared with the rules for your test, be sure that you are prepared for any question you could encounter!
Ambulatory Care Nurse Prep Course
If you want to be fully prepared, Mometrix offers an online Ambulatory Care Nurse Prep Course. The course is designed to provide you with any and every resource you might want while studying. The Ambulatory Care Nurse Course includes:
Review Lessons Covering All the Topics
600+ Ambulatory Care Nurse Practice Questions
More than 300 Electronic Flashcards
Over 70 Instructional Videos
Money-back Guarantee
Free Mobile Access
and More!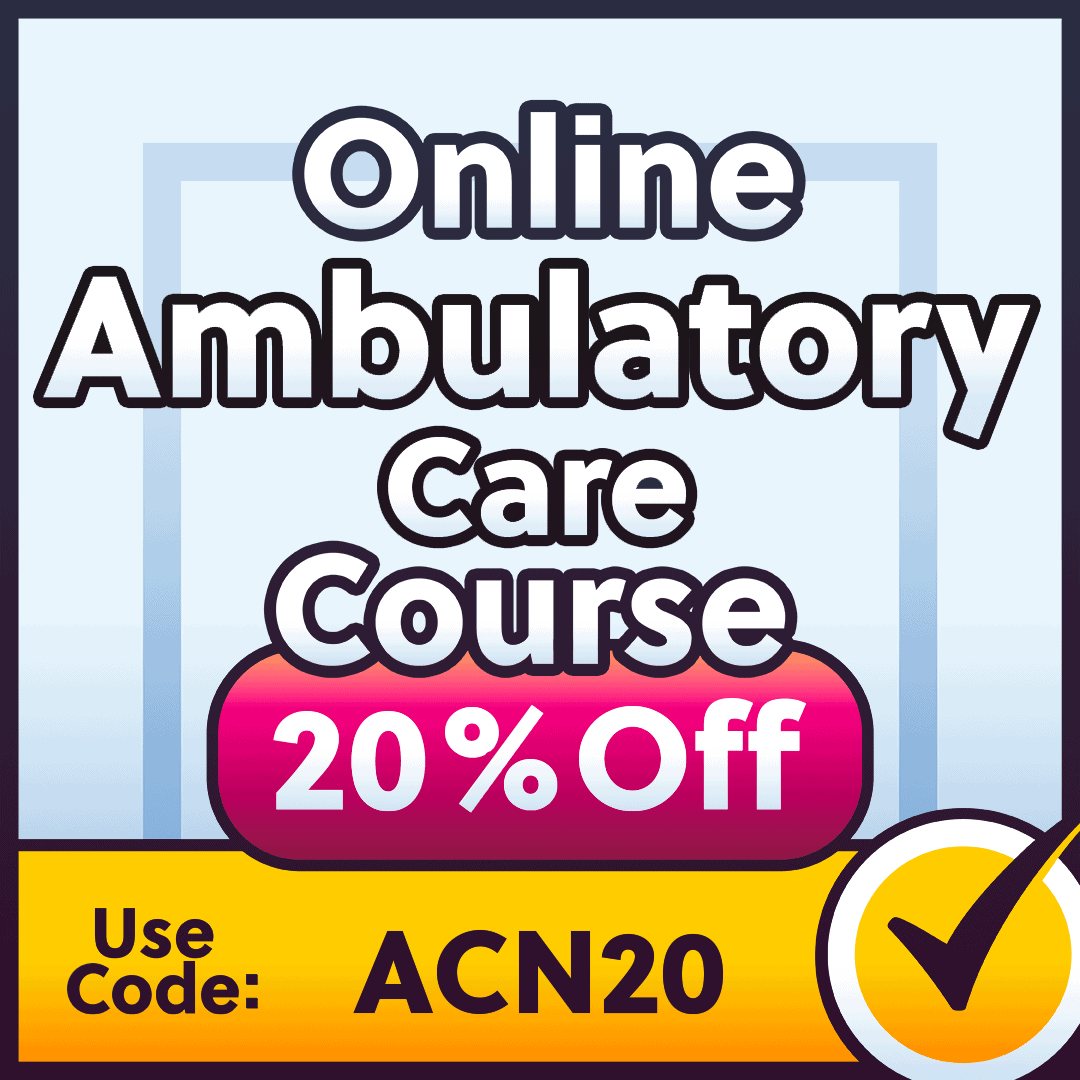 The Ambulatory Care Nurse Prep Course is designed to help any learner get everything they need to prepare for their Ambulatory Care Nurse exam; click below to check it out.
Mometrix Academy is a completely free resource provided by Mometrix Test Preparation. If you find benefit from our efforts here, check out our premium quality Ambulatory Care study guide to take your studying to the next level. Just click the Ambulatory Care study guide link below. Your purchase also helps us make even more great, free content for test-takers.
Check out Mometrix's Ambulatory Care Study Guide
Get practice questions, video tutorials, and detailed study lessons
Get Your Study Guide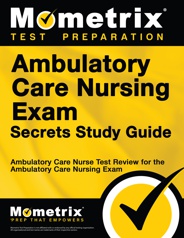 Upgrade your studying with our Ambulatory Care study guide and flashcards:
Ambulatory Care Study Guide
Ambulatory Care Flashcards
Ambulatory Care Online Course
Ambulatory Care Study Guide Customer Success Stories
Our customers love the tutorial videos from Mometrix Academy that we have incorporated into our Ambulatory Care study guide. The Ambulatory Care study guide reviews below are examples of customer experiences.
I thought this was a very good study guide and nice for review in general. I have worked in Primary Care for 16 years and some of this information was a great refresher. Easy to read.
Ambulatory Care Study Guide – Kam
This is a very comprehensive reviewer study guide, no frills/strings and direct to the point with the aim of passing the test, which is what I want. It was made for quick study guide with all important info in there. This is a time saver reviewer book. If you aim to pass the test THIS IS THE BOOK, this is what it was designed for. This book highlight things that more likely to come out of the test. I highly recommend this book for first-time test taker.
Ambulatory Care Study Guide – Jay
This book was easy to use and has a lot of good information. It is structured for easy review of what you will need to pass the exam. I passed on the first try after using this review. I was very satisfied with this book.
Ambulatory Care Study Guide – Ray
I am using this study guide to review for the Ambulatory Nursing Certification Exam and have found it to be very useful. I find it to be easy to study from as the text is grouped in paragraphs of disease/ condition.
Ambulatory Care Study Guide – Customer
I have been an Ambulatory Care Nurse since year 2005. This product provides a good, well rounded assessment of my knowledge. It has helped me to identify areas that I need to brush up on. It provides outstanding tips to prepare for my big day.
Ambulatory Care Study Guide – Tammy
I like the contents of the book. Not hard to understand. I think it is good to focus on what is pertinent so your mind can be refreshed when you are ready to take the certification test.
Ambulatory Care Study Guide – Customer
Products are exactly what I was looking for and they are filled with the information I need for the Ambulatory Care Nursing exam. The study guide has so much information and tips. Extremely happy with my purchase!
Ambulatory Care Study Guide – Allie
I have been in nursing 30 years and have transitioned from Women's Service in a hospital setting (Labor room, Postpartum, Antepartum and Nursery) to OB/GYN office. I was a little apprehensive about taking the certification and went on-line to see what to do for preparation and read all the good information and reviews about your product. So, I ordered it and ready do think that I am not going to take a prep class. I have all the information I need from the study guide.
Ambulatory Care Study Guide – Customer
This guide helped me organize my study time and make the most of it. I was overwhelmed with all of the material to prepare for the test until ordering this guide. It's extremely helpful in preparing for the test!
Ambulatory Care Study Guide – Trayce
What I really like about the product is that it is a concise outline of everything that will be covered on the exam. Easy to read, well organized by sections. Lets you know what you need to study in more detail.
Ambulatory Care Study Guide – Customer
This study guide is great! It covers all areas of ambulatory nursing with numerous practice questions and answers with explanations. Thanks for the help!
Ambulatory Care Study Guide – Kathy
I have found this book to be very helpful as the information inside this book focuses on the key information. I have learned new information that I have found useful when working in the ambulatory care setting. I am preparing to take the certification exam in 6 months and I think this book is a great resource to use as a review!
Ambulatory Care Study Guide – Kay