The American Nurses Credentialing Center (ANCC) administers the Medical-Surgical Nurse exam, which is a competency-based exam that offers a valid and reliable assessment of the entry-level clinical knowledge and skills of registered nurses in the medical-surgical specialty.
Click "Start Test" above to take a free Medical-Surgical Nurse practice test!
What is Medical-Surgical Nursing?
Medical-surgical nurses play an important role in the care of patients who are preparing for or recovering from surgery. They have extensive knowledge of a variety of medical conditions and are experts in their field.
Medical-surgical nurses working in the surgical units in hospitals generally perform their duties in a faster-paced environment due to the high number of patients and the intense nature of the work. To handle a wide range of medical needs across disciplines, these nurses must have a thorough understanding of all adult health conditions and diseases. They are leaders in the coordination of care among the interprofessional healthcare team and possess advanced organizational, prioritization, assessment, and communication skills.
The majority of healthcare professionals prefer to work in medical-surgical nursing, making it one of the most popular nursing specialties in the United States. Competencies are broad and include a wide range of knowledge, skills, abilities, and other characteristics. Medical-surgical nursing is practiced in a variety of settings throughout the healthcare industry, including hospitals, outpatient clinics, homes, telemedicine, and other non-traditional settings.
Medical-Surgical Nurse Exam Eligibility
If you currently hold an active Registered Nurse (RN) license in a US state or territory, or the professional, legal equivalent in another nation, you are qualified to take the exam.
You must also have completed at least 2,000 hours of clinical practice in the specialty area of medical-surgical nursing within the previous three years, as well as the equivalent of two years of full-time practice as a registered nurse. Additionally, you must have completed 30 hours of medical-surgical nursing continuing education within the three previous years.
Medical-Surgical Nurse Exam Outline
The Medical-Surgical Nurse exam contains 150 multiple-choice questions, 25 of which are unscored, and you are given a time limit of 3 hours. The unscored questions, which are unmarked and mixed in with the scored questions, are "pretest" questions that are used to evaluate the quality of questions for future exams.
The exam is split into three content domains, and the questions in each domain are split into two categories: Skills and Knowledge.
I. Assessment and Diagnosis (52 questions)
The Skills questions will evaluate your ability to do the following:
Collect health history
Perform physical assessments
Perform psychosocial assessments
Perform cognitive assessments
Obtain diagnostic and lab testing
Perform nursing diagnosis identification and prioritization
The Knowledge questions will evaluate your understanding of fluids and electrolytes.
II. Planning, Implementation, and Evaluation (58 questions)
The Skills questions will evaluate your ability to do the following:
Plan nursing care
Manage and prevent postoperative complications
Teach patients
The Knowledge questions will evaluate your understanding of the following:
Education topics (self-management, acute and chronic conditions, etc.)
Patient safety measures
Non-pharmacologic treatments
Medication interactions and adverse effects
Health and wellness promotion
III. Professional Role (15 questions)
The Skills questions will evaluate your therapeutic communication abilities, and the Knowledge questions will evaluate your understanding of nursing ethics.
Check out Mometrix's Medical Surgical Nurse Study Guide
Get practice questions, video tutorials, and detailed study lessons
Get Your Study Guide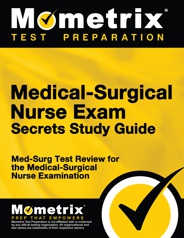 Medical-Surgical Nurse Exam Registration
To register for the exam, you must first create an ANCC account online. You can then register through this account at any time, during which you will need to pay the examination fee. The fee is $295 for ANA members and $395 for non-members.
After you complete the exam registration, you will receive a confirmation email containing a receipt and information on how to schedule your exam date.
Once your request to schedule your exam has been approved, you will receive your authorization to test (ATT) in a second email. The medical-surgical nurse exam must be taken within the next 90 days.
Remote Testing
You may choose to take the exam remotely. If you choose this method, you must ensure that you are able to meet all of the system requirements:
You must have a laptop or desktop computer that runs Windows 8.1 or higher or MacOS 10.13 or higher (note that MacOS 13.0 Ventura and higher is not currently supported).
The screen resolution on your computer must be at least 1024 x 768 (1920 x 1080 is recommended).
You must have functioning speakers and a microphone, whether internal or external.
You must have a reliable internet connection.
Test Day
You should arrive at the testing center 30 minutes before your exam is scheduled to begin. Once you arrive, you will be asked to provide a form of valid, government-issued identification that contains a photo. If you fail to bring your ID or your ID is expired, you will not be permitted to sit for the exam.
Once your identification is approved, you will be asked to sign in via the test center log book, and your fingerprint will likely be captured. You will also be asked to place all personal items (cell phone, bag, hat, books, pencils, food, etc.) in an assigned secure locker.
Once you enter the testing room, you will be given a small dry-erase board with a marker and eraser to take notes with.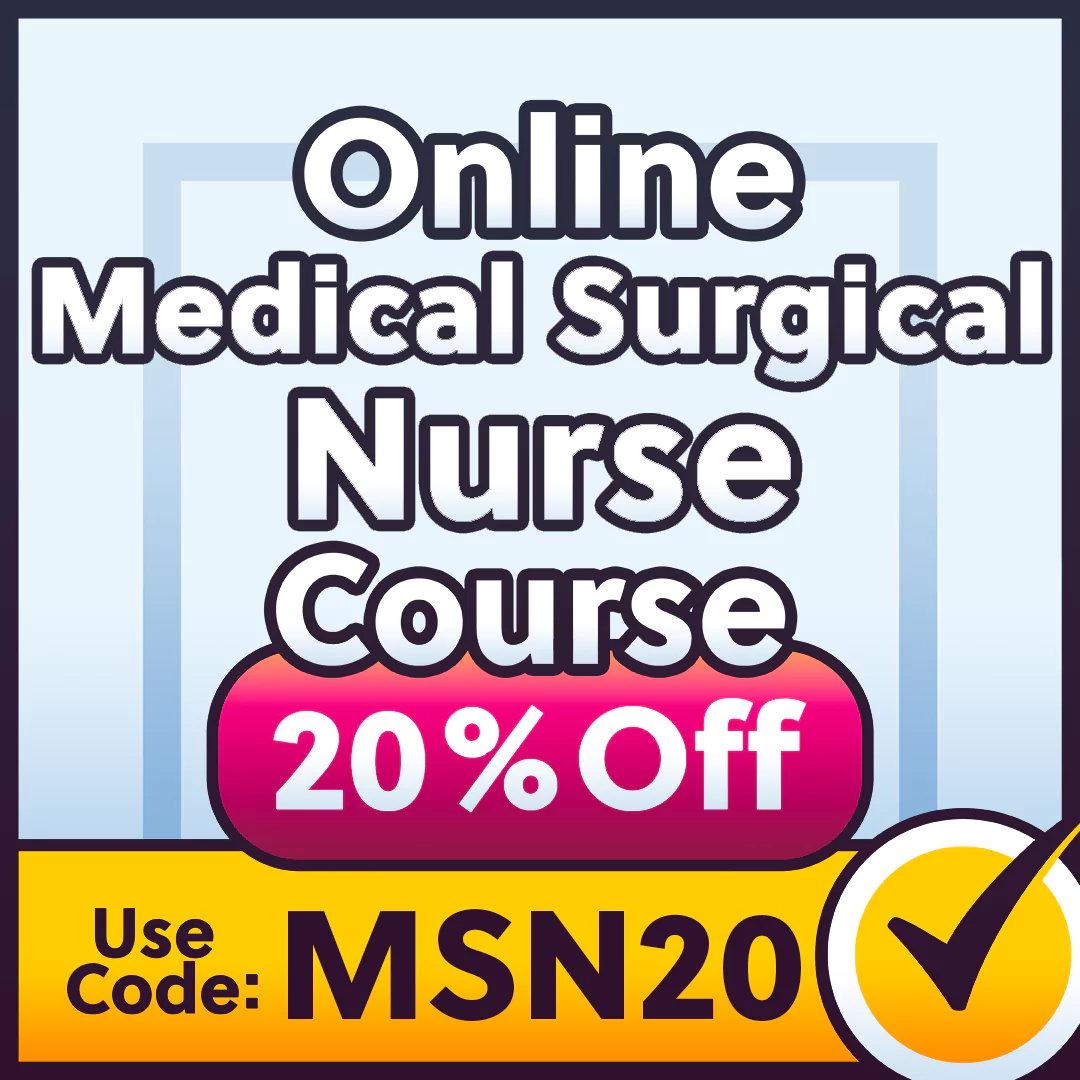 How the Exam is Scored
The results are reported as scaled scores. A scaled score is calculated based on the number of correctly answered questions, also known as a "raw score." The process is comparable to changing a weight from pounds to kilograms—the weight is the same, but the scales are different. The reason for converting the raw scores into scaled scores is to allow direct comparison between years and tests. To pass, you must achieve a minimum scaled score of 350.
Online Medical-Surgical Nurse Prep Course
If you want to be fully prepared, Mometrix offers an online Medical-Surgical Nurse prep course. The course is designed to provide you with any and every resource you might want while studying. The course includes:
115 Lessons Covering Every Topic
Over 900 TEAS Practice Questions
90+ Video Tutorials
350 Electronic Flashcards
Money-back Guarantee
Easy Mobile Access
and More!
The Medical-Surgical prep course is designed to help any learner get everything they need to prepare for their exam. Click below to check it out!
Check out Mometrix's Medical Surgical Nurse Flashcards
Get complex subjects broken down into easily understandable concepts
Get Your Flashcards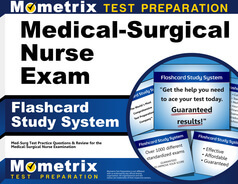 FAQs
Q
How many questions are on the Medical-Surgical Nurse exam?
A
There are 150 multiple-choice questions on the exam.
Q
How long is the Medical-Surgical Nurse exam?
A
The time limit for the exam is 3 hours.
Q
What is the passing score for the Medical-Surgical Nurse exam?
A
To pass the exam, you must achieve a scaled score of at least 350.
Q
How much does the Medical-Surgical Nurse exam cost?
A
The examination fee is $295 for ANA members and $395 for non-members.