Family Nurse Practitioner Practice Test
The Family Nurse Practitioner (FNP) certification examination was designed by the American Nurses Credentialing Center (ANCC) to provide board certification for individuals who are interested in becoming certified Family Nurse Practitioners. The FNP certification exam is a competency-based, entry-level exam that assesses test-takers' knowledge in a variety of relevant clinical areas, ranging from prenatal to elderly primary care. As such, the exam determines individuals' clinical knowledge and skills necessary to be a successful, certified nurse practitioner and earn the FNP-BC credential.

FNP Test Online Prep Course
If you want to be fully prepared, Mometrix offers an online FNP Prep Course. The course is designed to provide you with any and every resource you might want while studying. The FNP Course includes:
83 Lessons Covering all the Topics
600+ FNP Practice Questions
Over 40 Video Tutorials
More than 750 Electronic Flashcards
Money-back Guarantee
Free Mobile Access
and More!
The FNP Prep Course is designed to help any learner get everything they need to prepare for their FNP exam; click below to check it out.
What are the eligibility requirements to take the FNP exam?
A current, active RN license from a state or territory of the United States.  (See the ANCC website for requirements for candidates outside the U.S.)
A master's, postgraduate, or doctorate degree from an accredited family nurse practitioner program.  The program must include a minimum of 500 supervised clinical hours.
Comprehensive graduate-level courses in each of the following:  advanced physiology/pathophysiology, advanced health assessment, and advanced pharmacology.
Instruction in health promotion and/or maintenance and differential diagnosis and disease management.
How do I register to take the exam?
To register for the exam, an account must be created at the ANA Enterprise website.  Once an account is created, all transcripts and a Validation of Education Form signed by a faculty member must be submitted.
Check out Mometrix's Family Nurse Practitioner Study Guide
Get practice questions, video tutorials, and detailed study lessons
Get Your Study Guide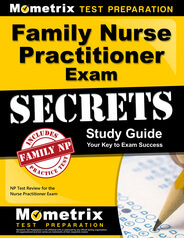 What is the cost of the exam?
Exam pricing is as follows:  Non-member $395; American Nurses Association member $295; American Association of Nurse Practitioners member $340; American Association of Nurse Practitioners student member $290.
When and where do I take the exam?
Once an application is accepted, the candidate can schedule to sit for the FNP exam during a 90-day window at a location and time that is convenient for them.  The exams are taken at Prometric testing centers located throughout the United States and certain countries throughout the world.
What can I expect the day of the exam? 
A valid form of identification is required at check-in.  A locker will be provided for all personal items.  No personal items are allowed in the testing area, including cell phones, food, and water.  Enhanced security measures are in place to preserve the integrity of the exam.  The Prometric website details these security measures.  The testing center will provide you with a dry-erase board for note taking during the exam.  Plan to arrive at least 15 minutes before your scheduled testing time.
What is the format of the exam?
The FNP exam is a computer-based exam consisting of 175 questions.
What is the time allowance to complete the exam?
The exam must be completed within 3.5 hours.
Check out Mometrix's Family Nurse Practitioner Flashcards
Get complex subjects broken down into easily understandable concepts
Get Your Flashcards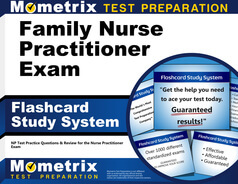 What content is covered on the exam?
The 150 test questions on the FNP exam evaluate the candidate's knowledge and skills in four content domains.  Thirty-one questions fall into the Assessment category comprising 21% of the exam.  Thirty-nine questions fall into the Diagnosis category comprising 26% of the exam.  The largest percentage of questions (43%) come from the Clinical Management category with 65 questions.  Fifteen questions come from the Professional Role category comprising 10% of the exam.
How is the exam scored? 
Of the 175 questions on the exam, 150 are scored.  The remaining 25 questions are pretest questions that are not included in the final test score.  There is no indication of which questions are scored and which questions are pretest, so all questions should be answered to the best of your ability.  Final scores are reported as pass or fail.  Candidates are not penalized for wrong answers.
When will I receive my test results?
Test results will be provided at the test center upon completion of the exam, indicating either a pass or fail.  Your certificate will be mailed to you approximately 4 weeks after your test date.
What if a passing score is not achieved?
If a passing score is not achieved, the applicant can retest after 60 days.  There is a 5-day waiting period after the test to apply for a retest date.  The FNP exam may not be taken more than 3 times in a 12-month period.  The retest fee is $270.  Candidates not achieving a passing score will be provided with diagnostic information for each content domain of the exam, so they are aware of where to focus their further study efforts.
What credential is received by passing the exam?
All candidates who successfully complete the Family Nurse Practitioner Exam is awarded the credential Family Nurse Practitioner-Board Certified (FNP-BC).
How long is the credential valid?
The credential is valid for 5 years.  The credential is renewed by maintaining a current license and completing the required continuing education hours.
What is the best way to prepare for the Family Nurse Practitioner exam?
You have come to this point in your career after many years of education and long clinical hours. Passing this exam is vital to achieving your dreams of becoming a Family Nurse Practitioner; therefore, you want the best study materials available to assist you in your preparation. Mometrix is the world's #1 test preparation company and we have just what you need. The exam experts at Mometrix have researched the concepts and topics you need to know to achieve a passing score on the exam. They have compiled this critical information into a study guide, an online prep course, and flashcards. The Nurse Practitioner Exam Secrets Study Guide is available in print or as a downloadable ebook that you can receive immediately. The study guide and ebook contain the same information and are the same price. The FNP online review course gives you lessons, practice tests, video reviews, and more. The Nurse Practitioner Exam Flashcards is another valuable resource for those who prefer studying with flashcards or like to have multiple methods of study. All of our resources provide several bonuses including practice test questions, a lesion chart review, a list of pharmacology generic/trade names of 50 key drugs, basic review of types of fractures, CPR review/cheat sheet, high-frequency medical terms, and much more. All Mometrix products come with a 100% money-back guarantee. The experts at Mometrix can help you achieve success on the Family Nurse Practitioner exam.

Family Nurse Practitioner Study Guide
Mometrix Academy is a completely free resource provided by Mometrix Test Preparation. If you find benefit from our efforts here, check out our premium quality Family Nurse Practitioner study guide or online course to take your studying to the next level. Just click the Family Nurse Practitioner links below. Your purchase also helps us make even more great, free content for test-takers.
Upgrade your studying with our Family Nurse Practitioner study guide and flashcards:
Family Nurse Practitioner Study Guide
Family Nurse Practitioner Online Course
Family Nurse Practitioner Flashcards
Family Nurse Practitioner Customer Success Stories
Our customers love the tutorial videos from Mometrix Academy that we have incorporated into our Family Nurse Practitioner test study guide. The Family Nurse Practitioner study guide reviews below are examples of customer experiences.
I have tried other study guide books and they are hard to read and follow. Your study guide is easy to read and is straightforward with how to study. I have taken the boards before and have not passed them with the other study guides I have used. I believe that this study guide will be the one that gets me through the boards.
Family Nurse Practitioner – Customer
Easy to read, important information given, questions in the back seem similar to what may appear on the exam. I look forward to completing the book and applying the information to my exam, and hope I pass!!
Family Nurse Practitioner – Debbie
I found the product quite informative. The topics sub sections made it practical to understand and easy to follow. The topics contained simple details that were not boring and kept my attention. I highly recommend using this book.
Family Nurse Practitioner – Ginetta
The book is well synthesized, which is very valid for the studies of preparation in addition you the possibility of a quick exercitation of knowledge as well.
Family Nurse Practitioner – Osvaldo
I wish I had this book earlier, it's very very concise and thorough and ALOT lot better than any other guide by other major review companies and authors in that the format is perfect and thorough!
Family Nurse Practitioner – Customer
This book is amazing, it's straight to the point, very informative essentially on what is required for exam purposes. The exam tips and suggested questions are very educative with the inserted rationals. I simply love it and make reference to it in the current paper that I am writing. I will recommend it to others.
Family Nurse Practitioner – Josiah
I would rate it a 5 because the synopsis of foundation subjects is succinct and practice tests are always helpful. But the part I needed help with the most are the test taking skills. This book has the most comprehensive information on test skills, of any book that I have seen so far, relating specifically to FNP study. The "special reports" are an added bonus that I will surely take advantage of.
Family Nurse Practitioner – Customer
The study material is very complete and practical, handy and can be carried everywhere as you can study in parts without having to carry a book that sometimes because of its size makes us very uncomfortable.
Family Nurse Practitioner – Yimy
The study material is concise and easy to read. I like that there is a practice exam included, review of controlling test anxiety, and the bonus material that is offered in the back of the book
Family Nurse Practitioner – Jordan
The Family Nurse Practitioner Exam Secrets book has given me the opportunity to "pull it all together". It has provided me with an in depth review of the most important Family Nurse Practitioner concepts. This book has made studying for the Family Nurse Practitioner Certification Exam so much easier. I highly recommend the Family Nurse Practitioner Exam Secrets book to anyone studying for the certification exam.
Family Nurse Practitioner – Customer