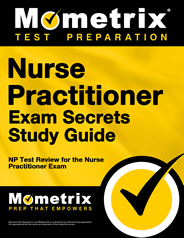 Includes NP Practice Test Questions
Fast Free Shipping
Instant eBook Access Available
How to Pass the Adult-Gerontology Acute Care, Adult-Gerontology Primary Care, Family, Neonatal, Pediatric Primary Care, Psychiatric-Mental Health, and Women's Health Nurse Practitioner Examinations, using our easy step-by-step NP Test study guide, without weeks and months of endless studying...
If you are interested in a different ANCC test, we've developed study guides for most of the ANCC Exam series.
Dear Friend,
On a beautiful late spring afternoon, this past year, a young woman received the devastating news. She had just gotten back her result on the Nurse Practitioner Exam. It was not what she had hoped for. In fact, it was not even close to the expectations she had considering her past experience and educational background.
She had failed.
Then she remembered her friends and felt even worse. She did not look forward to having to tell them the embarrassing news, especially after she had boasted that it was no big deal. She had been procrastinating about taking the exam because she hated standardized tests, and this only confirmed her hatred.
"What will I do now?" she thought with dismay, slowly realizing the harsh reality of her predicament and its upsetting implications on her future.
How to Solve the Problem
Unfortunately, this hypothetical situation occurs all the time. Someone thought they were going to breeze through the examination, told all their friends, made plans for their future, and then got an embarrassing reality check from the Nurse Practitioner Exam.
The Adult-Gerontology Acute Care, Adult-Gerontology Primary Care, Family, Neonatal, Pediatric Primary Care, Psychiatric-Mental Health, and Women's Health Nurse Practitioner Examinations are quite simply an objective assessment of a test taker's requisite foundation of knowledge and skills.
Nurse Practitioner Exam scores are used as a uniform standard of qualification. While it may not be fair, all of a person's plans for the future may be dependent upon needing a certain Nurse Practitioner Exam score.
That is the whole purpose of the Nurse Practitioner Exam Secrets study guide: to give test takers the keys to understand how to succeed on the Nurse Practitioner Exam.
Our Nurse Practitioner Exam Study Guide Is Unlike Any Other
If you'd like to get the Nurse Practitioner Exam score you deserve, to quit worrying about whether your score on the Nurse Practitioner Exam is good enough, and to beat the test taking game so you can become an Adult-Gerontology Acute Care, Adult-Gerontology Primary Care, Family, Neonatal, Pediatric Primary Care, Psychiatric-Mental Health, or Women's Health Nurse Practitioner, then this might be the most important message you read this year.
Our comprehensive study guide for the Nurse Practitioner Exam is written by our exam experts, who painstakingly researched the topics and the concepts that you need to know to do your best on the Nurse Practitioner Exam. Our original research into the Adult-Gerontology Acute Care, Adult-Gerontology Primary Care, Family, Neonatal, Pediatric Primary Care, Psychiatric-Mental Health, and Women's Health Nurse Practitioner Examinations reveal specific content areas and skills that are critical for you to know on the Nurse Practitioner Exam. We've taken the information and developed a study guide that is guaranteed to help you be successful on the Nurse Practitioner Exam.
Our study guides cover these exams:
Adult-Gerontology Acute Care Nurse Practitioner Exam, offered by the American Nurses Credentialing Center (ANCC)
Adult-Gerontology Primary Care Nurse Practitioner Exam, offered by the American Nurses Credentialing Center (ANCC)
Family Nurse Practitioner Exam, offered by the American Academy of Nurse Practitioners (AANP) and the American Nurses Credentialing Center (ANCC)
Neonatal Nurse Practitioner Exam, offered by the National Certification Corporation (NCC)
Certified Pediatric Nurse Practitioner-Primary Care (CPNP-PC®) Exam, offered by the Pediatric Nursing Certification Board (PNCB), and the Pediatric Primary Care Nurse Practitioner Exam, offered by the American Nurses Credentialing Center (ANCC)
Psychiatric-Mental Health Nurse Practitioner Exam, offered by the American Nurses Credentialing Center (ANCC)
Women's Health Care Nurse Practitioner Exam, offered by the National Certification Corporation (NCC)
The Exclusive Test Taking Techniques
Learn why, when, and how to guess to your advantage. Many test takers use exactly the wrong strategy, but you can avoid the pitfalls with the help of our standardized test experts.
Why answers that sound correct are often the very ones that are wrong and how to tell the difference between the right answer and the many clever-sounding traps set for you by the test writers.
Our benchmark method for deciding which of the answer choices you should pick.
What to do about the tough questions that you have no clue how to answer. Don't just give up, use the advice we offer to make sure you give yourself the best chance of getting the right answer.
Learn how to group your answer choices into families that often narrows down the pool of correct answers. This is a quick way to immediately eliminate one or two of the answer choices and increase your odds of getting the question right.
Before we go any further, let us clarify what Nurse Practitioner Exam Secrets is not. It is not a stale rehash of all of the things you have already learned in the past.
Nurse Practitioner Exam Secrets is our exclusive collection of the tips and the information that we have specially selected to give you the best results on the Nurse Practitioner Exam for the least time spent studying. It's written in everyday language and is easy to use.
We cover the essential skills necessary to do well on the Nurse Practitioner Exam, plus comprehensive reviews covering all of the essential test sections individually.
Don't take our word for it.
Listen to what our customers say about other Mometrix test preparation products.
"I purchased the study guide, and I just wanted to let you know that I passed my test. I just want to thank you again, and hope you have continued success in your ventures."
Paul L.
"My name is Chris. I used the study guide for five days. The study guide made the test so easy to understand. Like you said this program is worth 100's of dollars. To me 1,000's!! THANKS!"
Chris G.
"I just had to thank you guys for the test prep! I bought the guide as a last minute prep, I mean maybe 5 hours before the test. Like I said, I had ZERO preparation! I was nervous about the test let alone receiving the score I needed. I read the guide through only once before test time and needless to say, the only way I passed was thanks to your refresher!!"
Brian
"Just dropping you a note to let you know that I am completely satisfied with the product. I had already taken the test once and landed in the 75 percentile of those taking it with me. I took the test a second time and used some of your tips and raised my score to the 97 percentile. Thanks for my much improved score."
Denise W.
"I heard about your website from a friend. I am enrolled in a review course, and in hindsight, I wish I wouldn't have taken my review course and instead spent a fraction of the money on your program. Thank you!"
Zac L.
You get at least 10 times your money's worth!
When you consider what's at stake with the exam, we believe the value of our study guide gives you at least ten times your money's worth.
In summary, here's what you get:
When you buy Nurse Practitioner Exam Secrets, it includes:
The 5 Secret Keys to Nurse Practitioner Exam Success
Plan Big, Study Small
Make Your Studying Count
Practice the Right Way
Pace Yourself
Have a Plan for Guessing
The Comprehensive General Strategy Review
Read Carefully
Contextual Clues
Prefixes
Hedge Words
Switchback Words
Face Value
Answer Selection
Eliminate Answers
Avoid Fact Traps
Extreme Statements
Benchmark
Predict the Answer
Tough Questions
Check Your Work
Pace Yourself
Don't Rush
Keep Moving
Click below to see just a small sampling of the topics covered by our study guides:
Adult-Gerontology Acute Care Nurse Practitioner Exam Topics
Foundations of Practice
Patient history
Nosocomial infection
Bipolar disorder
Sedation
Professional Role
Advanced practice registered nursing
Medicare
Supporting families of dying patients
Research
Independent Practice
Myocardial infarction
Lumbar puncture
Occupational therapy
Transitional care planning and discharge care planning
Outcomes evaluation and evidence-based practice
Healthcare Systems
Delivery of care
Continuum of care
Outcomes management
Adult-Gerontology Primary Care Nurse Practitioner Exam Topics
Foundations of Advanced Practice Nursing
Diabetes mellitus
Brain tumors
Hypothyroidism
Medication for an elderly patient
Breast cancer and endometriosis
Psychoactive substance abuse
Health assessment
Professional Roles
Developing a clinical study
Coping with stress
HIPAA
Medicaid
Person-centered care
Independent Practice
Therapeutic communication
Prevention plans for these immunizations
Elderly check-up
Thalassemia and macrocytic anemias
Population that gets depression
Syphilis
Polycystic ovarian syndrome
Family Nurse Practitioner Exam Topics
Patient Advocacy
Glycemic Control
Neuropathic Complications of Diabetes
American Heart Association
Pharmacodynamics
Anaphylaxis Syndrome
Nicotine Patch
Hepatic Cirrhosis
Nicotine Nasal Spray
Leukotriene Inhibitors
Toxicity of Digitalis
Vasodilators
Centers for Disease Control
Anti-Lipids
Histamine Receptor Antagonists
Acetylsalicylic Acid
Anticonvulsants
Microwave Diathermy
Autism Spectrum Disorders
Glasgow Coma Scale
Malpractice
Collaboration
Risk Management
Therapeutic Communication
Bloom's Taxonomy
Labyrinthitis
Ménière's Disease
Pharmacokinetics
Temporomandibular Disorder
Chronic Bronchitis
Emphysema
Pleural Effusion
Edema
Coronary Artery Syndromes
Hodgkin's Disease
Appendicitis
Abruptio Placentae
Bartholin Cyst
Hemophilia
Hyperthyroidism
Continuous Quality Improvement
The Shewhart Cycle
Fetal Alcohol Syndrome
Encopresis
Bristol Stool Form
Braden Scale
Genetics
Neonatal Nurse Practitioner Exam Topics
Perinatal History
Pre-Eclampsia
Diabetes Mellitus
Congenital Varicella Syndrome
Parvovirus
Group B Streptococcus
Toxoplasmosis
Sickle Cell Anemia
Hyponatremia
Folic Acid Deficiency Anemia
ABO Compatibility
Rh Sensitivity
Fetal Alcohol Syndrome
Fetal Lung Maturity
Vital Signs
Modified Ballard Score
Gestational Age
Intrauterine Growth Restriction
Behavioral Assessment
Microbiological Testing
Electrolytes
Thyroid Hormones
Hypocalcemia
Bag and Mask Ventilation
Endotracheal Intubation
Peripheral Catheterization
Pleur-Evac System
Congenital and Neonatal Infections
Spinal/Lumbar Tap
Suprapubic Bladder Aspiration
Tracheostomy Management
Thermoregulation
Delivery Room Preparation
Resuscitation and Stabilization
Birth Asphyxia
Non-Nutritive Sucking
Digestion and Absorption
Caloric Requirements
Trophic Feedings
Intravenous Lipids
Composition Of Breast Milk
Preterm Formulas
Fat-Soluble Vitamins
Carnitine Supplementation
Hypermagnesemia
Metabolic Acidosis
Parenteral Infusion
Pediatric Primary Care Nurse Practitioner Exam Topics
Youth Risk Surveillance System (YRSS)
Autism Spectrum Disorders
Mental Health Problems
Diabetes Mellitus in Children
Vaccines
Nutrition
Health Behavior Guidelines
Growth and Development
Screening Procedures
Acute Epiglottitis
Acute Tracheitis
Streptococcus Pneumoniae
Apnea of Prematurity (AOP)
Pneumothorax
Asthmaticus
Methicillin-resistant Staphylococcus Aureus
Retinopathy of Prematurity
Strabismus
Nystagmus and Blepharoptosis
Otitis Media and Otitis Externa
Recurrent Epistaxis
Hypertrophic Pyloric Stenosis
Malrotation and Yolvulus
Necrotizing Enterocolitis
Hernia
Encopresis
Giardia lamblia
Intestinal Parasites
Crohn's Disease
Peptic Ulcer Disease (PUD)
Acute Abdominal Trauma
Congestive Heart Failure
Hypertrophic Cardiomyopathy
Atrial Septal Defect (ASD)
Patent Ductus Arteriosus
Tetralogy of Fallot
Hypoplastic Left Heart Syndrome
Cardioverter Defibrillator (ICD)
Mitral Stenosis
Renal Pelvis and Glomerulus
Epispadias
Ureteropelvic Junction Obstruction
Persistent Cloaca
Hemodialysis
Spinal Cord Injury
Myelomeningocele
Head trauma
Infectious Encephalopathy
Seizures
Legg-Calvé-Perthes Disease
Pseudohypertrophic (Duchenne)
Candidiasis
Burn Injuries
Necrotizing fascitis
Hypothyroidism
Adrenocortical Insufficiency
Pheochromocytoma
Cultural Diversity
Therapeutic Communication
Anticipatory Guidance
Professional Role and Policy
Confidentiality
Genetic Testing
Malpractice
Intra- and Interdisciplinary Education
Research
Optimal outcomes
Continuous Quality Improvement
Shewhart Cycle
Psychiatric-Mental Health Nurse Practitioner Exam Topics
Mood Disorders
Psychotic Disorders
Anxiety Disorders
Sleep Disorders
Tardive Dyskinesia
Chronic Pain
Mental Illness
Depression
Malnutrition
Physical Abuse
Suicide Risk Assessment
Domestic Violence
Family Violence Prevention Fund
Elder Abuse
Bereavement
Substance Abuse
Peck's Theory of Adult Development
Erikson's Theory of Psychological Development
Resiliency Theory
Maslow's Hierarchy of Needs
Jung's Theory of Individualism
Confusion Assessment Method
Geriatric Depression Scale
Trail Making Test
Digit Repetition Test
Drug Screening
Beck Depression Inventory
Meningococcal Vaccine
Women's Health Care Nurse Practitioner Exam Topics
Systems Review
Hematologic
Anthropometric Measurements
Vital Signs
Lacrimal Glands
Venous Insufficiency
Musculoskeletal
Blood Typing
Antibody Screening
Reproductive Hormone Tests
Rubella
Autoantibodies
Creatinine Clearance
Triglycerides
B Streptococcus
Laparoscopy
Hysteroscopy
Sigmoidoscopy
Bone Densitometry
Genetic Markers
Karyotype
Vitiligo
Psoriasis
Pulmonary Embolism
Hyperlipidemia
Major Depressive Episode
Polycythemia
Parenting
Stress Management
Delayed Puberty
Adenomyosis
Adnexal Masses
Fibroadenoma
Pelvic Organ Prolapsed
Human Papillomavirus
Malnutrition
Down Syndrome
Congenital Heart Defects
Intrauterine Fetal Death
Hyperemesis Gravidarum
Hellp Syndrome
Rh Incompatibility
Endocrine System
Postpartum Physiological Changes
Uterine Involution
Postpartum Exercise
Lithium Toxicity
Benzodiazepines
Tardive Dyskinesia
Human Subject Protection
plus all of the other special tips and secrets we have included to help you prepare for the exam.
Receive the Following Bonuses
Since we know it's 100% to your benefit to use our study guide, we want to further encourage you by also including the following with your order:
Bonus One: Nurse Practitioner Exam Practice Test Questions

Think you're ready for the Nurse Practitioner Exam? Test yourself using our practice test questions. Find out if you're prepared or if you need to head back to the study guide for another review. Use our practice test questions to make sure that you're not caught off guard on the day of the test!

Detailed answer explanations are included for the questions. It may sound obvious, but you have to know which questions you missed (and more importantly why you missed the question) to be able to avoid making the same mistakes again when you take the real test. That's why the practice test questions we include for the Nurse Practitioner Exam include answer keys with detailed answer explanations to each question. The in-depth answer explanations will allow you to better understand the questions that were difficult for you or that you needed more help to understand.

Bonus Two: Study Skills

The way to get the test score that you deserve is by proper preparation. The best preparation includes both knowing what to study and how to study. Our Nurse Practitioner Exam Secrets study guide will teach you what you need to know, but our Study Skills bonus will show you HOW to use the information to be successful on the Nurse Practitioner Exam. The ability to learn faster will accelerate the progress you make as you study for the test.

Bonus Three: Lesion Chart Review

Utilizes key signs and symptoms to help you remember the specific neurological lesion location in the brain. This is a valuable quick reference chart that keeps you from making typical mistakes.

Bonus Four: Pharmacology Generic/Trade Names of 50 Key Drugs in Medicine

This is an exclusive list of key drugs that you will run across and a great cross reference tool to remember what obscure yet important generic or trade names key drugs are related.

Bonus Five: Basic Review of Types of Fractures

Could you tell the difference between a traumatic fracture and a fissured fracture? How about a greenstick fracture? Use our exclusive review of the different type of fractures to refresh your memory and give you everything you ever wanted to know about fractures.

Bonus Six: CPR Review/Cheat Sheet

Do you know the rate or the depth of compression for an infant? Use our quick review/cheat sheet to make sure that you don't forget the critical CPR information that you might need to know sooner than you think. Every professional in the medical field needs to know CPR. Reduce study time by using our CPR Review guide and increase your level of preparation for the medical emergencies you may have to face.

Bonus Seven: High Frequency Medical Terminology

This includes our exclusive collection of medical terminology definitions and abbreviations that frequently appear on the Nurse Practitioner Exam, along with an in-depth review of the prefixes, suffixes, and root words that make up most of our modern medical vocabulary: even if you don't recognize a word, you'll be equipped to decipher its meaning. Use our list of high frequency terms to help focus your study time so you won't get caught off-guard with terminology you may not have thought about reviewing.

Bonus Eight: How to Overcome Test Anxiety

Do you get really nervous the day before important tests? If so, you could be suffering from a mild form of what's known as test anxiety. The report we include gives you some of the latest important research into test anxiety, including our exclusive tips on how to make the test-taking experience as stress-free as possible while maximizing the score potential you have.
By the way, the bonuses are yours to keep even in the unlikely event you decide to take advantage of our ironclad money-back guarantee:
You can't lose with our 100%,
ironclad, moneyback guarantee
Order Nurse Practitioner Exam Secrets entirely at our risk. When you order from this site, it comes with a risk-free, 1-year 100% money-back guarantee. There's NO RISK on your part.
If you don't like this comprehensive book for ANY reason, you can return it for a 100% refund of the product price. You're free to return it at any time, for any reason, up to one year after the purchase date, no hassle, no questions asked.
Don't decide now if the product is for you. Just get it and try it out. If it doesn't do everything we say and more, if you don't save time, money, and frustration, if it isn't what you thought it was, if it doesn't work for you, you have nothing to worry about when you order from this site because you can get every dime of your money back under the no-loopholes guarantee. There's nothing to lose and everything to gain.
Get the Nurse Practitioner Exam Secrets Study Guide
Here's how to order right now!
A printed copy will typically ship within one business day from our shipping facility. Or, if you prefer, you can order the study guide as an online ebook. It doesn't require any special software. If you can read this web page, you have all you need to start using and applying Nurse Practitioner Exam Secrets in just five minutes. You don't have to wait for anything to come in the mail. Get Nurse Practitioner Exam Secrets immediately!
Both versions contain the same information. If you need instant access and can view the book online, order the ebook. If you would prefer the physical book and can wait for the product to arrive in the mail, order the printed book.
It's easy to order your copy of Nurse Practitioner Exam Secrets. These comprehensive packages retail for $63.99 or more, but are available to you today starting at the incredibly low price of $34.99 for our instant access ebook or $39.99 for our printed book. Just click one of the links below.

If you have any problems or questions, please send an email to support@mometrix.com and we will be sure to get it working for you.
By Jay Willis
This Page Last Updated: 02/08/2023