Pediatric Nurse Exam
The Certified Pediatric Nursing (CPN) exam was designed to measure the most essential day-to-day skills and knowledge needed to excel in a career as a pediatric nurse. Those with the certification are more competitive candidates when applying for jobs and have higher earning potential in the long term.

How Much Does the CPN Exam Cost?
The exam fee is $300. However, there is a $45 discount for members of the Society of Pediatric Nurses. More importantly, the Pediatric Nursing Certification Board offers a "No Pass, No Pay" program for employers.
Hospitals, daycares, clinics and other facilities can enrolls in the program which allows all of their nurses to attempt the CPN exam twice per contract year (and four times in total). If you pass, your employer pays the full exam fee. If you don't pass, neither you nor your employer has to pay anything.
Before you register for the exam, ask your employer if they participate in the "No Pass, No Pay" program. If they don't, ask them if they would be willing to participate. If they are, you'll be able to avoid the $300 fee!
What Will Test Day Be Like?
On the day of the test, make sure you arrive at least 30 minutes early in order to complete the check-in process. If you are late, you will not be allowed to test and you will not get a refund. So showing up 30 minutes early to make sure you can check in before your appointment starts is essential.
Once you have checked in, you will be taken to exam room where you will have three hours to answer all 175 multiple choice questions on the computer based exam. If you need any special accommodations due to a disability, you should make these arrangements when you register for your appointment.
Check out Mometrix's Pediatric Nurse Study Guide
Get practice questions, video tutorials, and detailed study lessons
Get Your Study Guide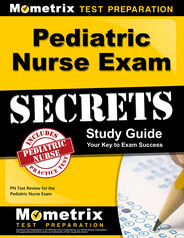 What Kind of Questions Will Be Included on the Test?
You will need to answer a total of 175 questions. However, only 150 of those questions will actually be scored and count toward your final result. The remaining 25 questions are unscored questions being considered for inclusion on future versions of the exam.
Since the unscored questions are not labelled in any way and are scattered throughout the exam, it's best to approach all 175 questions as if they were scored. The questions will be divided across four main content areas as follows:
Assessment – 57 Questions
Health Promotion – 21 Questions
Management – 72 Questions
The estimates about the number of questions per section reflects the number of scored questions included. The 25 unscored questions will be distributed across all four content areas, so the actual total will be slightly higher for each section.
How is the CPN Scored?
The exam is given a cumulative scaled score ranging from 200 to 800. The minimum cutoff score needed in order to receive your certification is 400. You will find out whether you passed or failed right after you finish and your official results will arrive via email within two to three weeks of taking the exam.
Do I Need to Study for the CPN Exam?
Since this exam is so firmly grounded in relevant, on the job knowledge and skills, you will likely be familiar with most of the questions. However, no matter how relevant the questions are, there will definitely be some things that you need to refresh your memory on or that you need to learn because you just haven't encountered it yet.
So you will want to spend a few weeks preparing for this test using study aids like the Mometrix Study Guide and the Mometrix Flashcards. These tools will help you review all important material you will need to know for the exam. Not only that, they will also show you some of the most effective test-taking strategies to help you maximize the limited amount of time you have and make sure that you do your best on every single question.
Using the guide and flashcards, you'll not only improve the foundational knowledge and skills you need in your day to day duties as a pediatric nurse, you'll also improve the test-taking skills you need to ace this test and get certified for your career!
Check out Mometrix's Pediatric Nurse Flashcards
Get complex subjects broken down into easily understandable concepts
Get Your Flashcards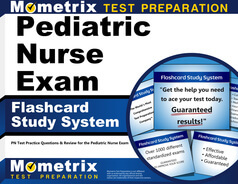 Pediatric Nurse Study Guide
Mometrix Academy is a completely free Pediatric Nurse test resource provided by Mometrix Test Preparation. If you find benefit from our efforts here, check out our premium quality CPN Study Guide and CPN Flash Cards to take your studying to the next level. Just click the CPN study guide link below. Your purchase also helps us make even more great, free test content for test-takers.
Upgrade your studying with our Pediatric Nurse study guide and flashcards:
Pediatric Nurse Study Guide
Pediatric Nurse Flashcards
Pediatric Nurse Study Guide Customer Success Stories
Our customers love the tutorial videos from Mometrix Academy that we have incorporated into our Pediatric Nurse test study guide. The Pediatric Nurse study guide reviews below are examples of customer experiences.
Excellent study guide- really helped to focus on what the keys areas to study. Review questions were really helpful- wish there had bee more. The rationales for the questions were the best part of studying because they provided test taking strategies. Would definitely choose to use this source for future certification exams.
Pediatric Nurse Study Guide – Mario
I enjoyed reading this study guide for it's content and easy format. I was able to read through everything without feeling overwhelmed or bored. Its very user friendly and helpful with my busy schedule
Pediatric Nurse Study Guide – Pacita
5 out of 5. A great, straight to business review! Awesome review of growth and development, disorders and diseases, and nursing considerations! Quick and to the point on each topic but with support information to help reinforce.
Pediatric Nurse Study Guide – Jacob
Love the product and very pleased with my purchase. Not only did it arrive so quickly and on time with short notice of needing to order it , it helped me do well in an exam I had on Monday. Information very easy to understand and will recommend it to my nursing classmates. Thank you !
Pediatric Nurse Study Guide – Christina
It has given me great insight to the exam. It has given me shortcuts to remember and a quick review to the different areas I had difficulty remembering. The test questions helped me the most.
Pediatric Nurse Study Guide – Karen
Concise refresher explanations, definitions and updates. Good for a practicing nurse who has been out of school for over 30 yrs 🙂
Pediatric Nurse Study Guide – Charles
I love how the book has brief summaries of all topics that you need to know for the CPN exam. When studying for any exam, I love to have a "blueprint" on what is actually going to be on the test and that's what mometrix does. It gives you the necessary information to succeed on the test without feeling overwhelmed with a "textbook" style study guide.
Pediatric Nurse Study Guide – Customer
it is detailed and to the point with out a lot of fluff. Along with tips on breaking down the questions and understanding the material. The 150 question sample test also helps in preparing and allowed me to focus on the areas I am not as familiar or confident in answering.
Pediatric Nurse Study Guide – Steven
I found this book when preparing to take my exam. I found it 5 days prior to my exam. I used the downloaded version. I loved how it was short and sweet and broken down by sections and diseases. I also loved the practice test. I feel this book is the reason I passed the test on my first attempt! I have recommended this book to my coworkers who are studying to test soon!
Pediatric Nurse Study Guide – Katy
I especially liked the practice exam with answer explanations. All too often, practice exams simply give the answer and this is not always helpful. The Mometric Pedaitric Nurse Exam allowed me to reflect on why my answer was either right or wrong and gave the rationale behind the correct answer. The flashcards are thorough and cover a wide range of pediatric processes.
Pediatric Nurse Study Guide – Customer