The ANCC Adult-Gerontology Clinical Nurse Specialist exam assesses the knowledge and skills that registered nurses must have in the adult-gerontology specialty.
Click "Start Test" above to take a free Adult-Gerontology CNS practice test, and check out our premium-quality Adult-Gerontology test prep resources by clicking the links below!
Eligibility
To be eligible for this exam, you must hold a current RN license in the US (or another country's legally recognized equivalent). You must also meet the following requirements:
You must hold a master's degree, post-graduate certificate, or Doctor of Nursing Practice (DNP)
You must have completed three separate graduate-level APRN Core courses
Exam Outline Review
The ANCC Adult-Gerontology CNS exam contains 175 multiple-choice questions, 25 of which are unscored, and you will be given a time limit of 3.5 hours.
The exam is split into three content domains, which are designed to cover the various competencies and points of knowledge that a registered nurse in the adult-gerontology specialty should possess.
I. Assessment and Diagnosis (41 scored questions)
The questions in this domain assess your knowledge and skills pertaining to various assessments, theories, and diagnoses.
Knowledge

Diagnostic testing
Environmental determinants of health
Normal age-related changes
Abuse and neglect
Individual determinants of health
Nursing theories
Pathophysiology across the lifespan
Skills

Differential diagnoses
Comprehensive assessments
Problem-focused assessments
Ethical healthcare practice
II. Planning and Implementation (64 scored questions)
The questions in this domain assess your knowledge and skills pertaining to various interventions, roles, and initiatives.
Knowledge

Pharmacotherapeutics
Substance use disorders
Family and caregiver roles
Polypharmacy
Palliative and end-of-life care
Care transition and coordination
Change management
Educational initiatives
Adult learning theories
Information technology
Skills

Pharmacologic interventions
Nursing and healthcare advocacy
Non-pharmacologic interventions
Coordination of nursing and healthcare resources
Health promotion
Evidence-based practice process
Complementary and alternative therapies
Patient, family, and caregiver education, coaching, and advocacy
III. Evaluation (45 scored questions)
The questions in this domain assess your knowledge and skills pertaining to various outcomes, responses to interventions, and improvements.
Knowledge

Scope and standards of healthcare practice
Patient outcomes
System outcomes
Research methodology and statistical analysis
Quality and process improvement
Regulatory compliance
Healthcare business and finance
Skills

Patient response to interventions
Family and caregiver response to interventions
Care plan modification
Organization and systems leadership
Developing and collaborating with interdisciplinary team members
Check out Mometrix's Adult-Gerontology CNS Study Guide
Get practice questions, video tutorials, and detailed study lessons
Get Your Study Guide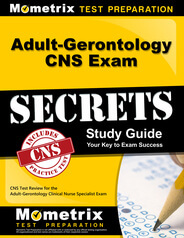 Registration
Registering for and scheduling your Adult-Gerontology CNS exam can be done online. The cost of the examination is $395 for all candidates who are not ANCC members. Active ANCC members will only have to pay $295 to register for the exam.
Once you have registered, you will receive information on how to schedule your examination appointment.
Test Day
You should arrive at the testing center about 30 minutes before the exam is scheduled to begin to leave you with extra time to complete the check-in process. When you arrive, you will be asked to provide two forms of identification, one of which must contain your photo and signature. If your ID is invalid, you will not be permitted to take the examination.
Personal items are not allowed in the testing area, so you will be asked to leave them in a secured locker before the exam begins.
Once the check-in process is complete, you will be led to your testing station and given a short tutorial on the testing system before beginning your exam.
How the Exam is Scored
The scores for the ANCC Adult-Gerontology CNS exam are calculated using a criterion-based scoring system. This means that a panel of ANCC subject-matter experts has evaluated the questions and determined a passing score. The passing score is set using the modified-Angoff method, which means that your score is based solely on your performance, without any input from the performance of other test-takers.
Your score is reported on a scale of 1 to 500, and you must get a score of at least 350 to pass the exam.
You will be able to see your preliminary scores as soon as you complete the exam, and your final score report will be made available via your ANCC account.
Retaking the Exam
If you fail the exam, you may retake it after a 60-day waiting period. After the waiting period, you must resubmit an application and the retest fee of $270.
Check out Mometrix's Adult-Gerontology CNS Flashcards
Get complex subjects broken down into easily understandable concepts
Get Your Flashcards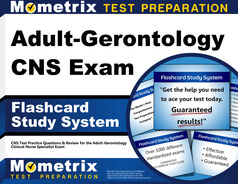 FAQs
Q
How many questions are on the Adult-Gerontology CNS exam?
A
There are 175 multiple-choice questions on the exam.
Q
How long is the Adult-Gerontology CNS exam?
A
The time limit for the exam is 3.5 hours.
Q
What is the passing score for the Adult-Gerontology CNS exam?
A
To pass the exam, you must achieve a scaled score of at least 350.
Q
How much does the Adult-Gerontology CNS exam cost?
A
The examination fee is $295 for ANCC members and $395 for non-members.