Gerontological Nurse Practice Test
To become an RN – BC, you must first pass an ANCC gerontological nursing board certification exam. This is to ensure that you have the clinical knowledge and skills of an RN in the gerontological specialty. After passing this exam you will receive your official credential as an RN – BC or Registered Nurse- Board Certified. This is valid for 5 years. To maintain your license by meeting renewal requirements at the time of your renewal.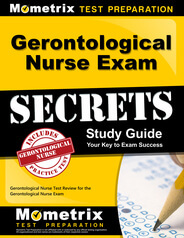 Check out Mometrix's Gerontological Nurse Study Guide
Who is Eligible?
Those who wish to take this exam should have:
A current and active RN license
Practiced at least two full years as a registered nurse
A minimum of 2000 clinical practice hours in the gerontological specialty within the last three years
Completed at least 30 hours of continuing education in gerontological nursing within the last three years
There is an initial certification fee of $395 for everyone who is not an American Nurses Association member. For those that are members, your fee is $295. This includes a $140 non-refundable administration fee.
Once your application has been approved you will receive notification allowing you to schedule your exam. This must be completed within 90 days from the time of your approval or you risk forfeiting your application fees.
When and Where is it Taken?
This exam can be taken year-round during your 90-day testing window at one of many Prometric locations and a time of your choosing. Space may be limited so scheduling your exam is recommended as early as possible.
What Should I Bring?
Make sure to arrive at least 15 minutes on the day of the test. If you arrive late, you will not be allowed to take your exam and will forfeit all paid fees.
You will need to bring a valid and original form of ID. These must contain your name that matches registration information, your signature, and a recognizable photo. Acceptable forms are found below:
Driver's license
State ID
Passport
Military ID
Please make sure not to bring anything else with you into the testing area. The exam is taken on a computer. Therefore, paper, pencils, calculators, and any study material will not be needed. Electronic devices, food and drinks, or any other items are strictly forbidden. If found on your person during the test you will be dismissed from the exam and may not be allowed to retake it.
What is Covered?
The exam is made up of 150 multiple choice questions. 125 of these are scored and the other 25 are used as pretest questions and are not scored. You will be given 3 hours to finish the exam.
The exam is broken into three major sections with expected knowledge in the following areas:
Assessment and Diagnosis (35 questions)
Planning, Implementation, and Evaluation (50 questions)
Professional Foundation (40 questions)
How is it Scored?
Your score will be reported to you as a pass/fail status as soon as you complete the exam. Your certificate, ANCC pin, and an official letter with your specific 5-year certification period will be mailed to you about four weeks after you have successfully completed it.
Retesting can be completed after 60 days and may not be attempted more than three times in a 12-month period. There is a retesting fee of $270.

Preparation Tips
We want to help make sure that this test taking experience is a success for you. That is why we have prepared a study guide and set of flash cards designed to make sure you have everything you need to know right in your hands.
With these tools you will not only be able to understand the subject matter on the exam but also get to test yourself with sample questions. These questions are formatted and styled in a way that mimics the outline and structure of this exam, giving you a clear picture of what will be expected. See what Mometrix can do for your testing success.
Online Gerontological Nurse Prep Course
If you want to be fully prepared, Mometrix offers an online Gerontological Nurse Prep Course. The course is designed to provide you with any and every resource you might want while studying. The Geron Nurse Course includes:
Review Lessons Covering All the Topics
450+ Gerontological Nurse Practice Questions
More than 600 Digital Flashcards
Over 80 Instructional Videos
Money-back Guarantee
Free Mobile Access
and More!
The Gerontological Nurse Prep Course is designed to help any learner get everything they need to prepare for their Gerontological Nurse exam; click below to check it out.
Gerontological Nurse Study Guide
Mometrix Academy is a completely free resource provided by Mometrix Test Preparation. If you find benefit from our efforts here, check out our premium quality Gerontological Nurse study guide to take your studying to the next level. Just click the Gerontological Nurse study guide link below. Your purchase also helps us make even more great, free content for test-takers.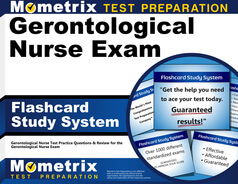 Check out Mometrix's Gerontological Nurse Flashcards
Upgrade your studying with our Gerontological Nurse study guide and flashcards:
Gerontological Nurse Study Guide
Gerontological Nurse Online Course
Gerontological Nurse Flashcards
Gerontological Nurse Study Guide Customer Success Stories
Our customers love the tutorial videos from Mometrix Academy that we have incorporated into our Gerontological Nurse study guide. The Gerontological Nurse study guide reviews below are examples of customer experiences.
Awesome!!! They put together a great study guide. I highly recommend! I got my certificate after my first test that's to this guide!
Gerontological Nurse Study Guide – Cathy
I really like it. It gives a variety of different aspects. I also like the answer section explaining why the answers are correct.
Gerontological Nurse Study Guide – Ben
It's a wonderful system that works for me. It helps to understand and memorize the material. I hope it will help me to pass the test.
Gerontological Nurse Study Guide – Customer
This study guide has a lot of information that is new for me. If i had taken my exam without purchasing it i probably would of bombed it…
Gerontological Nurse Study Guide – Customer