Case Management Nurse Exam
This resource will help you prepare for the Case Management Nurse exam. You'll learn about registration details, what to expect during test day, materials to bring, items that aren't allowed, plus content that will be assessed.
Case Management Test Background
The exam is a key step as you work toward earning the Registered Nurse-Board Certified (RN-BC) credential. The exam is accredited by the Accreditation Board for Specialty Nursing Certification and the National Commission for Certifying Agencies in conjunction with the American Nurses Credentialing Center.
The exam is competency-based and assesses whether registered nurses have the basic, entry level knowledge for the nursing case management specialty. Once successfully passed, the credential stays in effect for five years.
Exam Eligibility
To be eligible, you must:
Have the equivalent of two years or more as a full-time registered nurse.
Have an active, current RN license in a U.S. state or territory or hold a legal, professional equivalent in a foreign nation.
Have completed at least 2,000 hours of nursing case management in a clinical practice within the past three years.
Have finished at least 30 hours of nursing case management continuing education during the past three years.
Applying for the Exam
Apply online at www.nursingworld.org.

Check Out Mometrix's Case Management Study Guide
Get practice questions, video tutorials, and detailed study lessons
Get Your Study Guide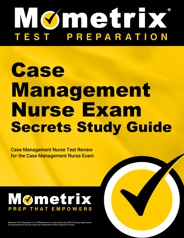 Costs and Payment Options
The cost varies, based on whether you're a member of the American Nurses Association. If you're a member, your cost will be $295. Non-members pay $395. These fees include non-refundable costs of $140.
Times and Locations
Exam locations and times can be found at www.prometric.com/ANCC.
Test Duration:
The exam is scheduled for three hours. Note: Arrive 15 minutes before your scheduled exam time.
What to Bring:
One form of Identification — a government-issued photo ID (valid driver's license, passport or state- or military-issued ID, etc.)
What Not to Bring:
Books, paper or notes
Calculators
Tissues
Food or drink (including water)
Any phones, PDAs or personal electronic devices of any kind
A Closer Look at the Test
What the Exam Measures
You'll be assessed on four domains of knowledge:
Domain 1: Professional Foundation (20% with 25 Questions) — Includes a review of standards, tools and concepts in nursing case management, standards of practice, clinical pathways and guidelines and tools, along with evidence-based practice, and more.
Domain 2: Care Coordination (30% with 37 Questions) — Covers health care utilization, including management concepts, and payer and reimbursement methodology, and skills in determining utilization review criteria, client negotiation, care planning and denial/appeal facilitation.
Domain 3: Quality Management (30% with 38 Questions) — Assesses Quality and performance improvement, including process quality, quality indicators, risk management and benchmarking. Also reviews risk and liability skills, collecting data and cost-benefit analysis, plus outcome evaluation tools, data management and synthesizing data to enhance service levels.
Domain 4: Health Promotion (20% with 25 Questions) — Includes disease management, wellness promotion, client education, and more.
Pass-Fail:
The results for this exam are pass or fail. Those who fail the exam will receive a report outlining details for each section of the test.
Number of Questions:
In general, the exam is made up of 150 questions, including 125 scored items, and 25 pretest questions.

Check Out Mometrix's Case Management Flashcards
Get complex subjects broken down into easily understandable concepts
Get Your Flashcards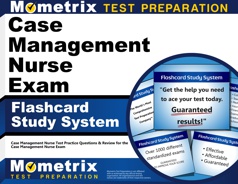 Additional Resources
As you prepare for the Case Management Nurse exam, you have other, valuable resources available to you through the Mometrix Academy. Two of valuable options available to you for a fee include the Case Management Nurse Study Guide that includes videos and other exam preparation information, along with access to a set of flashcards that will help you boost your recall and retention.
Case Management Nurse Study Guide
Mometrix Academy is a completely free Case Management Nurse test resource provided by Mometrix Test Preparation. If you find benefit from our efforts here, check out our premium quality Case Management Nurse Study Guide and Case Management Nurse Flash Cards to take your studying to the next level. Just click the Case Management Nurse study guide link below. Your purchase also helps us make even more great, free test content for test-takers.