The Adult-Gerontology Primary Care Nurse Practitioner (AGPCNP) Certification exam is provided by the American Nurses Credentialing Center (ANCC) as an entry-level examination designed to evaluate the candidate's clinical knowledge of young adults.
Click "Start Test" above to take a free Adult-Gerontology Primary Care NP practice test!
Eligibility
To meet the eligibility requirements to take this exam, you will need to have obtained all of the following:
A current RN license issued by the state you are working in.
A master's, post-graduate certificate, or DNP from an accredited adult-gerontology primary care NP program

If you are in an AGPCNP program, you must have a minimum of 500 faculty-supervised clinical hours

Three comprehensive graduate-level courses in the following:

Advanced physiology/pathophysiology
Advance health assessment, including advanced assessment techniques and assessment of all human systems
Advanced pharmacotherapeutics, which includes pharmacodynamics, pharmacokinetics, and pharmacotherapeutics of all broad categories

Content in the following:

Health promotion and/or maintenance
Differential diagnosis and disease management
All of your verification to prove your eligibility must be sent to the ANCC along with a validation of education form, before registering for the exam. The proper form and submission documents can be found on the ANCC website.
You may submit your validation materials by emailing aprnvalidation@ana.org or by mail to the following address:
ANCC Certification
8515 Georgia Avenue, Suite 400
Silver Spring, MD 20910
Check Out Mometrix's Adult-Gerontology PCNP Study Guide
Get practice questions, video tutorials, and detailed study lessons
Get Your Study Guide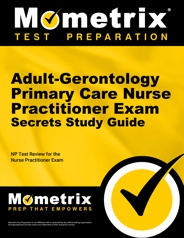 Exam Outline Review
The Adult-Gerontology Primary Care Nurse Practitioner exam contains 175 multiple-choice questions. You will only be scored on 150 of those questions, as the remaining 25 questions are "pre-test" questions that are used to create questions for future versions of the exam. You will be given 3.5 hours to complete the exam.
The exam is split into three content domains:
I. Patient Assessment Process (36 scored questions)
The questions in this domain are designed to assess your knowledge and skills pertaining to assessment concepts and processes.
Knowledge

Differentiation between normal and pathophysiological changes
Skills

Comprehensive health history collection
Physical examination
Functional assessment
Psychosocial assessment
Cognitive and mental health assessment
II. Plan of Care (90 scored questions)
The questions in this domain are designed to assess your knowledge and skills pertaining to care plans.
A. Diagnosis
Knowledge

Evidence-based practice and treatment guidelines
Effects of development and aging on physiology and pathophysiology
Skills

Synthesis of assessment findings and differential diagnosis development
Laboratory and diagnostic test selection and results interpretation
B. Pharmacology
Knowledge

Effects of development and aging on pharmacology
Pharmacogenetics
Pharmacokinetics and pharmacodynamics
Skills

Pharmacotherapeutic decision-making
Pharmacology management
C. Implementation and Evaluation
Knowledge

Behavioral change
Advance care planning
Palliative and hospice care
Skills

Non-pharmacologic intervention selection
Chronic condition management
Education and counseling
Reassessment and modification of treatment plan
III. Professional Practice (24 scored questions)
The questions in this domain are designed to assess your knowledge and skills pertaining to care plans.
Knowledge

Scope of practice and regulatory guidelines
Legal and ethical issues
Environmental and social determinants of health, including principles of diversity, equity, and inclusion
Health promotion and disease prevention
Useful Topics to Study
The body systems and drug agents listed below are covered in some way on the exam, so you should ensure you are familiar with them.
Body Systems
Drug Agents

Cardiovascular
Endocrine
Gastrointestinal
Genitourinary
Renal
Head, eyes, ears, nose, and throat
Hematopoietic
Immune
Integumentary
Musculoskeletal
Neurological
Psychiatric
Reproductive
Respiratory

Analgesic
Anti-infective
Antineoplastic
Cardiovascular
Endocrine
Eye, ear, and skin
Gastrointestinal
Genitourological
Immunologic
Musculoskeletal
Neurological
Psychiatric
Respiratory
Registration
Registering for and scheduling the exam can be done online.
The cost of the examination is $395 for all candidates who are not members of the American Nurses Credential Center. Active ANCC members will pay $295 to register for the exam.
Test Day
On the day of the test, you should arrive at the testing center about 30 minutes prior to the exam start time. When you arrive, you will be asked to provide two forms of identification. Your primary form of ID must include your name, signature, and photo (a passport or driver's license can be used as your primary ID). The second form of identification must have your name and signature (a credit card or social security card can be used as a secondary form of ID).
Personal items such as food/drinks, cell phones, and coats are not allowed in the testing area.
How the Exam is Scored
Scores will be available online after you complete the examination. You will have to sign into your AANC account to view your scores.
You will need to achieve a score of 350 to pass, with the maximum score possible being 500. If you do not pass the exam, you can retake it after 60 days, and you will be asked to pay a fee of $270.
Check Out Mometrix's Adult-Gerontology PCNP Flashcards
Get complex subjects broken down into easily understandable concepts
Get Your Flashcards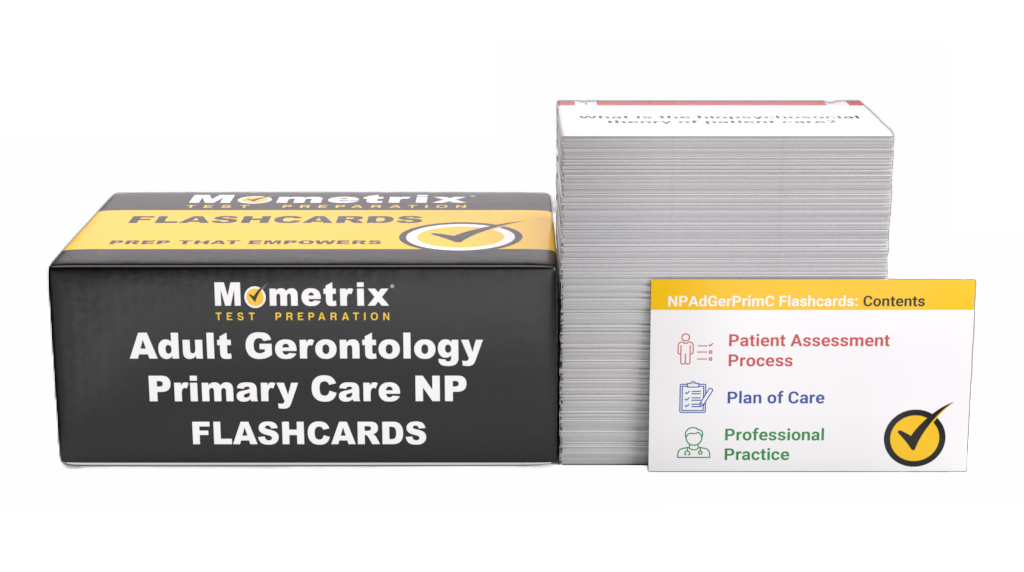 FAQs
How many questions are on the exam?
There are 175 questions on the exam, though only 150 will count toward your final score.
What is the time limit of the exam?
The exam is timed at 3.5 hours.
What is the cost of the exam?
The cost of the examination is $295 for ANCC members and $395 for all non-members.
What is a passing score?
A passing score for this exam is 350.