NYSTCE Physics Practice Test
The examination for prospective teachers to become certified to teach Physics in the state of New York is administered by the Educational Testing Service (ETS). The NYSTCE Physics Exam is one of the exams in the New York State Teacher Certification Examinations (NYSTCE) which were created by the New York State Board of Education. Physics teachers in New York are skilled problem-solvers who understand the historical development of ideas in science and the connections among mathematics, science, and technology.
Teachers in the field of Physics can apply their knowledge and thinking skills to address everyday problems and communicate explanations of natural phenomena. Mometrix has carefully designed the NYSTCE Physics Study Guide to help you focus on the areas that you need to study.
The NYSTCE Physics Test will give you a good idea of the types of questions that you can expect to see on your test. Your test will include 90-selected response questions and 1 constructed-response question. The selected response questions will cover Physics material on Foundations of Scientific Inquiry; Mechanics and Thermodynamics; Electricity and Magnetism; Waves, Sound, and Light; and Quantum Theory and the Atom.
Plan to answer a constructed-response question in the area of Foundations of Scientific Inquiry. These topics will include subareas to test your general and specific knowledge of Physics. If you study well, you should be able to answer the selected-response questions within 60 minutes, which will leave you 135 minutes to develop a thorough and intelligent response to the constructed-response question.
You will have a total of 4 hours to take the entire test, and you will need a passing score of 220 to get your certification. Please read the rules for the testing facility before you arrive to take your test. You may not take anything into the facility with you, including a calculator. Everything that you need will be provided for you at the center or is included in the computer-based testing format. Read each question carefully and use the process of elimination to eliminate incorrect answers. Get plenty of sleep the night before the test, and dress comfortably on the testing day.
Check Out Mometrix's NYSTCE Physics Study Guide
Get practice questions, video tutorials, and detailed study lessons
Get Your Study Guide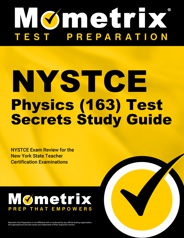 NYSTCE Physics Study Guide
Mometrix Academy is a completely free resource provided by Mometrix Test Preparation. If you find benefit from our efforts here, check out our premium quality NYSTCE Physics study guide to take your studying to the next level. Just click the NYSTCE Physics study guide link below. Your purchase also helps us make even more great, free content for test-takers.
NYSTCE Study Guide
NYSTCE Flashcards