NYSTCE Communication and Quantitative Skills Test Practice Test
In addition to getting a college degree, prospective teachers who wish to teach in the New York public school system must demonstrate that they have the skills and subject mastery to ensure that students in New York receive a quality education. For this reason, the State Boar for Educator Certification (SBEC) created a series of examinations called the New York State Teacher Certification Examination (NYSTCE).
These examinations certify educators to work in New York public schools as teachers, administration, or in other educational fields. The exams are designed to assess an individual's general and specific teaching skills and abilities and are required to become a certified teacher in New York.
Mometrix carefully put together the NYSTCE Communication and Quantitative Skills Study Guide and NYSTCE Communication and Quantitative Skills Practice Test to give you some extra practice when studying for your test. You will be allowed 4 hours to take the NYSTCE Communication and Quantitative Skills Exam which will be presented to you using a computer-based format. You will need to register for your test and prepare to take it at an official testing site which is administered by the Educational Testing Service (ETS). The testing staff will not allow anyone else into the facility with you and you won't be able to take calculators or other personal items into the testing area.
Plan to be as comfortable as possible during your test. Dress in layers, bring your identification, arrive early, and use the restroom before you enter the testing area. You will need a score of 220 in order to pass the Communication and Quantitative Skills Test. This test is comprised of 100 selected-response questions. This test covers material on the subject domains of Reading, Writing, and Mathematics.
The Reading portion tests your knowledge of vocabulary, main ideas in reading, sequencing in reading, and interpreting textual and graphic information. The portion on Writing tests your subject mastery on verbs, pronouns, modifiers, sentence structure, punctuation, capitalization, and spelling. The Mathematics section covers number concepts, addition, subtraction, multiplication, and division of whole numbers. It also covers fractions, decimals, and percentages. You will have plenty of time to complete the test if you study.
Check Out Mometrix's NYSTCE Study Guide
Get practice questions, video tutorials, and detailed study lessons
Get Your Study Guide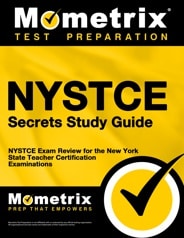 NYSTCE Communication and Quantitative Skills Test Study Guide
Mometrix Academy is a completely free resource provided by Mometrix Test Preparation. If you find benefit from our efforts here, check out our premium quality NYSTCE Communication and Quantitative Skills Test study guide to take your studying to the next level. Just click the NYSTCE Communication and Quantitative Skills Test study guide link below. Your purchase also helps us make even more great, free content for test-takers.
NYSTCE Study Guide
NYSTCE Flashcards