TASC Writing Study Guide
TASC Writing Review
In today's increasingly social media driven world, expressing oneself is becoming easier than ever. As a result, the ability to string words together fluidly and easily is becoming an even more valuable skill than it was already.
How does this fact relate to the TASC exam? For starters, the TASC—also known by its full name, the Test Assessing Secondary Completion—is formatted with today's world heavily in mind. Upon paying close attention to the GED, the Data Recognition Corporation realized that the test didn't match well enough with what today's high school seniors experience throughout their academic careers. Technology is becoming ever-prevalent in today's academic environments, and teachers are moving away from standardized test-based curriculum to teach their students the importance of the core subjects and how they will recur once they leave school and start their professional lives. As the TASC is a response to the GED and another form of obtaining high school equivalency, the DRC approached writing the TASC with these very same principles.
Check Out Mometrix's TASC Printed Study Guide
Get practice questions, video tutorials, and detailed study lessons
Get Your Study Guide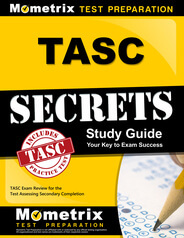 The TASC Writing section, in an identical vein to its sister sections, caters to test takers in terms of how its respective subject will create an impact upon common experiences in real life. For anyone looking to enter either higher education or a professional career, knowing how to write—how to express oneself with words in a coherent and cohesive manner—is a very important skill. When you enter college, one of your first courses will cater toward teaching you how to compose written compositions, regardless of what major you end up choosing. Knowing how to write well and think critically tend to go hand-in-hand, additionally. Writing anything takes careful thought toward how to present and back up ideas, even for pieces that seem very simple and informative, such as this overview. If you are planning on entering a field that depends heavily on writing skills, having command over your writing is all the more vital. Even if you do not plan on doing anything that requires a lot of writing, you will still need to use this skill on some level, whether it's through putting together a presentation or just composing an email to a coworker or partner.
Regardless of your skill level with writing, we at Mometrix Test Preparation are here to help you however we can. This is why we have prepared this handy overview of the TASC Writing section, as well as the more thorough TASC Writing study guide you will also find on this page. For further assistance, you can also refer to our TASC Writing flashcards or TASC Writing study guide. We want to help you earn the best possible score on this important exam and foster your future success. Feel free to keep reading this overview to learn more about how the TASC Writing section works, what it covers, how it is formatted, and how you can approach its contents.
What Materials Are Featured on the TASC Writing Section?
How the TASC Writing section is formatted depends on the version of the exam you're taking. There are two versions to choose from: the paper format and the digital format. The digital format of the Writing section contains 50 questions as well as one extra section. The paper format of the Writing section possesses one extra question (totaling to 51). The language format of the exam also affects your testing experience, as the Spanish-speaking test takers will receive a 110-minute testing period, while English-speaking test takers receive 105.
In addition to the 50-51 questions you'll have to answer, you must also anticipate a bundle of written response questions. These will include an essay prompt tied to two reading selections and another question that requires a "constructed response" answer. The Writing section's digital format has an added section, known as "technology response."
Check Out Mometrix's TASC Flashcards
Get complex subjects broken down into easily understandable concepts
Get Your Flashcards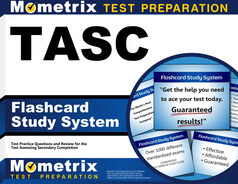 The tasks involved in answering questions on the TASC exam lean toward the standard fare. In other words, they will be very similar in format to what you'll be expected to do on the GED or HiSET. You will have to answer questions in relation to the reading passages provided to you, which will span a wide variety of subjects and styles. Some texts you'll encounter will be more professional, while others will be more casual. Some will be objective, while others are more personally subjective. Regardless of the topic or tone the passage holds, you will still be expected to not only be able to read the passage, but glean it for any errors in grammar, spelling, or structure as well as make accurate corrections to the text based upon your findings.
To help you know how to best prepare for this section of the exam, we will go over the main four knowledge categories you'll be expected to know and how you will be assessed in them on the exam.
Grammar
Grammar applies not only to the multiple choice questions you'll be given on the exam, but to your written responses. You will have to demonstrate your knowledge of grammatical skills just as potently through your own writing as you will with the rest of the exam. You will also have to prove your knowledge of grammar by proofreading passages to make sure they are grammatically sound. Be sure to read both sections thoroughly as you work through the TASC Writing section. It is all too easy to miss a punctuation or spelling error when you read quickly. Poor grammar can harm the coherence of your essay response and cause you to choose incorrect answers, which is why it is important to proofread as much as you can.
Relevance
This category applies to both the written portion of the Writing section and the multiple choice portion. Be sure to figure out what exactly your argument is and how you want to frame it before you start your essay. Make sure that every sentence you include contributes to the strength of your argument. Pick your evidence wisely. After you've finished your initial draft, go over it. Proofread what you have written to make sure it flows well and your argument is as strong as it can be. Get rid of anything that does not contribute to your main argument.
Structure
As you plan your essay response, consider who your essay response will be aimed toward—in a hypothetical sense. Write your essay with your audience in mind. This is the easiest way to decide on intent and generate focus toward your central argument as you write.
Evidence
Without detailed and sturdy evidence, your essay response will fall flat. You will not have to have any particular outside knowledge about your topic in order to do well on the exam. However, you must be able to use the information already presented to you to form a solid argument. Incorporate natural logic and proofread to make sure your argument is easy to follow based on the evidence you provide.
While this overview is not 100 percent comprehensive, we hope you will be able to use it to draft a study plan for the TASC Writing section. Please feel free to refer to our TASC Writing study guide for further information on what will be on the exam. To help you in your studies, we have also published TASC Writing flashcards and a TASC Writing practice test for you to use as you see fit. At Mometrix Test Preparation, we want to help you excel in any way we can. Good luck!