Get Your GED in No Time by Using This GED Study Guide.
Achieve a passing score with the help of the Mometrix GED study guide.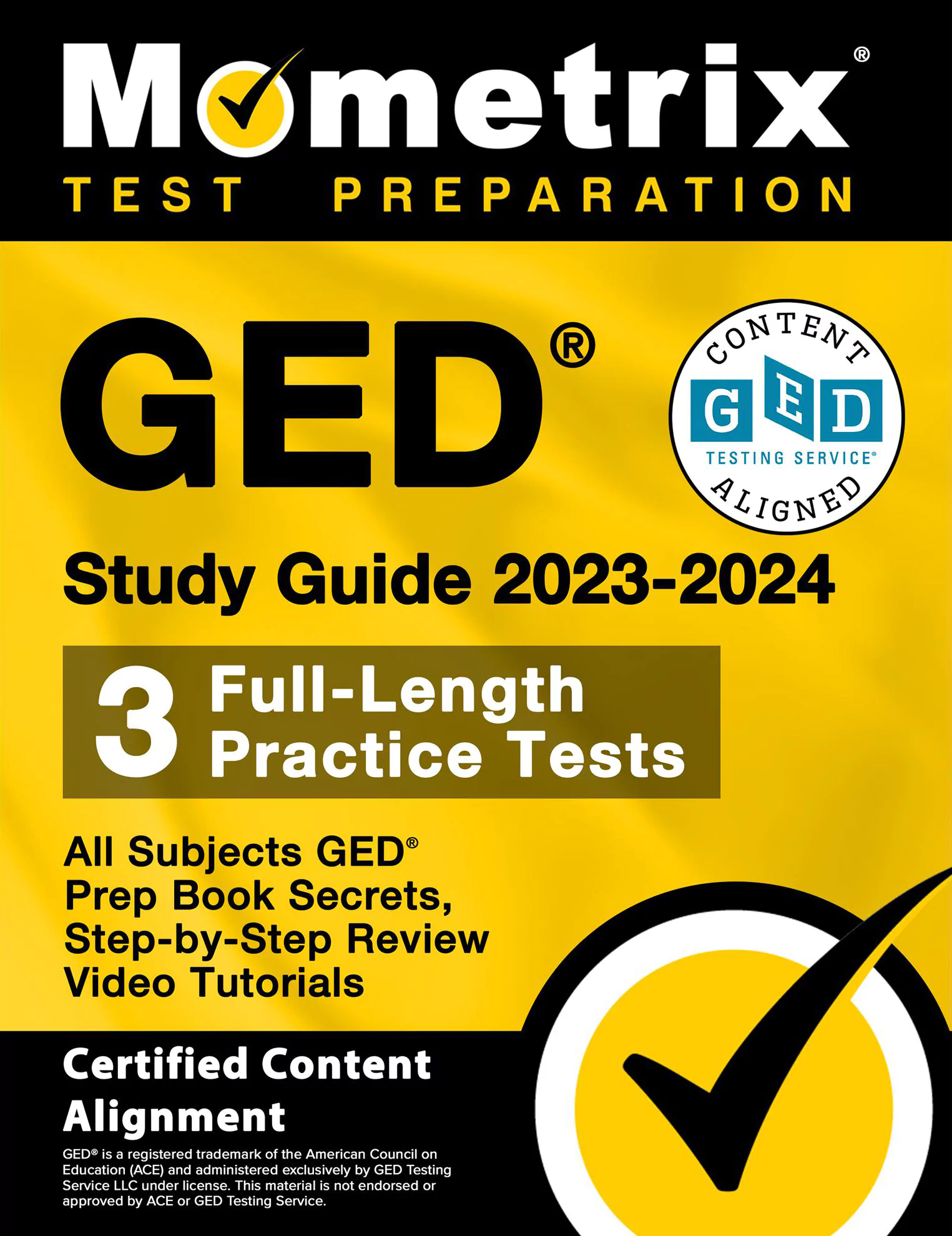 This guide has 100+ lessons, 150+ videos, end-of-chapter quizzes, and 3 practice tests. After reviewing these materials, you will be prepared to ace the GED exam on the first try!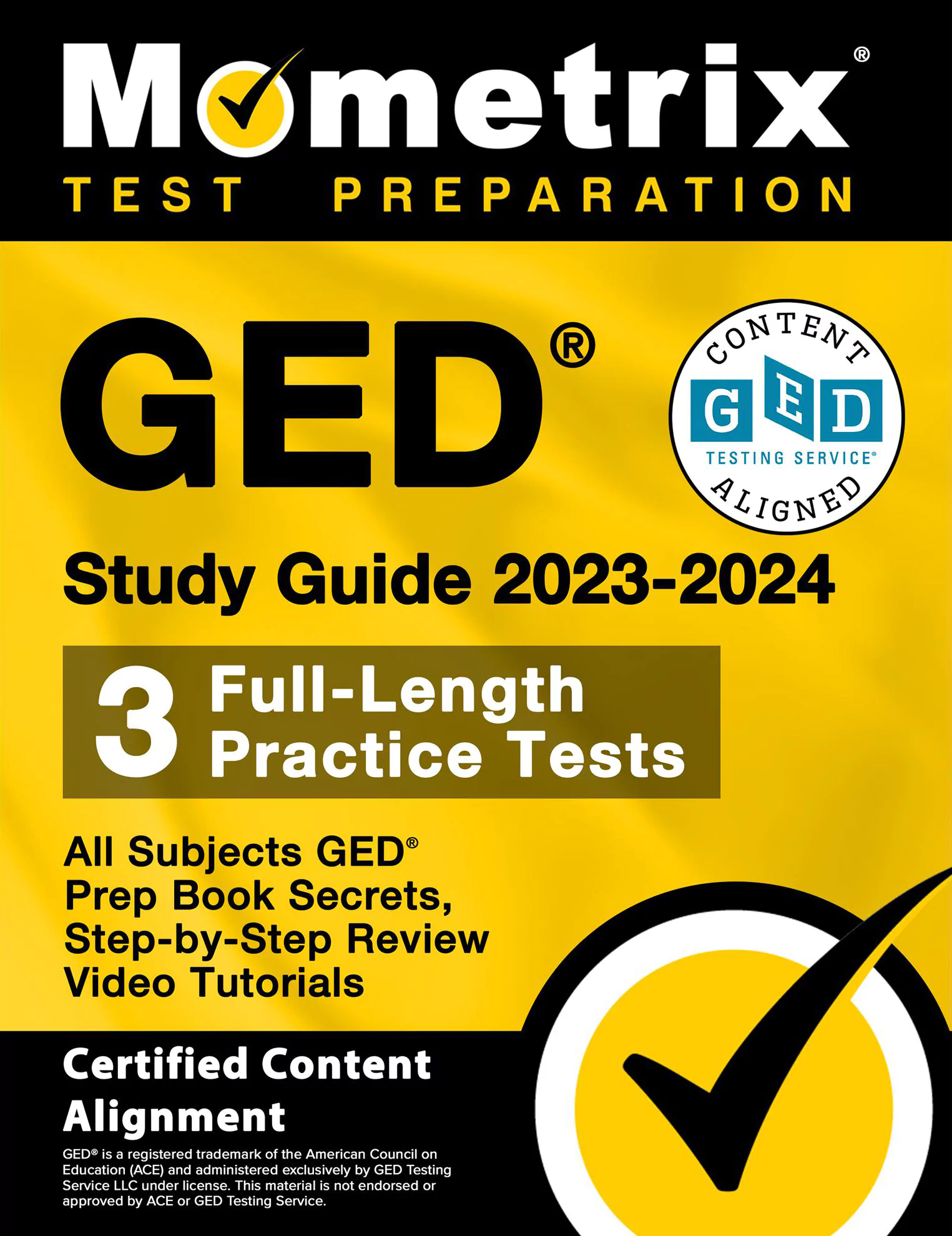 "I totally recommend this book for people who are struggling to pass the GED and need the extra help. You will not be disappointed with this purchase at all."
– Sophia
"Amazing booklet. Nothing but the best from this company, as always!"
– Benjamin
"I love how detailed the math is. They offer testing tips and tricks regarding test anxiety and much more!"
– Jennifer
"I gave it to a friend of mine and he likes it. Very in detailed when it comes to explanation and very clear."
– Marie
"They break it down so that you will completely understand the problems and answers."
– Amanda
"Amazing product and very easy to use! Really Helps with studying and prep!"
– Frederick
"All subjects are covered and easy to understand instructions and information."
– Ash
Take 3 GED Practice Tests to Simulate the Testing Experience.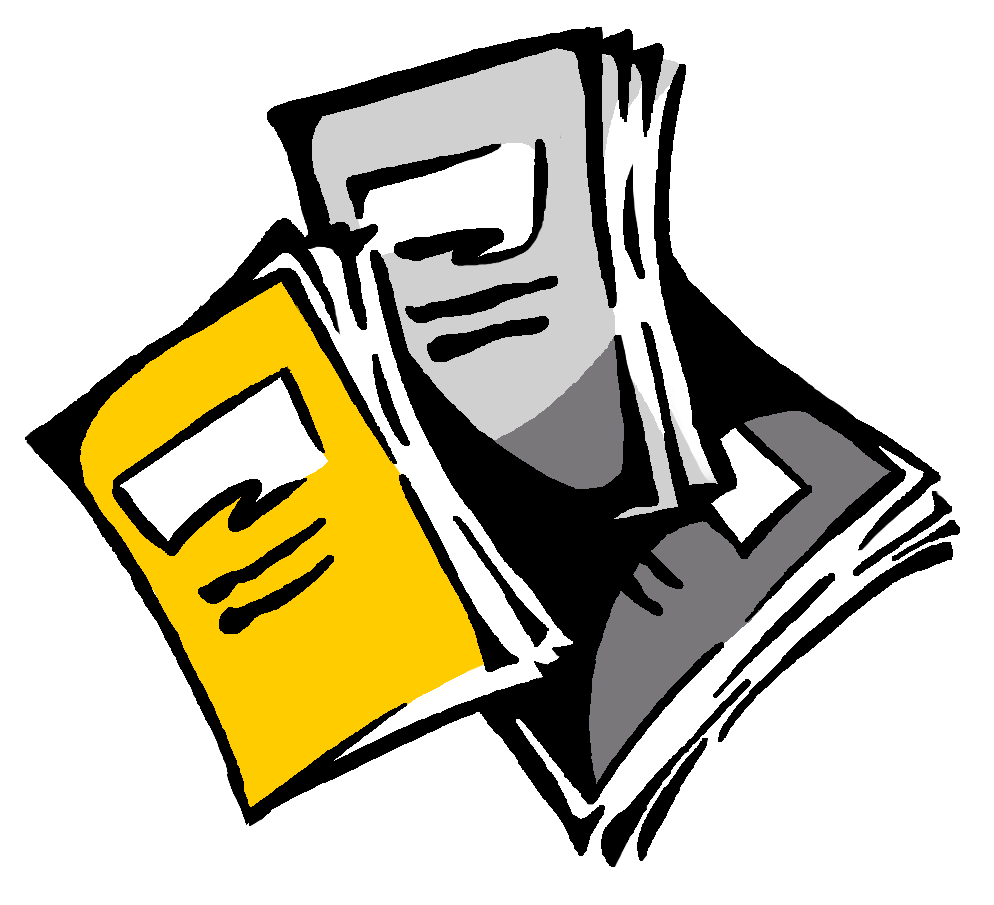 Taking practice tests is a complete game changer when studying for an exam. They will raise your score and familiarize you with the testing experience.
Where do you get GED practice tests?
This study guide has three tests that match the exact format of the exam. You can simulate the testing experience by taking these tests while timing yourself. This will condition your mind to make quick decisions when answering questions.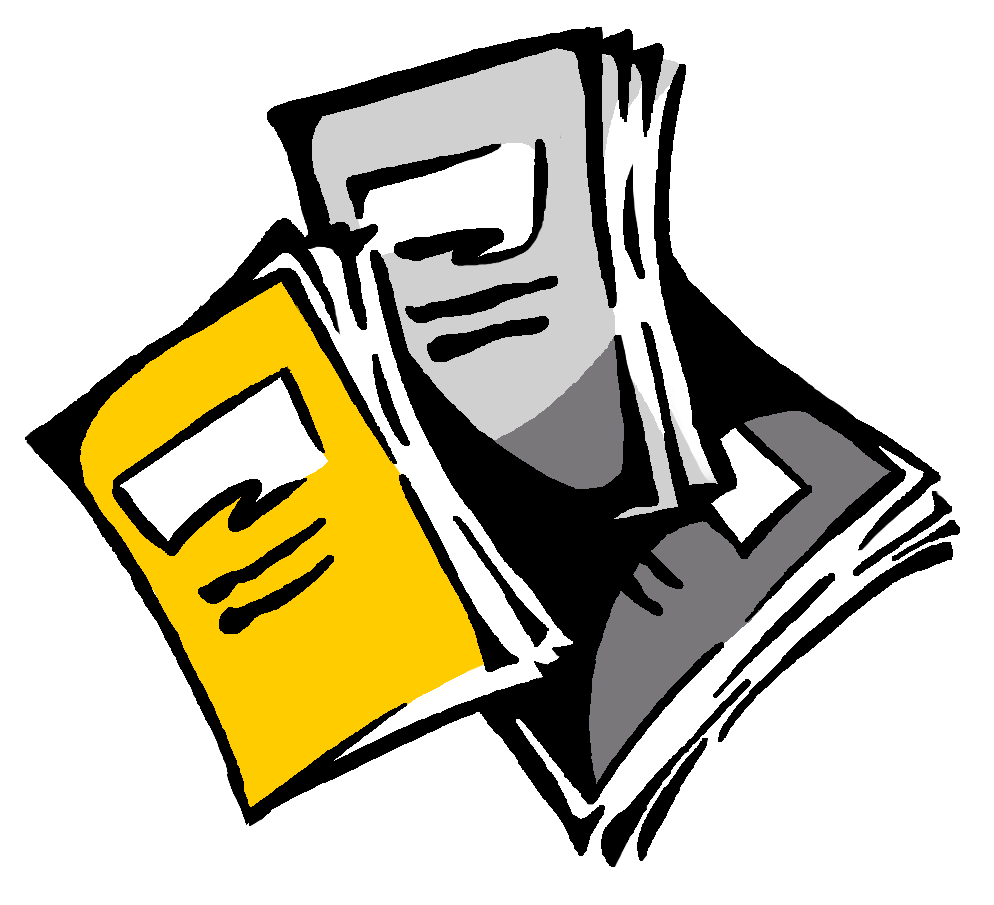 Watch 150+ GED Video Tutorials.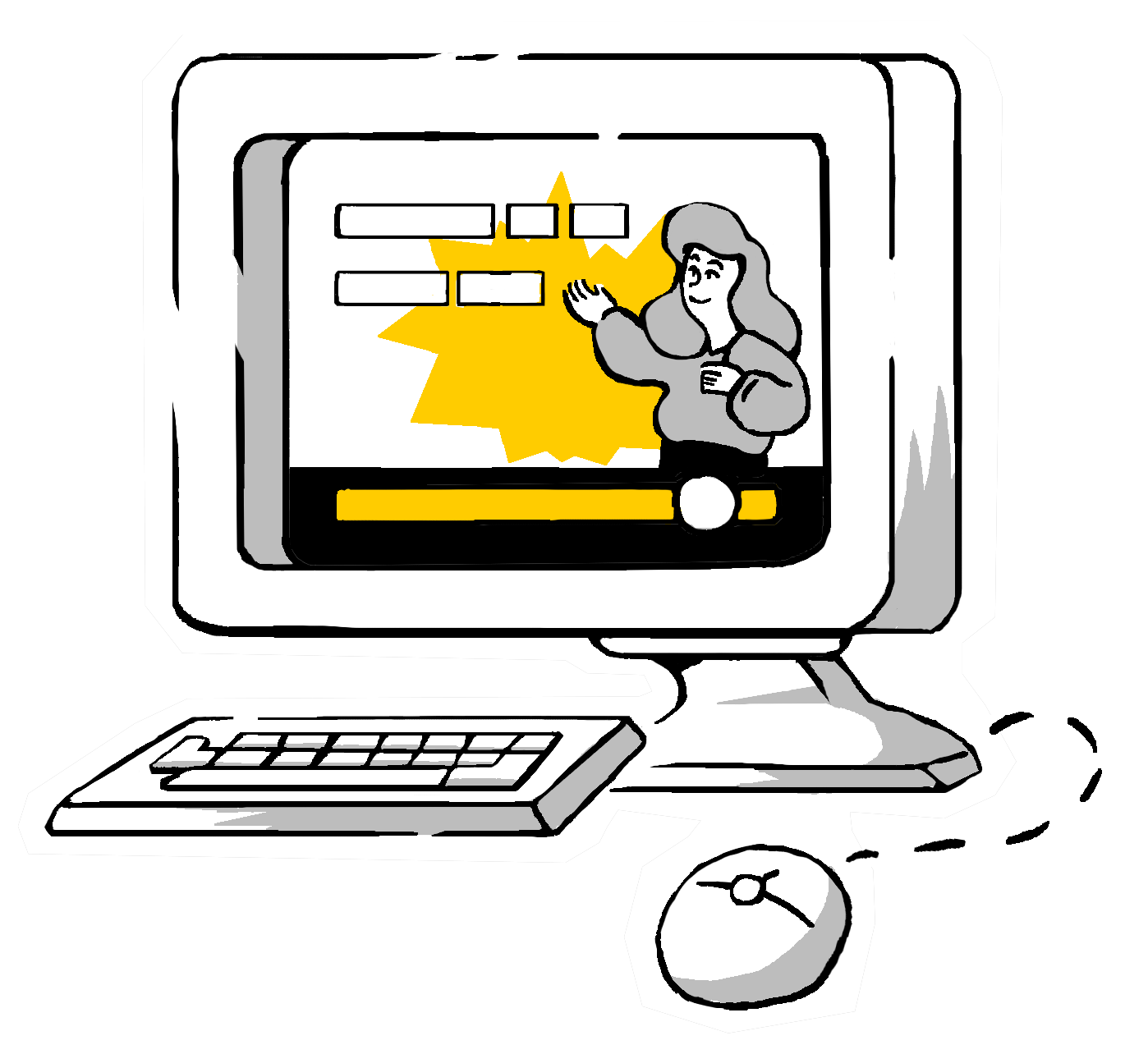 What's better than reading about a concept? Watching a step-by-step video tutorial on how to solve or understand a process.
This GED book has 150+ videos covering the lessons you review in the book. The videos are full of graphs, diagrams, and even practice problems!
They will help you grasp everything you need to learn for the test.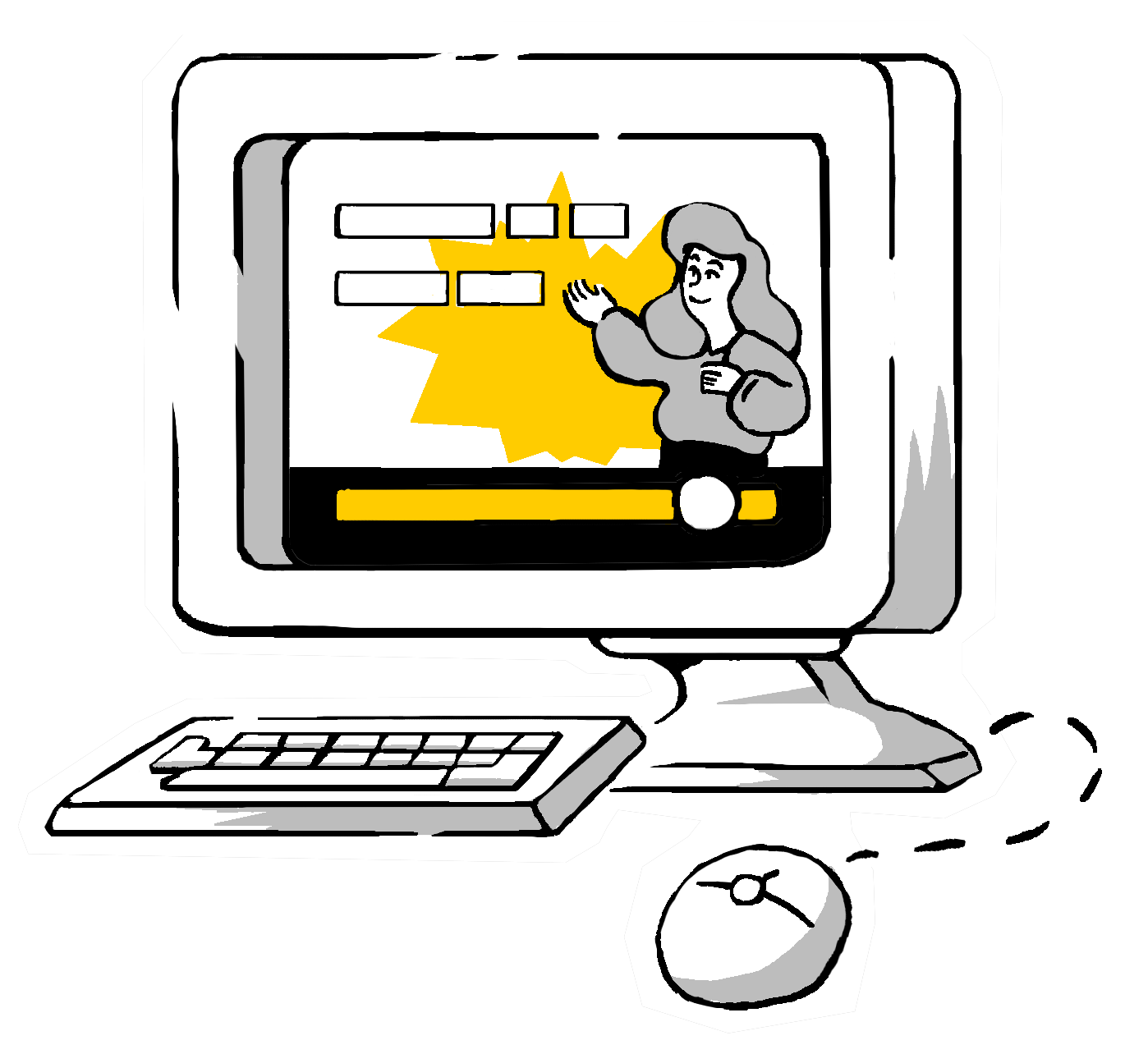 Prepare Yourself For Anything.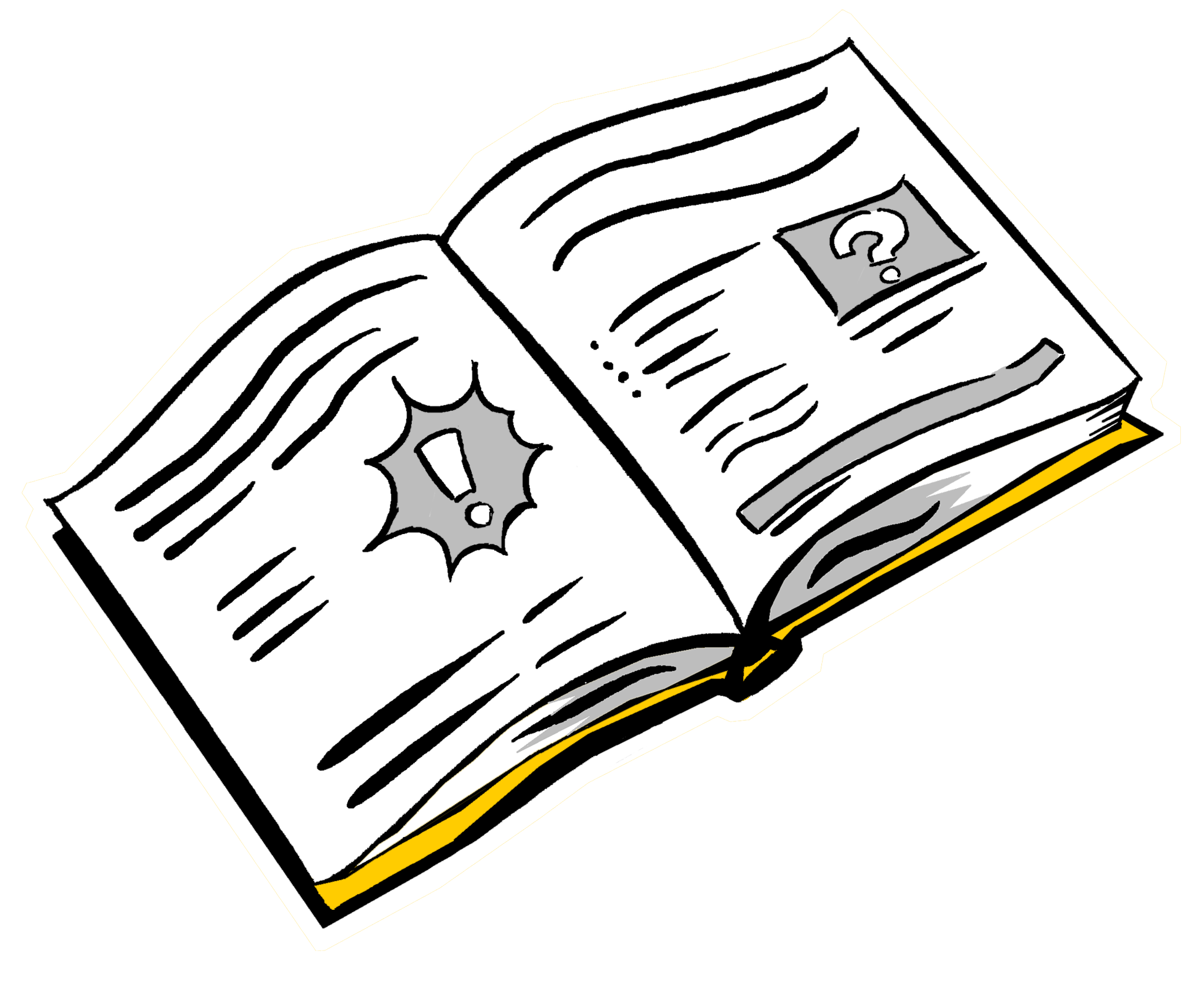 Would you rather the guide be hard or easy compared to the exam?
For a guide to adequately prepare you to take a test, it must be thorough. This study guide prepares you for anything you have to answer. It covers all the possible formulas, rules, and concepts you must understand.
As a result, the guide might seem more challenging than the actual exam. But you will confidently walk into the exam room, knowing what will be on the test and how to solve it.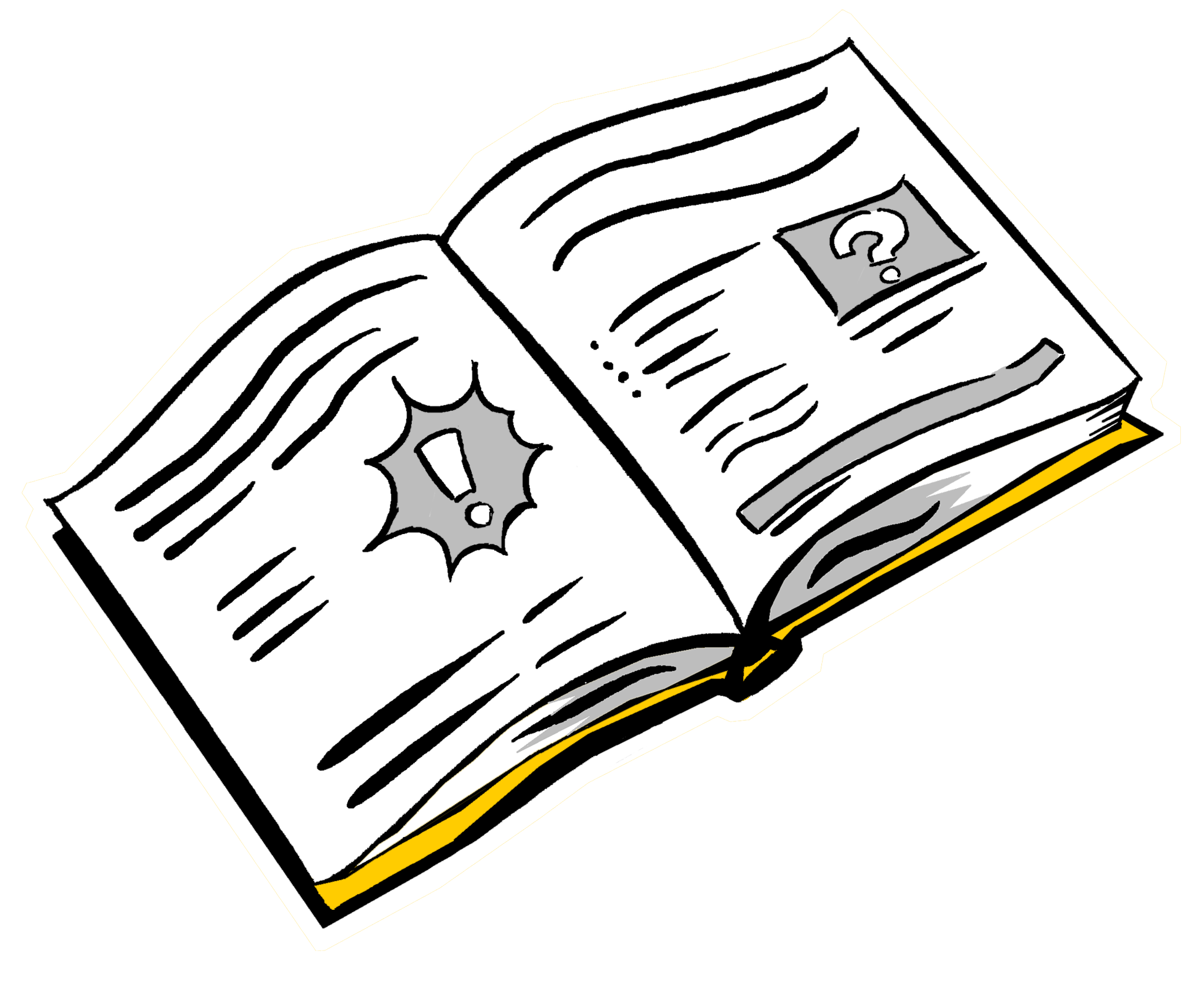 Cut Time By Only Reviewing Essential GED Concepts.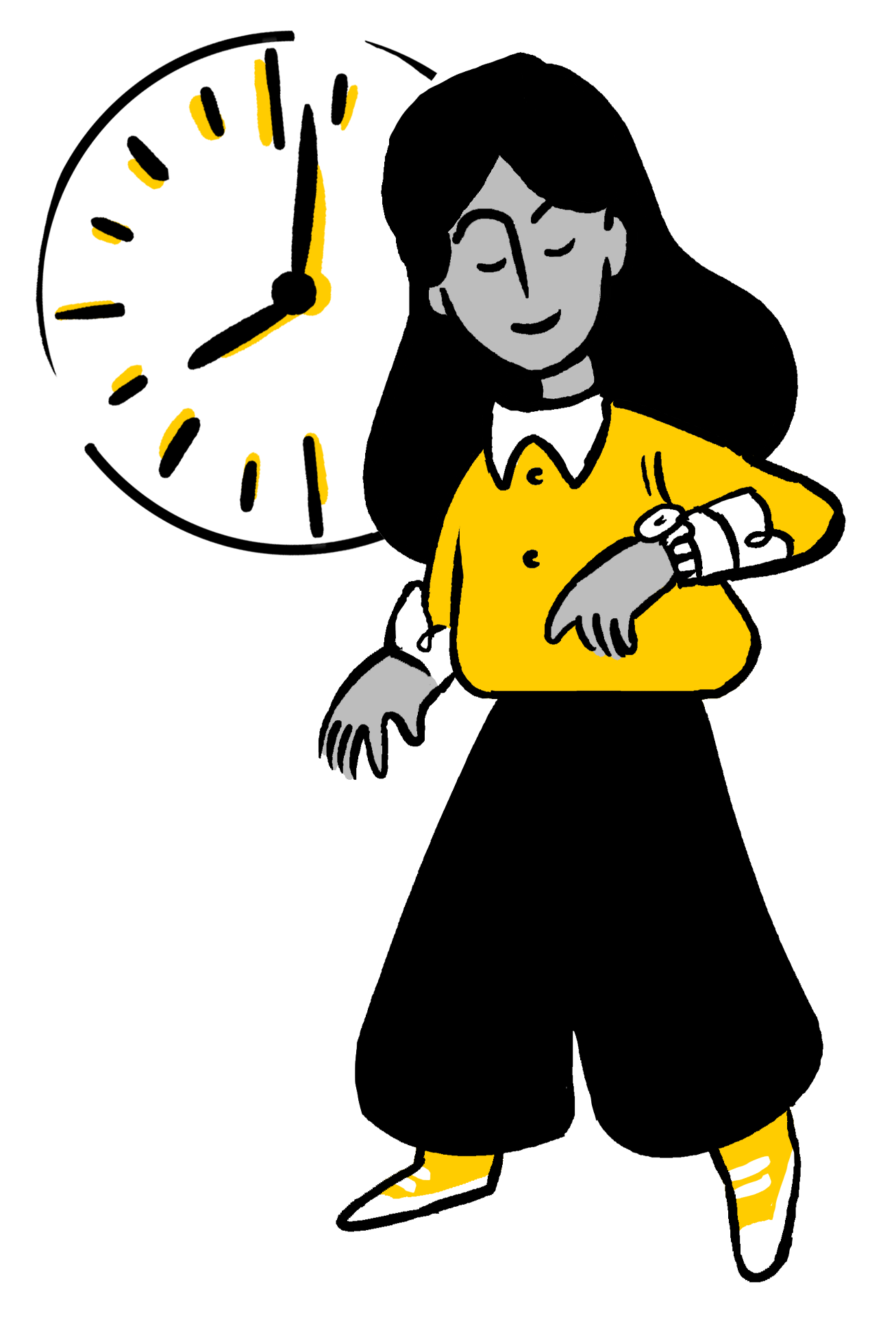 The GED test assesses essential skills that are typically taught in high school. If you didn't complete high school or have been out of school for some time, remembering all the necessary information can be challenging.
This comprehensive GED study guide gathers all the need-to-know information into one guide. The Mometrix GED prep book is user-friendly and organized in a manner that is easy to understand.
It will save you time, frustration, and mental energy.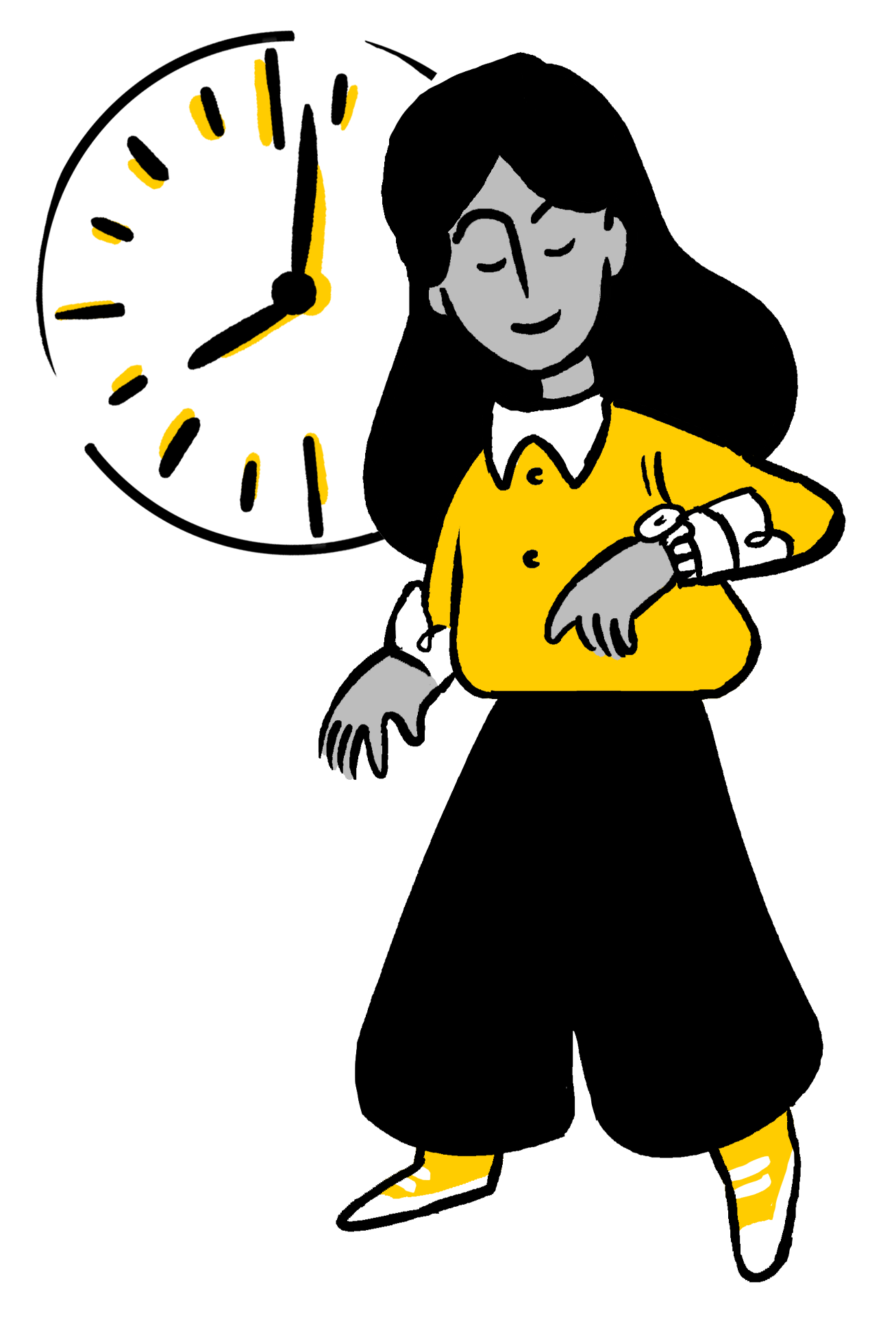 Use This Organized Guide to Pace Yourself.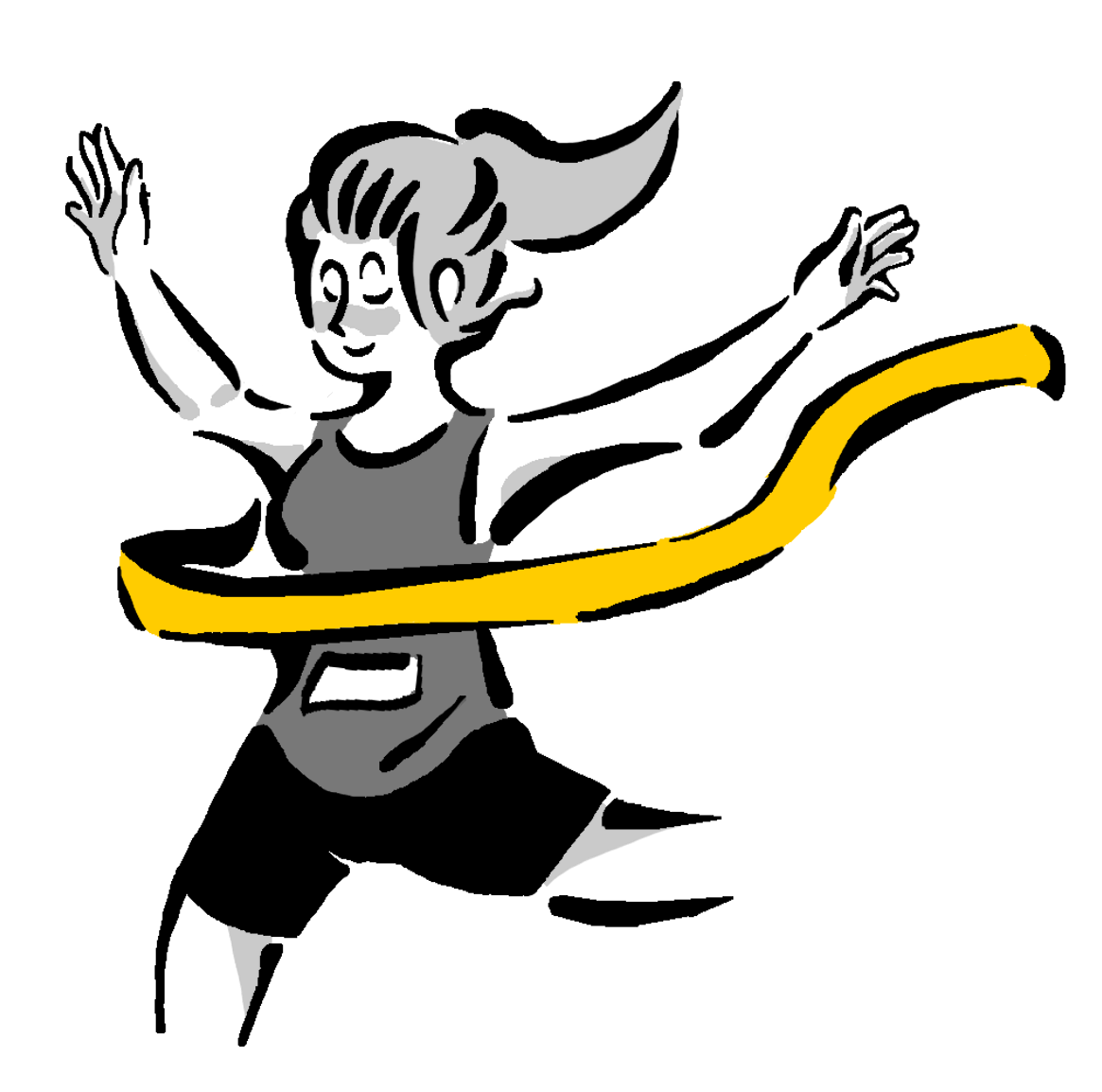 Many people don't realize taking one section at a time is an option. Instead, they overload themselves with information all at once and try to take the entire assessment in one or two days.
If you want to study and take all the sections at once, good for you! But it might be easier to study and pass one subject at a time. The Mometrix GED study guide is organized so that you can study for one section, pass, and repeat the process with the next section.
You don't want to burn out your motivation by not pacing yourself.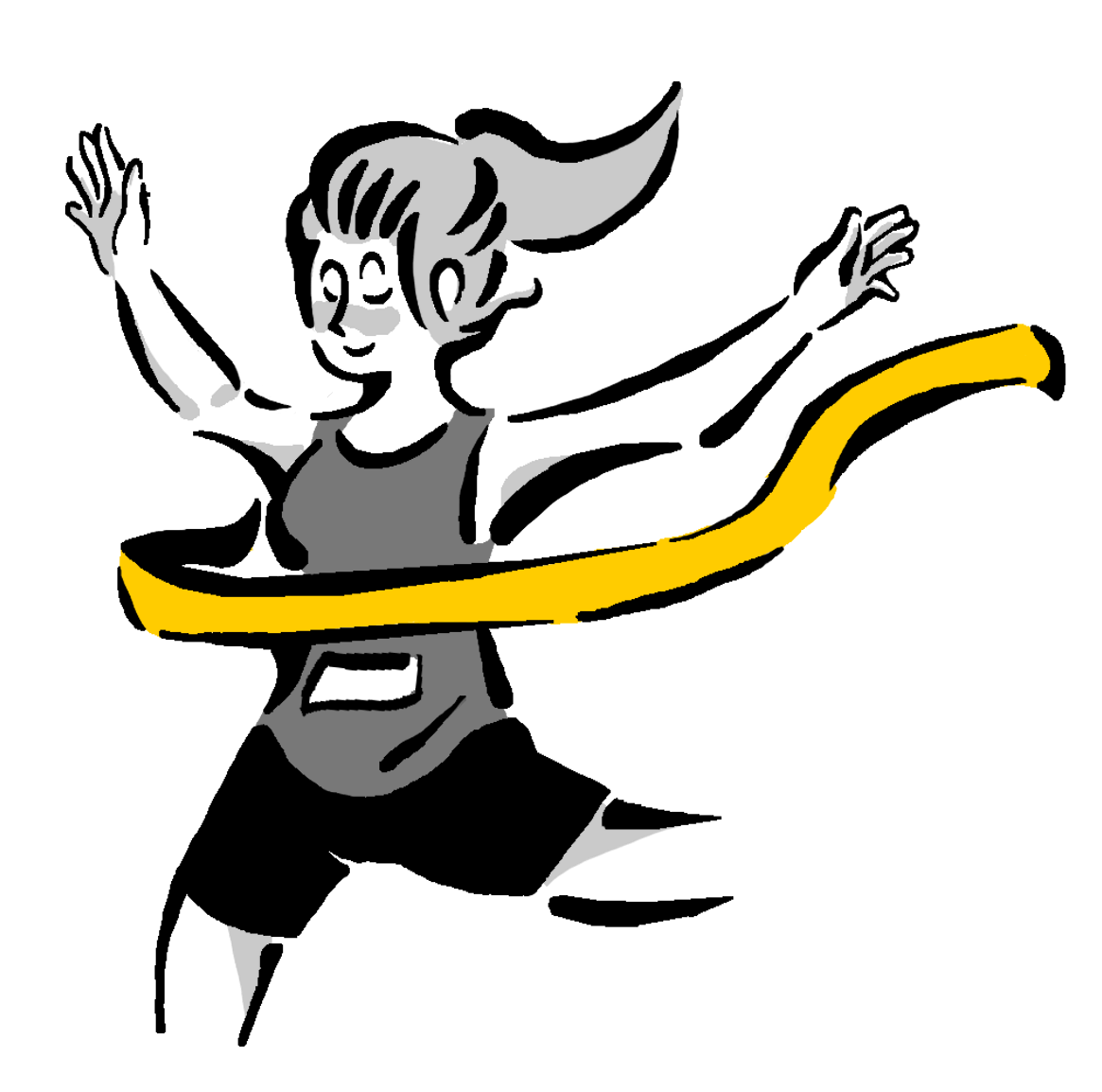 Get More Than a GED Book.
Bonus #1: Use the Optimal Study Method.
Studying is about more than just taking time to look over information.
Certain study methods will optimize your time and effort. This study guide has detailed study plans for 2-6 weeks. It will tell you how much, how long, and what to study. These plans are an easy way to organize your journey to success.
Bonus #2: Use Tips to Overcome Your Fear of Math.
Do you have an intense fear of math?
If you do, this guide has a section explaining why that is the case. You will be surprised at the reason why this subject is intimidating. Knowing why it is difficult will help you beat that obstacle.
The guide has tips and strategies to help overcome your fear of math.
Bonus #3: Overcome Test Anxiety With Tips.
Test anxiety can impact your score significantly. It can cause your heart to race and your mind to go blank.
Test-takers spend weeks upon months studying for the exam, only to fail because of nerves. This guide has a section of tips to help clear your mind. It provides the latest research on dealing with nerves and keeping your focus.
Bonus #4: Partnered with the Official GED Organization.
Mometrix has worked with the official GED organization to ensure the practice tests in this guide reflect the actual test. The content in this guide is recognized as 100% aligned with the official test. Taking these practice tests will be like taking the real exam.
The GED Secrets study guide contains all the information you need to pass.
Try It Out With a 100% Money-Back Guarantee.
Are you worried that you won't like the study guide?
No one wants to pay for something and not use it. This one-year money-back guarantee ensures you feel safe with your purchase. If the guide isn't everything we say it is and doesn't save you time, frustration, and money, you can return it and get a full refund. You can use the guide, pass your test, and return the guide with no hassle or loopholes.
This guarantee shows our confidence that you will love the Mometrix GED study guide.
Raise your GED Score
GED Study Guide Reviews