GED Math Practice Test
GED stands for General Education Development or General Education Diploma. The GED is a secondary option for individuals who did not complete high school and receive their high school diploma. The GED, recognized in all 50 states, serves as a high school equivalency credential. With this credential, graduates can apply for colleges and entry-level employment positions. The math section of this assessment tests students' ability to solve algebraic and quantitative problems.

Who is eligible to take the GED Math Test?
You are eligible to take the GED math test if you meet the following requirements:
You are at least 16 years old
You are not enrolled in high school
You have not graduated from high school
You meet all of your state's additional requirements (ex. the length of time since leaving school)
How much is the GED Math Test?
In most states, the GED Math test is $30 or less. Students are encouraged to check out the GED website for their state's prices.
What type of math is on the GED Test?
The mathematical reasoning section of the GED test consists of two types of problems, quantitative problem-solving and algebraic problem-solving. Some of the many topics include:
Mean & median
Surface area
Slope of a line
Perimeter
Circumference
Simple interest
Pythagorean theorem
Quadratic formula
Total cost
How long is the GED Math Test?
The GED Math Test is 115 minutes (1 Hour & 55 minutes).
Can you use a calculator on the GED Math Test?
The GED math test has two sections. On the first section, which consists of 5 questions, you are not allowed to use a calculator. For the second section, which includes 41 questions, you may use a calculator. Please note that you must bring your own TI-30XS calculator.
How many questions can you miss on the GED Math Test?
The GED scoring system is complex, so one question doesn't always equal one point. Some questions are fill in the blank or multiple select, where you must select multiple answers, which means multiple points. The GED Math Section has 46 questions, and a passing score is 145-164. There is no exact number of questions you can miss and still pass, but, according to the GED Testing Service, you need approximately 60%-65% of your points to pass.
How many times can you retake the GED Math Test?
There are no restrictions on how many times you can retake the GED Math Test. Generally, you can take the GED 3 times, and after the 3rd attempt, you have to wait 60 days. Similar rules apply to students taking the test in different languages. For example, if a student takes a test 3 times in Spanish, after the 3rd attempt, there is a 60-day waiting period to take it in English. Some states have individual retake rules. For example, in the District of Columbia (D.C.), after the first attempt, there is a 30-day waiting period before you can retake the test. Students are encouraged to check out their state's retesting policy.
What do you have to score to pass the GED Math Test?
To pass the GED math test, you must earn a score of at least 145. The highest score is 164, and anything below 145 is considered failing.
How many questions are on the GED Math Test?
The GED math test consists of 46 questions. Some of the many question types include multiple-choice, drag-and-drop, hot spot, and fill-in-the-blank.
GED Math Practice Test
What to expect on test day
The rules and procedures for test day vary with each testing center. Below you will find some common tips to help you on test day.

Arrive at your testing site at least 15 minutes early. Some testing locations will not allow you to take your test if you are more than 15 minutes late.
Bring an unexpired photo identification card, such as a driver's license, state-issued ID, military ID, or passport.
You will be able to take a break if you scheduled more than one subject on the same day.
You will not be able to eat or drink in the testing area.
Cell phones and other electronics are not allowed in the testing area.
You must bring your own TI-30XS calculator.
You will receive a reference sheet and math formula sheet
Any additional items, such as backpacks and handbags are put in storage if it's available.
GED Test Online Prep Course
If you are wanting to be fully prepared, Mometrix offers an online GED Prep Course. The course is designed to provide you with any and every resource you might want while studying. The GED Course includes:
118 Lessons Covering all the Topics
Over 1,000 GED Practice Questions
300+ Video Tutorials
More Than 400 Electronic Flashcards
Money-back Guarantee
Easy Mobile Access
and More!
The GED Prep Course is designed to help any learner get everything they need to prepare for their GED exam; click below to check it out.
How to study for the GED Math Test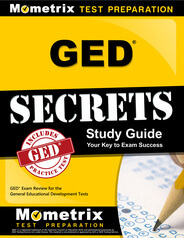 Check Out Mometrix's GED Math Printed Study Guide
Does the thought of taking the GED math test make you nervous? Don't worry- you are in the right place! Our test-taking experts thoroughly researched the GED to create the Mometrix GED Study Guide. This comprehensive study guide not only covers the major topics on the GED math test, like variables and line plotting, but it also includes practice test questions. With our easy-to-read explanations, you're sure to ace the practice test, as well as the official one! The Mometrix GED Study Guide covers all four sections (social studies, science, reasoning through language arts, and mathematical reasoning) on the GED test.
Repetition is one of the most proven study strategies, so our experts also developed the Mometrix GED Flash Cards. Making the study experience fun and effective, the Mometrix GED Flash Cards are ideal for quizzing and studying on the go! These all-in-one cards cover all the major topics on all four sections of the GED test. You can also look forward to learning effective test-taking strategies that will make a big difference on test day!
We congratulate you on taking the first few steps toward earning your GED. We look forward to helping you ace the test!
Upgrade your studying with our GED study guide and flashcards:
GED Study Guide
GED Flashcards
GED Online Course
GED Test – Home