HiSET Practice Test
Welcome to the HiSET practice test page. The links below will help you take our sample HiSET practice test. These HiSET practice questions will give you a better idea of what to study on your exam. Good luck with your studying. If you need additional practice questions get our HiSET study guide and flashcards.
Upgrade to our best HiSET study guide and flashcards resource.
Check Out Mometrix's HiSET Study Guide
Get practice questions, video tutorials, and detailed study lessons
Get Your Study Guide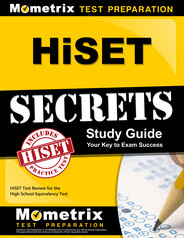 Practice For the HiSET the Best Way
If your goal is to take the HiSET and earn a diploma, you will want to thoroughly prepare for the exam to set yourself up for success on your first attempt. An effective approach to use in your preparation is to utilize a variety of study materials and then take HiSET practice tests to verify your readiness. Free study resources are available from Mometrix Academy to assist you in this endeavor. You can access the free practice test study guides by using the links above. These videos cover all the subjects included on the HiSET: Language Arts – Reading, Language Arts – Writing, Mathematics, Science, and Social Studies. Links to free practice tests for each HiSET subject are also available. The HiSET practice tests will provide you with a good indication of your strengths and weaknesses so that you can make the best use of your study time. You may want to take the HiSET practice test for the first time and consider which of the following statements is true for each question.
I confidently knew the correct answer
I chose the correct answer but was unsure of my choice
I had no idea which option was the correct answer
Considering these questions will help you determine how much time and energy you need to focus on each of the various topics. The questions that you answered correctly won't require a lot of study time, but you may want to briefly review those concepts to ensure that you have a thorough understanding of them. A little more time will be needed on the questions that you answered correctly but about which were unsure. You will want to review this material until you are certain you have a thorough understanding of it. Obviously, the questions that you were completely at a loss as to the correct answer are the areas that will require the most time and effort. Don't be disheartened about these questions! Mometrix has all the resources you need to achieve success on the HiSET.
Online HiSET Prep Course
If you want to be fully prepared, Mometrix offers an online HiSET Prep Course. The course is designed to provide you with any and every resource you might want while studying. The HiSET Course includes:
Review Lessons Covering All the Topics
1250+ HiSET Practice Questions
More than 1250 Electronic Flashcards
Over 350 Instructional Videos
Money-back Guarantee
Free Mobile Access
and More!
The HiSET Prep Course is designed to help any learner get everything they need to prepare for their HiSET exam; click below to check it out.
Check Out Mometrix's HiSET Flashcards
Get complex subjects broken down into easily understandable concepts
Get Your Flashcards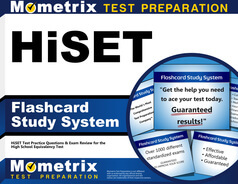 HiSET Practice Methods
Consider using the following method to prepare for the HiSET:
Take your first practice test using your study materials, if necessary, and not being concerned about how much time it takes you to complete it. Make a note of each question as outlined above.
Use the free Mometrix Academy HiSET study materials available to you to obtain a better understanding of the concepts you struggled with. Use the links above to access the instructional videos for each subject area. These videos explain all the critical concepts you need to understand in order to score well on the HiSET.
Take another practice test to evaluate your new understanding of the material. Try to complete this practice test in a timely manner and use your study materials as little as possible.
Sufficient preparation for the HiSET includes repetition and practice. If you need further instruction or practice, check out the Mometrix HiSET Flashcards and the Mometrix HiSET Study Guide which includes additional review material, practice tests, and much more. All Mometrix study guides and flashcards include a risk-free, 1-year 100% money-back guarantee.