HiSET Social Studies Practice Test
If you're on this page, there's a good chance you're looking for information regarding the HiSET test. Well, you've come to the right place! This page is part of a group of pages, all of which feature information regarding the HiSET, also known as the High School Equivalency Test.
Before we expound upon the HiSET test, however, we must first go over the basics of what this exam is. The HiSET is predominantly administered to people who, regardless of their reasons, were unable to earn their high school diploma. Like the GED exam, the HiSET serves as a second chance by allowing test takers to earn similar certification to their high school diploma in exchange for a passing score on the exam.

The HiSET test covers five main subjects: Social Studies, Reading, Science, Mathematics, and Writing. Each of these subjects mirror the curriculum present in today's high school classrooms—both in terms of basic content and in the way they will be presented on the exam. This page will contain all the information you'll need to prepare for the Social Studies portion of the test.
It may serve as no surprise that Social Studies is one of the subjects you'll have to face on this exam. After all, social studies is just another means of helping us understand our world on a deeper, more social level. Subjects such as geography and sociology give us a deeper glimpse into why our world has developed the way that it has, and what causes people to behave in certain ways. By proving yourself capable with this subject, you also demonstrate your competency with many important skills you'll need in the world of higher education, your career, and similar avenues.
Check Out Mometrix's HiSET Study Guide
Get practice questions, video tutorials, and detailed study lessons
Get Your Study Guide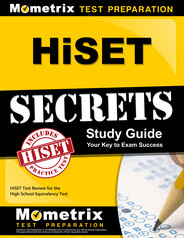 The HiSET Social Studies exam is one of the shortest sections of the full test. While it spans just 50 questions, you will be given only 70 minutes total to complete them all. This means you must tailor your study approach to allow you to process any and all information on the exam as quickly as possible, so you can move through each question efficiently. All questions on this portion of the exam will be in multiple choice format.
In terms of structure, the Social Studies portion of the HiSET exam will present you with some form of historical data, be it written selections, graphical information, or illustrations. You must then interpret said information according to the questions being asked of you. Each question on the exam will pertain to one of four specific knowledge categories, each of which is considered relevant to your understanding of Social Studies. We will go into more detail on each of these knowledge categories below.
As the smallest category on the Social Studies exam, Geography takes up only 10 percent of the exam's questions. Here you will be expected to showcase your comprehension of geographical data, as well as how various geographical elements have impacted human development.
Economics accounts for 20 percent of exam content. For this category, you will tackle questions relating to the various economic theories.
Civics & Government takes up 35 percent of the exam. This category addresses how our society works on a political level, and its questions reflect as such. For this category, be sure to brush up on how the government of the United States operates in particular. Questions under this category will only deal with political operations on a country-wide scale.
Like the category before it, History also makes up 35 percent of the test's full content. Questions under this category will assess your knowledge of history on a wide scale, from the world to the United States alone. You must be able to demonstrate some knowledge of key events and figures, as well as assign significance to specific documents based on their historical context.

In addition to these categories, the questions on this portion of the exam will also assess your capabilities with three specific "Process Categories," which apply to how you approach each question and come to your answer. These categories are Evaluate and Generalize, Analyze, and Interpret and Apply.
Earning your best possible score on this exam will require forming a solid study plan, as well as having thorough resources in your possession to help you prepare. The Mometrix Test Preparation team is here to help you in this regard with our own set of study tools.
On this page we'd like to offer you our exclusive HiSET Social Studies practice test. We have taken every possible measure to ensure our practice test's accuracy, including carefully researching the full exam. As a result, you should find our practice test closely mirrors the real thing, meaning you should run into few surprises come test day. You can use this practice test to gain a deeper understanding of the material, as well as how to mold your study efforts. Using this resource should give you an idea of how the test works, as well as which areas you perform well in and which may need more work and attention.
In addition to your practice test, you can also access our HiSET Social Studies study guide here. Much like our practice test, our study guide is geared toward helping you to better understand the ins and outs of the full Social Studies portion of the exam. It should provide you with further instruction on how to study, breaking down each part of the subtest as well as strategies on how to approach them.
Our resources for this exam are best utilized in conjunction with each other, but should prove just as effective if used separately. No matter how you use them, we hope they will serve you well as you prepare for this important exam. We make it our priority to provide you with thorough help for any exam you may be facing in the near future, which is why we strive to publish only the best study tools around. Feel free to access our study guide and/or practice test any time you need them. Good luck, and study hard!

Check Out Mometrix's HiSET Flashcards
Get complex subjects broken down into easily understandable concepts
Get Your Flashcards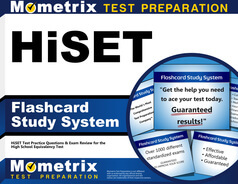 Online HiSET Prep Course
If you want to be fully prepared, Mometrix offers an online HiSET Prep Course. The course is designed to provide you with any and every resource you might want while studying. The HiSET Course includes:
Review Lessons Covering All the Topics
1250+ HiSET Practice Questions
More than 1250 Electronic Flashcards
Over 350 Instructional Videos
Money-back Guarantee
Free Mobile Access
and More!
The HiSET Prep Course is designed to help any learner get everything they need to prepare for their HiSET exam; click below to check it out.