HiSET Study Guide
Welcome to the HiSET study guide page. The links below will take you through our online HiSET test review. Watch our HiSET study guide tutorials and brush up on any concepts you don't remember from your high school classes. Pinpoint your strengths and weaknesses to get the most out of your studying for the HiSET test. If you need more help or additional practice questions consider upgrading with our HiSET book and flashcards.
Featured Lecture: Adding and Subtracting Exponents
Upgrade to our best HiSET test prep resources:
Online HiSET Prep Course
If you want to be fully prepared, Mometrix offers an online HiSET Prep Course. The course is designed to provide you with any and every resource you might want while studying. The HiSET Course includes:
Review Lessons Covering All the Topics
1400+ HiSET Practice Questions
More than 1200 Electronic Flashcards
Over 380 Instructional Videos
Money-back Guarantee
Free Mobile Access
and More!
The HiSET Prep Course is designed to help any learner get everything they need to prepare for their HiSET exam; click below to check it out.
Check Out Mometrix's HiSET Study Guide
Get practice questions, video tutorials, and detailed study lessons
Get Your Study Guide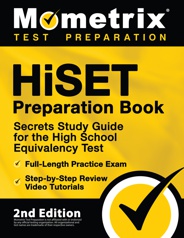 HiSET Study Guide Reviews