HiSET Writing Practice Test
No matter what road you take in life, there is always a path available to lead you toward the success you want to attain. For people who haven't earned their high school diplomas, this path is taking and earning a passing score on the GED or, as of recent years, the HiSET. The HiSET test—also known by its full name, the High School Equivalency Test—is meant to serve as an alternative to the GED. By scoring well on this exam, you will be able to earn high school certification, allowing you to move on to higher education or advance toward whatever career goals you may have.
Because the HiSET grants you the equivalent of your high school diploma, you can expect its content to be very similar to what you would have learned throughout high school. The HiSET will focus on the typical five core subjects. These subjects are Social Studies, Reading, Science, Mathematics, and Writing. On this page you will find information pertaining specifically to the Writing portion of the test.
Almost every career field you can imagine requires competent writing abilities on some level. This is because writing is how we communicate information and ideas—a task you will have to utilize for every job, no matter the size. Your writing ability is key to determining your ability to effectively interact with those around you. This is a skill you must carry, and improve upon, no matter what your next step may be after earning your high school certification.
The HiSET Writing exam is quite different from its sister subject tests, in terms of length. While the amount of questions you will have to answer is close to the average amount, totaling to 51 in all, the questions' formats and the amount of time you'll be given to complete them all are what sets the Writing portion of the HiSET apart. 50 of the test's questions are multiple choice, while the remaining one must be answered in essay format. You will be given 120 minutes to answer each question on this exam.
Check Out Mometrix's HiSET Study Guide
Get practice questions, video tutorials, and detailed study lessons
Get Your Study Guide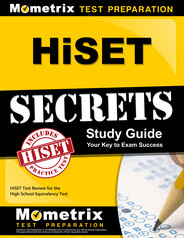 As you may already expect, the essay portion of the test will evaluate your writing abilities. You will be given a prompt based on two distinct reading passages, which you must assess and discuss based on the parameters presented within the prompt. You will be allowed to use both anecdotal evidence and the information provided to you by the reading. The purpose of this portion of the exam is to assess how well you can compose an argument and back up your own perspective in a written context.
The multiple choice section of the Writing exam may feel just as familiar to you. You will be presented with short reading passages, which you must read, gleaning for errors in the process. The reading passages given to you will vary widely as far as style. You will be expected to recognize both grammatical and stylistic errors within each piece of text.
Each and every question on the Writing test will fall under one of three relevant knowledge categories, which we will further explain below.
Writing Conventions takes up approximately 35 percent of the test's questions. This category addresses the basic elements of writing, particularly on a grammatical level.
Language Facility is the largest category featured on this portion of the HiSET, at 43 percent. Here you will have to prove your comprehension of how words operate within a written work on a surface and rhetorical level. Some questions under this category may require you to figure out what certain words are trying to convey through their usage, as well as whether they truly fit the work in terms of tone and message.
The Organization of Ideas category accounts for 22 percent of the exam. Questions under this category will deal with your capability to assess whether a written work makes sense. You will be expected to look at passages and figure out how coherent they are based on how sentences and sections are ordered, as well as which parts of the passage may or may not serve the main objective of the work.
The Writing portion of the HiSET will not only test your capabilities of the knowledge categories we've detailed above, but also with a set of "Process Categories." The latter set of categories deals with your approach to each of the questions featured on the test. These categories are officially known as Writing Conventions, Development of Central Position or Claim, Language Facility, and Organization of Ideas.
While the idea of this exam may seem overwhelming, the Mometrix Test Preparation team is here to help you every step of the way! We would like to offer you our HiSET Writing practice test, which you can access here, 100 percent free. We have designed our practice test with the help of thorough research. As such, it should prove an accurate mirror to the real thing, allowing you to know what to expect from the full exam well ahead of test day. You can use our practice test to get to know how the full exam will work on a hands-on level.
In addition to our practice test, you can also find our HiSET Writing study guide here. Much like our practice test, the purpose of our study guide is to give you a better sense of how the full exam works. If you find yourself hitting a wall with your study plan, or simply aren't sure of where to start, our study guide can point you in the right direction. We encourage you to use either of these tools to fine tune your study approach, whether by figuring out where your weaknesses and strengths lie with the test material or by adding new study strategies to your plan based on our written suggestions.
We hope you will choose to incorporate these tools into your study plan. They should prove effective whether used standalone or alongside each other. Good luck, and work hard!

Check Out Mometrix's HiSET Flashcards
Get complex subjects broken down into easily understandable concepts
Get Your Flashcards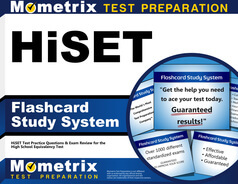 Online HiSET Prep Course
If you want to be fully prepared, Mometrix offers an online HiSET Prep Course. The course is designed to provide you with any and every resource you might want while studying. The HiSET Course includes:
Review Lessons Covering All the Topics
1250+ HiSET Practice Questions
More than 1250 Electronic Flashcards
Over 350 Instructional Videos
Money-back Guarantee
Free Mobile Access
and More!
The HiSET Prep Course is designed to help any learner get everything they need to prepare for their HiSET exam; click below to check it out.