HiSET Science Practice Test
While the educational landscape has vastly improved over recent decades, and today's students have greater opportunities and better access to efficient schooling than ever before, the unfortunate other side to the truth is that some students still fall through the cracks. This includes people who, for any multitude of reasons, failed to graduate high school along with their peers. However, just as there are a wide range of resources for students looking to advance their education, there is an equally large breadth of options for people who left high school early. This includes such exams as the GED and the HiSET, also known as the High School Equivalency Test.
Much like the GED, the HiSET is meant to give you an alternative means to earning your high school diploma. In fact, the HiSET itself serves as a different option for people who, for whatever reason, may not want to take the GED.

All content you'll find on the HiSET will be no different from the curriculum currently taught in today's high school classes. The test's material will span over five core subjects: Social Studies, Reading, Science, Mathematics, and Writing. This page will feature information pertaining to the Science exam.
You may be wondering, "What importance does Science hold within high school curriculum and beyond?" Science is what helps us to understand the world around us on a more complex level. More specifically, it helps us to realize how and why specific elements of our world function as they do on both a basic and complex level. Science also ties into our capability to reason, as many of the principles learned in the average science class—such as questioning events and testing the "what ifs"—can easily be applied to the real world.
Like its sibling subtests, the HiSET Science exam is entirely multiple choice and will be administered on a timed basis. You will be expected to answer a total of 50 questions within just under an hour and a half—80 minutes, to be precise. In terms of structure, the Science portion of this exam will be much like other standardized Science tests you may have been exposed to before. For each question, you will be presented with some form of information, be it graphical data, written descriptions, or some combination. You will then have to analyze this information according to the questions presented to you.

Check Out Mometrix's HiSET Study Guide
Get practice questions, video tutorials, and detailed study lessons
Get Your Study Guide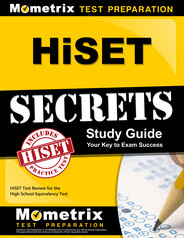 Questions for this portion of the HiSET will fall under three main knowledge categories. We will go into more detail about them below.
The Earth Science category is the smallest, taking up only 23 percent of test questions. Questions under this category will deal specifically with both the composition and activity of the Earth itself, but also the solar system and the various other planetary bodies within it. You will be expected to demonstrate basic knowledge of astronomy and geology.
The Physical Science category accounts for 28 percent of the test's content. As its name implies, this category focuses on physics and other related sciences. For this category's questions, you will have to show your comprehension of chemistry-related principles, matter and its various properties, and several other elements.
Life Science is the largest category, taking up nearly half (49 percent) of the exam. Questions under this category are geared toward anatomy and biology. You will not only have to brush up on your comprehension of how the body operates, but on how the environment is structured as a whole.
In addition to these knowledge categories, the test also features a set of "Process Categories," which involve the various strategies you must use to answer each of the test questions. These categories will require you to Evaluate and Generalize, Analyze, and Interpret and Apply.
At Mometrix Test Preparation, we consider your success to be our number one priority. We are here to help you every step of the way as you prepare for this important exam. That's why, on this page, we would like to present you with our HiSET Science practice test, as well as our HiSET Science study guide. Both of these resources are designed to give you a better sense of how the exam will work, albeit through different means.
Our practice test familiarizes you with the exam through a hands-on approach. It is ideal for those who want to see firsthand how the exam is structured, as well as try to work through the questions themselves to get the "full experience." In working out the problems featured on our practice test, you will get a full glimpse of just how the test will be presented, as well as how to approach each of its questions. We have built our practice test with the help of extensive observation and countless hours of research. You can trust it is a faithful mirror of the full exam.
Not only can you use our practice test to gain some experience with the exam before test day, but you can also use it to fine tune your study plan as needed based on how well you do. Taking our practice test will give you a better idea of which areas of the test you will need to focus on more throughout your studies.
Our study guide, however, is better for those who need an overview of the full exam, or simply some guidance on how to best approach the exam and shape their study plan. Our study guide will not only tour you through how the test works, but provide suggestions on how to best approach studying for each area of the exam.
Regardless of how you use our study guide or practice test, we hope these tools will become a useful part of your study plan. We know how important scoring well on this exam is to your overall academic and career goals, which is why we strive to provide you with only the best resources. Feel free to take advantage of these tools as you prepare for the exam. Good luck, and happy studying!

Check Out Mometrix's HiSET Flashcards
Get complex subjects broken down into easily understandable concepts
Get Your Flashcards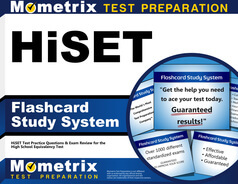 Online HiSET Prep Course
If you want to be fully prepared, Mometrix offers an online HiSET Prep Course. The course is designed to provide you with any and every resource you might want while studying. The HiSET Course includes:
Review Lessons Covering All the Topics
1250+ HiSET Practice Questions
More than 1250 Electronic Flashcards
Over 350 Instructional Videos
Money-back Guarantee
Free Mobile Access
and More!
The HiSET Prep Course is designed to help any learner get everything they need to prepare for their HiSET exam; click below to check it out.