HiSET Reading Practice Test
While a much broader range of students today have access to higher levels of education than in the past, the unfortunate reality is that not all students have this choice. This includes students who, for any multitude of reasons, may have had to leave high school before they were able to graduate. The good news, however, is that those who are in this particular situations still can take advantage of multiple resources to guide them back toward the path to success. For many, this includes earning a passing score on the HiSET test, also known as the High School Equivalency Test.
The HiSET exam is designed to serve as a means for students like you to earn their high school diploma, or similar certification. It is meant to be an alternative to the GED. Anyone who was unable to graduate high school in the past can take the HiSET, allowing them to receive their diploma and move on to the next phase of their life and career goals.
As such, the HiSET deals with core subjects typically taught to today's high school students. These subjects are Social Studies, Reading, Science, Mathematics, and Writing. On this page, you'll find all the information you need regarding the Reading portion of the HiSET test.
Why does Reading have a spot on this particular exam? For starters, having proper reading ability is a necessity to surviving in our society. Very few people today can get by in the world without sufficient literacy skills. This is because reading is one of the primary ways in which we gain information about the world around us on multiple levels. By proving you have sufficient mastery of reading, you in turn prove yourself capable of handling a vast majority of real world situations.
Check Out Mometrix's HiSET Study Guide
Get practice questions, video tutorials, and detailed study lessons
Get Your Study Guide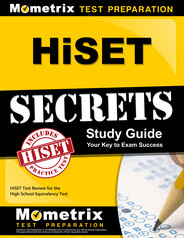 The HiSET Reading exam will likely feel similar to other reading tests you've taken in the past, particularly in terms of structure and content. You will be expected to read several passages and figure out their material and what they mean. The passages you'll find on the exam will generally include a wide array of styles and subjects, all for the sake of testing your comprehension of a sizable breadth of material. This format is meant to align with real world situations, as you'll likely come across various types of written work throughout your professional and daily life, and will have to read and understand all of it for one reason or another. However, the passages will be fairly short, being no shorter than 400 words and no longer than 600. This will allow you to read and digest the material more easily during the test's time span.
The Reading portion of the HiSET test will be about 40 questions long. Each question on the exam will be of multiple choice format, and you will have to complete these questions in just over an hour (65 minutes). Furthermore, each question on the exam will fall under one of two knowledge categories, each of which is relevant to your comprehension of the subject. These categories are as follows.
Informational Texts takes up 40 percent of the test's total content. As the name implies, informational texts supply you with concrete facts about its chosen subject. As you answer questions under this category, you will have to be able to distinguish just what the text is telling you, as well as the differences between objective and subjective statements, the intent of the author, and much more.
Literary Texts accounts for the remaining 60 percent of the test's questions. Questions under this category (and their accompanying passages) will require you to read on a more critical level. You will have to look for such elements as the tone of the work, metaphors, and several other literary devices used to create and deliver meaning.
Furthermore, you will also be tested on your comprehension of specific "process categories," which address the strategies you will have to use to solve each test question. The content categories for the Reading exam include Synthesis and Generalization, Comprehension, Analysis, and Inference and Interpretation.
In order to score well on this important exam, you'll need only the best study tools available. The Mometrix Test Preparation team is here to help you in this regard. We have composed a HiSET Reading practice test, which you can find and access here on this page. Our practice test is the ideal resource for anyone looking to familiarize themselves with the exam's contents well ahead of test day. We have conducted only the most thorough and careful research, all to render our practice test as accurate to the real thing as possible. As such, you can easily use it for other purposes beyond simply getting to know how the test will work.

Check Out Mometrix's HiSET Flashcards
Get complex subjects broken down into easily understandable concepts
Get Your Flashcards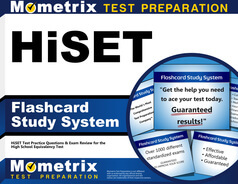 Our practice test should also prove valuable for getting to know where your weaknesses and strengths lie with the test material. When you take our practice exam, you can go back and review your performance as a whole. Based on whichever areas you performed weakest in, you can tailor your study plan to provide more focus toward these parts of the test. This will allow you to be even better prepared for the test as a whole, by sharpening your understanding of the test and how to approach its material.
Should you find you need extra help as you study, you can also find our HiSET Reading study guide on this page. Our study guide is also designed to debrief you on how the test works by giving you more direct information about its contents and how to tackle it on test day. We recommend this specific resource to anyone who finds themselves lost on how to begin the study process, or simply feeling unsure of where to go next.
You can use either of these study tools standalone, or in conjunction with each other. Regardless of how you use them, we hope they will fit well into your study plan. All of our study tools are designed to give you the best and most comprehensive help as you prepare for your big exam. Good luck, and study hard!
Online HiSET Prep Course
If you want to be fully prepared, Mometrix offers an online HiSET Prep Course. The course is designed to provide you with any and every resource you might want while studying. The HiSET Course includes:
Review Lessons Covering All the Topics
1250+ HiSET Practice Questions
More than 1250 Electronic Flashcards
Over 350 Instructional Videos
Money-back Guarantee
Free Mobile Access
and More!

The HiSET Prep Course is designed to help any learner get everything they need to prepare for their HiSET exam; click below to check it out.