TASC Social Studies Study Guide
Free TASC Test 2018 - Social Studies Lesson Guide
TASC Social Studies Review
When you think of Social Studies as a subject, what first comes to mind? History is probably the very first thing you remember, and with good reason. History is indeed an important part of Social Studies; however, the subject is a good deal more multifaceted than history alone. It is also comprised of several other subjects that all intermingle in interesting and complex ways. The TASC Social Studies subtest covers only three related subjects, all of which will be important as you move on from obtaining your high school equivalency and toward either a professional career or higher education.
How does Social Studies apply to these new stages of life? Firstly, the typical high school senior has spent four years of their high school career receiving an intimate education within the Social Studies subject. If you want to get your high school equivalency, you will need to be able to demonstrate the same amount of knowledge in order to do well on the TASC exam.
Check Out Mometrix's TASC Printed Study Guide
Get practice questions, video tutorials, and detailed study lessons
Get Your Study Guide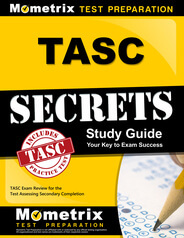 The TASC—also known as the Test Assessing Secondary Completion, its full name—is meant to closely mirror what high schoolers are typically learning in today's world. As you are observing and experiencing in your own life, technology is becoming increasingly and unavoidably relevant to today's world—more so than ever before. This fact holds especially true for the high school environment, where the curriculum is changing in multiple ways to match our shifting world. Not only is what high schoolers learn becoming more digitized, but educators are adjusting the focus of their lessons toward how what high schoolers learn will come to affect them beyond their current academic experiences and into the world, rather than having them regurgitate information whenever necessary.
When you first enter college, you will have to take courses relating to Social Studies as part of your general education requirements. Social Studies is not just the study of history, after all, but of how humanity is affected by its environment and vice versa, how cultures grow and change over time, and how different peoples all over the world interact with one another. It is the study of the world itself on a critical level, of the how and why of human society in several dimensions. Understanding how society works will prove a valuable skill as you embark upon your academic and/or professional career. You will be better able to interact with and understand other people and figure out how to approach complex problems through this basis. Social Studies is not a discipline useful only for history professionals, but for anyone across any specialty. Writers will inevitably have to approach differing cultures either fictionally or nonfictionally, through novels or journalism work. Engineers will have to craft their projects based upon the needs of society as a whole. The list goes on and on.
We at Mometrix Test Preparation care about your future success. We have crafted this TASC Social Studies overview with the hope that you will be able to use it to formulate a thorough study plan for this important exam. Regardless of your interest in or skill with the subject, this overview (and the TASC Social Studies study guide also featured on this page) should help you figure out the best way you can prepare. For further help with your studies, you can also turn to our TASC Social Studies flashcards and TASC Social Studies practice test, which are featured elsewhere on our website. In this overview, you will learn about the Social Studies section's formatting, what subjects will be covered, and receive suggestions toward how you can approach this section in order to earn the best score you can.
What Will Be Featured on the TASC Social Studies Section?
The Social Studies section of the TASC exam consists of 49 questions for the paper format and 48 for the digital format. You will also have to complete a "stimuli" section spanning eight questions in length, a question under the "technology response" category (which applies only to those taking the digital test format), and one question under the "constructed response" category. The amount of time you'll receive for the exam is dependent upon the language you take it in. Spanish speakers receive 80 minutes, while English speakers receive 75.
The purpose of the Social Studies section of the TASC exam is to evaluate your understanding of various subjects under the Social Studies umbrella. With many of the questions, you'll be presented with information in the form of charts, written works, graphs, pictures, and more. You will then have to apply the information given within some sort of historical and/or societal context. We recommend brushing up thoroughly on each dimension of United States history prior to taking the exam. It will feature heavily on the test in various ways.
Check Out Mometrix's TASC Flashcards
Get complex subjects broken down into easily understandable concepts
Get Your Flashcards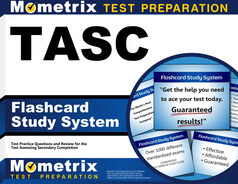 Like every other section featured on the TASC exam, the Social Studies section possesses a number of knowledge categories that shape the content you'll find on the exam. To help you prepare as thoroughly as possible, we will go over what knowledge categories will feature on the Social Studies section, how it will be presented to you, and what you can do in order to answer these questions as accurately as you can.
Economics
An oft-studied part of today's high school curriculum, Economics translates to the study of money—the ways it shapes our world, how we interact with each other through the use of money, and everything in between. In order to correctly answer Economics-based questions, you'll have to brush up on your knowledge of the FRS (or Federal Reserve System), joblessness and how it affects society (and the ability to generate income on a personal and wide scale), inflation, and the complex relationship between businesses and the people they serve (otherwise known by the term "microeconomics.")
Government
Another important element of Social Studies is the concept of how government (especially the United States government) operates and how its function affects its citizens. Residents of the United States are granted a certain level of responsibility within their government as a result of being members of its society. In a sense, history and government go hand in hand, as the current governmental was crafted as a result of the events that unfolded during and after the Revolutionary War. Be sure to review the structure of the United States government, the various types of government observed both in other countries besides the United States, and democracy and its unique attributes.
The History of the United States
When studying for this particular knowledge category, you should focus on the timeline from the Civil War up to the period following World War II—or, specifically, from 1850 to 1970. This may seem daunting at first, but it will help to split the years into sections based on major events. Keep in mind the landmark events that occurred in each period, as well as each notable person you come across for each historical period.
By reading this overview and making note of our suggestions, we hope you will be able to craft an excellent study plan. The TASC Social Studies study guide also featured on this page should supplement your review. In addition, we have prepared a thorough TASC Social Studies practice test and TASC Social Studies flashcards to help you. We at Mometrix Test Preparation are just as invested in your future as you are. This is why we strive to give you every possible resource to excel.
Good luck, and study hard!