TASC Reading Literacy Study Guide
TASC Reading Literacy Review
As technology alters the landscape of our daily lives, every dimension is affected as a result—from the home to the workplace to the educational environment. Today's high schoolers are feeling this the hardest with the implementation of computers in classrooms and educators' efforts to change how they approach curriculum in an effort to keep up with impending skill demand. Teachers no longer are interested in helping students learn to memorize information they can readily recite to earn impeccable test scores. Instead, educators are focusing more and more on the application of certain subjects in real life situations.
The DRC—also known by their full name, the Data Recognition Corporation—recognizes the changes sweeping over today's classrooms. As such, they have built a new high school equivalency exam that acknowledges these changes. It is called the TASC, otherwise known as the Test Assessing Secondary Completion. The TASC is a current counterpart to the GED. The TASC also splits into five sections: Writing, Social Studies, Science, Reading Literacy, and Mathematics. This overview goes over the TASC Reading Literacy subtest.
How does literacy apply to your future academic or professional career? For starters, living in today's world on a day-to-day basis requires basic reading comprehension. Reading is a part of everything we do, from preparing our breakfast in the morning to relaxing after a hard day's work in front of the television. You have to know how to read to do these things. Reading is also a heavy component of college courses, should you choose to go that route after obtaining your high school equivalency. You will be expected to consume a large amount of reading materials with an equally large variety of subjects and difficulties. You will not be able to thrive in any academic or professional environment if you do not have adequate reading skills. You must be able to read and comprehend writing of all types, which the Reading Literacy portion of the TASC exam will test you on.
Check Out Mometrix's TASC Printed Study Guide
Get practice questions, video tutorials, and detailed study lessons
Get Your Study Guide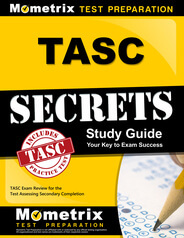 How can you prepare for this important exam section? Going through our overview of the TASC Reading Literacy subtest is a great way to start! We want to help guide you along the road to success in any and every way we can, which is why we have prepared the TASC Reading Literacy study guide you will find on this page. Elsewhere on our website, you will additionally find a TASC Reading Literacy practice test as well as TASC Reading Literacy flashcards, which are meant to be used as tools for more in-depth studying. This overview will give you a basic idea of what to expect from the Reading Literacy section—what is on it, how the test is formatted, and the best ways to approach the test for maximum success—so that you can formulate a study plan. Read on to learn more about this section of the TASC exam.
What Can I Expect to Find on the TASC Reading Literacy Section?
Much like its sister sections of the TASC exam, the Reading Literacy portion comes in two formats: digital or paper. There are few differences between the two beyond the technology involved. The digital version of the TASC exam has an additional section. Additionally, like the rest of the exam, the Reading Literacy section comes in either Spanish or English. Regardless of the language, you will be presented with 49 questions (if you are taking the paper format of the exam), or 48 for the exam's digital format. Spanish speakers will receive additional time to work through the test—a whole 80 minutes compared to English speakers' 75. You will also potentially have two written answer questions: one for "technology response," if you are taking the digital version of the test, and one with a required "constructed response."
Because you will undoubtedly be exposed to a myriad of different texts as you navigate your professional and/or academic career, the TASC Reading section also contains a variety of text passages for you to read. More specifically, you will be given passages that are both nonfiction and fiction, informational and opinionated, professional and casual. The exam will contain a total of eight selections for you to read and evaluate. Throughout all of these, you will be tested on your ability to comprehend the contents of each passage, the intent behind them, and much more. The purpose of the TASC Reading section is to evaluate how well you can read and understand written materials, as well as use what you learned to create conclusions of your own based on the information contained within the text. You will also be tested on your capabilities with summarization, which you will have to answer through a written response.
Check Out Mometrix's TASC Flashcards
Get complex subjects broken down into easily understandable concepts
Get Your Flashcards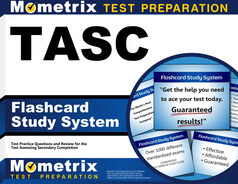 There are four major content areas you will be expected to demonstrate your proficiency with. We will go over them and how you can approach questions that fall under these content areas below.
Reading Level
This knowledge category hearkens back to the wide array of texts you'll find on the exam, which—as stated above—is meant to reflect the sheer variety of reading you will have to do after you obtain your high school equivalency. The TASC Reading section will likely include nonfiction, fictional narratives, historical pieces, dramatic works, mythical writings, and poetry. Be sure to brush up on works of all of these varieties by doing some independent reading before taking the exam.
Main Idea
The literary works you'll encounter on the test typically will have a main idea behind them. It will be your job to pick up on what the central themes of the work is while you read. The details featured within the text will always point back to what the main idea of the work is, so be sure to pay close attention. The ways in which the author backs up their main idea is also an important thing to watch out for.
Effectiveness
As you read a text, keep in mind that you may have to answer a question about the effectiveness of the author's argument and reasoning. This will most likely happen for the written response question(s) featured on the exam, where you will be presented with a pair of related passages and expected to discuss how they differ and where their similarities lie, as well as how well the authors communicated their points and evidence. You will want to brush up on how to format citations, just in case you have to refer back to the texts.
Craft
Part of explicating a work involves gleaning how it is presented while you read. Think about the author's intent and how their diction helps to illustrate the message they want to communicate, what it says about its characters (if the work is fictional), and how it affects the tone of the work.
While this overview is not 100 percent comprehensive, we hope it will be of use to you as you plan out how to approach and conquer this important exam. The TASC Reading study guide also featured on this page will serve to give you an even more detailed glimpse of the exam and how it works. For further study help, feel free to check out our TASC Reading flashcards and TASC Reading practice test.
Good luck, and study hard!