TASC Math Study Guide
Free TASC Test 2018 Math Study Guide
TASC Mathematics Review
As anyone living in today's world knows, technology has changed the face of how we interact with each other and consume information. This is prevalent through the implementation of technology—from personal computers to smartphones—in nearly every aspect of our lives. This holds especially true for the educational environment you and many people, both young and old, are experiencing in this day and age. Academic institutions are certainly beginning to notice this rise in technology and its daily usage.
One case in point comes in the form of the Data Recognition Corporation, or DRC. They took considerable notice of the heavier implementation of computer technology in today's learning environments, especially where high schools are concerned. This observation led them to craft the Test Assessing Secondary Completion exam, or TASC. The TASC is a new high school equivalency exam, much like the GED, but with a focus shifted toward accommodating the advent of technology within the classroom. The DRC also seeks to concentrate on the new ways educators are teaching, which involves encouraging students to think more critically about the subjects they're learning, rather than aiming purely toward exams and regurgitation. The DRC felt that, because the educational environment is shifting so rapidly, any and every equivalency exam must change to match these classroom settings.
The TASC splits into five sections total—Writing, Science, Social Studies, Reading Literacy, and Mathematics. This overview will cover the Mathematics section of the TASC, which is also officially referred to as "Mathematical Reasoning." The goal of the TASC Math section is not just to evaluate your ability to solve math equations, but also your capabilities with "Mathematical Reasoning." This means understanding math on several levels and across multiple subjects and applications. As a high school equivalency test, the TASC is not simply an academic tool, but a means of judging your capabilities with equating subjects and principles learned academically to scenarios you could easily encounter in the real world.
Check Out Mometrix's TASC Printed Study Guide
Get practice questions, video tutorials, and detailed study lessons
Get Your Study Guide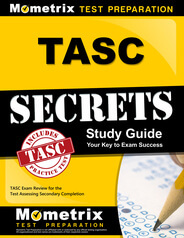 How can math relate to real life? In the most concrete sense, you will inevitably encounter math repeatedly should you decide to continue with your education and earn an undergraduate degree. Math courses will pop up as part of your general education requirements, and you will have to have some mathematical knowledge to perform well in them. If you're planning on entering a field with heavy mathematical emphasis, you'll need ample knowledge of the subject all the more.
We at Mometrix Test Preparation want to give you the tools to excel on the TASC exam, whether you're a math whiz or only so-so. It's our top priority to help foster your academic success. This is why we've prepared the TASC Mathematics study guide you'll find on this page, as well as a TASC Mathematics practice test and TASC Mathematics flashcards should you need extra help to prepare. This overview of the exam is meant to give you enough information to formulate a study plan for this section by telling you what will be on the Mathematics portion, how it will be formatted, and how you can approach exam questions in order to solve them to the best of your ability.
What Will Be Featured on the TASC Mathematics Section?
The TASC test generally comes in two formats: online or on paper. It also comes in two languages: Spanish or English. Whichever version of the test you're taking determines the amount of time you'll receive as well as the amount of questions. As it stands, the Mathematics portion of the TASC exam is the shortest, spanning 43 questions if you choose to take the paper format, and 42 for the digital format. The digital format of the exam also includes a question under the "technology response" category. In addition, you'll have to answer one question under the "constructed response" category and 11 under the "gridded answer" category. Furthermore, the TASC Mathematics section comes in halves, for which you'll receive varying lengths of time to work through.
As with most Mathematics tests you'll come across, you will be granted permission to make use of a calculator if and when you need it. However, a calculator is only allowed on the first half of the Mathematics section. Be sure to check which models are approved before deciding which calculator to bring; not every calculator is suitable or allowed for the exam. As far as your time limit, the first half of the exam should take 55 minutes (in Spanish) or 50 minutes (in English). The second half should take a full hour (in Spanish) or 55 minutes (in English), for which you won't have access to a calculator in any shape or form.
Check Out Mometrix's TASC Flashcards
Get complex subjects broken down into easily understandable concepts
Get Your Flashcards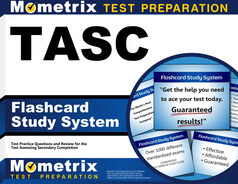 The purpose of the TASC Mathematics section is to evaluate how well you understand and can apply mathematical principles. To prepare for this section of the exam, it is best to study multiple mathematical subjects. To help you know how to prepare and what will be featured on the exam, we will go over the most prominent subjects you will find below.
Geometry
Geometry involves assessing shapes on a two- and three-dimensional basis. Several questions under this knowledge category will ask you to measure these shapes in particular ways—such as finding the diameter, area, or perimeter. Be sure to brush up on basic formulas seen in geometric problems. You will want to familiarize yourself with the procedure for finding measurements detailed above and, potentially, the Pythagorean theorem, which is associated with the sides and angles of triangles.
Algebra
There two major components when it comes to Algebra: variables and equations. Both of these elements are closely related, so in order to understand one, you will need to understand the other just as thoroughly. Brush up on how to correctly figure out algebraic problems with the help of practice equations—which you will be able to find through the TASC Mathematics practice test found on our website. Also brush up on the types of equations common to Algebra, as there are multiple varieties you'll be expected to solve. This brings us to the final category…
Arithmetic
Arithmetic consists of the basic mathematical functions: division, multiplication, subtraction, and addition. You most likely were exposed to these subjects early on during your education, back when you were in elementary school. However, they play an important part in higher level mathematical subjects, like what we have described above. So do word problems, a form of mathematical equations that required you to glean information from a paragraph and solve based on what's presented and being asked of you.
We hope this overview will give you some insight as to how the TASC Mathematics section works and how you can prepare. This overview is not completely comprehensive, and exists with the intent of giving you the groundwork to build a solid study plan. For extra help, we have other resources on our site for you to use, such as our TASC Mathematics study guide and TASC Mathematics flashcards. It is our main priority to help guide you toward success. Good luck, and happy studying!