NES Essential Academic Skills: Writing Practice Test
If you are planning to become a professional educator, you may need to take the National Evaluation Series Essential Academic Skills Writing Subtest. This test requires students to complete 36 multiple-choice questions and a written assignment within a 1 hour and 15 minute time limit.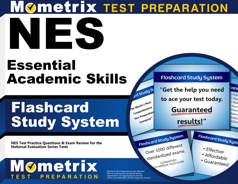 75% of the Writing Subtest is made up of questions about grammar, usage, mechanics, and the organization and development of written compositions. The other 25% focuses on the student's ability to respond to a given assignment with a logical, focused, organized piece of writing that contains well-supported ideas and grammatically correct Standard English.
Mometrix Test Preparation put its researchers to work developing a system that streamlines study time with proven test-taking strategies while providing a comprehensive tool to review the fundamentals of writing. The NES Essential Academic Skills Study Guide reviews the critical concepts addressed in the Writing Subtest.
Together with the NES Essential Academic Skills Flashcards, you have a portable, time-conserving program that reviews the most vital concepts and testing techniques needed to achieve the National Benchmark Standard Score of at least 220. Students can then put their skills in practice with the free NES Essential Academic Skills Practice Test Questions and know they are prepared to pass their test.
NES Essential Academic Skills: Writing Study Guide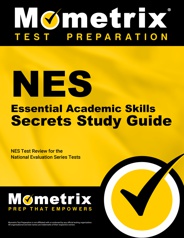 Mometrix Academy is a completely free resource provided by Mometrix Test Preparation. If you find benefit from our efforts here, check out our premium quality NES Essential Academic Skills: Writing study guide to take your studying to the next level. Just click the NES Essential Academic Skills: Writing study guide link below. Your purchase also helps us make even more great, free content for test-takers.
NES Study Guide
NES Flashcards