NES Special Education Practice Test
It takes a special kind of person to walk alongside differently-abled students and guide their educational progress. Those with a heart for that position need to take the National Evaluation Series Special Education exam. This is a 3-hour exam consisting of 150 multiple-choice questions regarding the key principles of special education.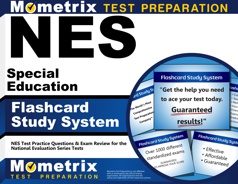 Four major domains are assessed within the exam. 20% centers on students with disabilities. Another 20% deals with the foundations of professional practice. The largest portion is a 40% area that ensures you have a firm grasp on learning environments and instructional practices. This leaves a final 20% about assessment and program planning.
Testing can make your head spin, but Mometrix Test Preparation takes the guesswork out of studying with the NES Special Education Study Guide. Researchers focused on essential special education concepts and combined them with incomparable testing strategies.
Using these tips help you approach each question with proven tactics. Consider adding the NES Special Education Flashcards to your review and take your study program with you wherever you go. Many teachers use the free NES Special Education Practice Test Questions to gauge readiness and identify weak areas. With these tools in place, you can prepare to be a child's hero with confidence!
NES Special Education Study Guide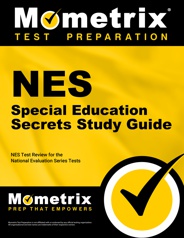 Mometrix Academy is a completely free resource provided by Mometrix Test Preparation. If you find benefit from our efforts here, check out our premium quality NES Special Education study guide to take your studying to the next level. Just click the NES Special Education study guide link below. Your purchase also helps us make even more great, free content for test-takers.
NES Study Guide
NES Flashcards