GACE School Psychology Practice Test (105, 106, & 605)
School psychologists play an important role in the education system. They help teachers teach while helping students learn. Their main job duty is to help students succeed in four key areas: academically, behaviorally, socially and emotionally. In order to become a school psychologist and help students at any grade level, you must take the GACE School Psychology exam.
The GACE School Psychology exam is made up of two tests. Both are two hours long, with each having 80 questions. Test I consists of three subareas: data-based decision-making and accountability, school and systems organization, and legal and professional practice. You will be assessed on your understanding of psychological and education assessment, research design, data collection, schools and systems, technological resources, crisis intervention, types of service delivery and professional identity.
Test II has two subareas: consultation and collaboration, and social and academic development. You will be tested on your knowledge of applications in the school psychology field, as well as communication techniques, family systems, the importance of collaborations between homes and schools, influences on academics, concepts of learning, evidence-based strategies, fundamentals of life skills development and evaluation of mental health services.
To aid in your studying, your first step should be to take the GACE School Psychology practice test. This handy test tool will help gauge your knowledge and help you understand concepts that you need to know in order to pass the exam. Consider investing in the GACE School Psychology study guide to help you even more. This tool created by the Mometrix Test Prep Team will help you increase your knowledge of school psychology and greatly improve your test score.
Check Out Mometrix's GACE School Psychology Study Guide
Get practice questions, video tutorials, and detailed study lessons
Get Your Study Guide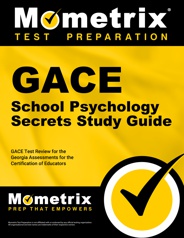 GACE School Psychology Study Guide
Mometrix Academy is a completely free resource provided by Mometrix Test Preparation. If you find benefit from our efforts here, check out our premium quality GACE School Psychology study guide to take your studying to the next level. Just click the GACE School Psychology study guide link below. Your purchase also helps us make even more great, free content for test-takers.
GACE Study Guide
GACE Flashcards