GACE Birth Through Kindergarten Practice Test (005, 006, & 505)
Preschool and kindergarten may seem like easy grades to teach, but it's more difficult than you can imagine. New teachers must be prepared to analyze each child and determine their readiness for learning. In many cases, these children have learning disabilities or mental or behavioral issues that have not yet been diagnosed. This means that early education teachers must be on the lookout for these issues early on so that they can create an individual learning plan tailored to the child's needs and get them on the right track to educational success early before the child gets left behind.
In order to prepare Georgia teachers for such a monumental task, they must pass the GACE Birth Through Kindergarten exam. This two-part test consists of 160 questions altogether (80 for each part). You are given two hours to complete each part. Test I has two subareas: professionalism and relationship building (45%) and child development and learning (55%). You will need to know about identifying current trends, problem-solving, collaborative learning, factors that influence learning and development, and providing children with meaningful learning experiences.
Test II consists of two subareas: teaching and learning (52%) and meaningful curriculum for learning (48%). You will be asked questions about promoting language and skills development, helping children apply skills to various areas, developing curriculums and providing opportunities for children to learn math, science, social studies, arts, physical education and literacy.
To prepare yourself for test day, consider taking the GACE Birth Through Kindergarten practice test and using the accompanying GACE Birth Through Kindergarten study guide. Both of these materials will help you make the most of your precious study time. You'll gain a thorough understanding of what to expect what it comes time to take the real test. You'll also feel more confident and relaxed, making it easier to get an excellent score.
Check Out Mometrix's GACE Birth Through Kindergarten Study Guide
Get practice questions, video tutorials, and detailed study lessons
Get Your Study Guide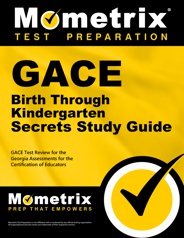 GACE Birth Through Kindergarten Study Guide
Mometrix Academy is a completely free resource provided by Mometrix Test Preparation. If you find benefit from our efforts here, check out our premium quality GACE Birth Through Kindergarten study guide to take your studying to the next level. Just click the GACE Birth Through Kindergarten study guide link below. Your purchase also helps us make even more great, free content for test-takers.