GACE Early Childhood Special Education General Curriculum Practice Test
Teaching can be as challenging a profession as it is rewarding. This fact holds especially true in the case of teachers who focus on the youngest groups of students. If you plan to specialize in early childhood special education, you know what a huge responsibility you will be taking on. Each day it will be your job to help mold the youngest minds with the intent of starting them down the path toward academic success. On top of this, many of your students will possess special needs that you will have to know how to meet with compassion, patience and adequate knowledge regarding their care and learning patterns. Because this task is so important, it stands to reason that you've not only endured rigorous training but will also have to prove your capabilities in order to earn your teaching certification.
Each state across the US follows a set of specifications for judging whether a teacher is qualified to enter the field professionally. Some states offer their own final exam for teachers-in-training who are due to graduate. In the state of Georgia, this test is known as the GACE exam (or Georgia Assessments for the Certification of Educators).
Earning a passing score on the GACE exam will effectively earn you your certification so you can officially begin your teaching career. A big part of preparing for this exam will be to understand it from top to bottom. That's what this article is for. Keep reading to learn the ins and outs of the important exam, how to register for it, and what tools you will need to prepare for it and face exam day successfully.
How the GACE Exam Works
The GACE exam splits up into different sections, each of which caters to a different subject or teaching specialty. If you're on this page, you'll likely be taking the GACE Early Childhood Special Education General Curriculum exam.
The  GACE Early Childhood Special Education General Curriculum exam splits up into two unique subtests, which you can choose to take either all together or separately. The subtests are officially known as Test I (003) and Test II (004). When both parts are joined together, they become the Combined Test I and II (503).

GACE Early Childhood Special Education General Curriculum Study Guide
Get practice questions, video tutorials, and detailed study lessons
Get Your Study Guide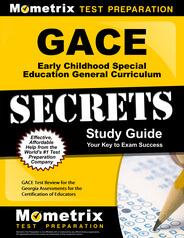 What's On the GACE Early Childhood Special Education General Curriculum Exam
The GACE Early Childhood Special Education General Curriculum exam is composed entirely of multiple-choice (or, officially, "selected response") questions. Each section of the test features 100 questions, which totals to 200 questions for the full exam. Both test sections also have a time limit of 2 hours, 10 minutes; those who take both sections will have 4 hours, 20 minutes to complete the entire exam.
Test I and Test II each possess their own individual sets of subjects, known officially as "subareas." Below we'll describe the subareas covered by Test I:
Social Studies focuses on your comprehension of economics, information processing, civics, history, government, and geography. This subarea covers 17 percent of the test's questions.
English Language Arts deals with the test taker's understanding of vocabulary and grammar; informational reading versus literary close reading; presenting information, listening and speaking; how to research and write academic materials; and the various concepts surrounding how students acquire a sense of literary comprehension, fluency, and overall literacy. This section of the exam is the largest, taking up 34 percent of its contents.
The Science section of the GACE Early Childhood Special Education General Curriculum exam addresses the test taker's rudimentary understanding of science, as well as theater, physical education and health, visual arts, music, and dance. It makes up 22 percent of the test's questions.
Mathematics centers on such subjects as data representation, numbers, geometry, operations, measurement, relations, problem-solving, and representation. It accounts for 27 percent of the exam.
Here is what you should know regarding Test II and its subareas:
Foundations and Professional Responsibilities deals with teaching and its ethics. Questions under this subarea will involve your knowledge of what your community expects from you once you take on the role of teacher, as well as the specific rights granted to special needs students in terms of their education. This subarea's questions make up 16 percent of the exam's content.
Development and Characteristics of Learners addresses the test taker's comprehension of how humans develop and their overall patterns of behavior. This subarea pays particular attention to children with disabilities and their development. It takes up 20 percent of the test.
Evaluation and Assessment concentrates on assessment-related information, including how they are utilized in the learning environment, the various ways they can be presented, and the expressions and words that typically feature on tests. This subarea amounts to 16 percent of the exam.
Instruction centers on how to utilize the most efficient methods for instructing one's students. It is one of the larger subareas of the test, making up 24 percent of overall questions.
Planning the Learning Environment and Social Interactions focuses on the methods aspiring teachers can utilize in order to make their classroom space as nurturing as possible for one's students, as well as how to plan out a proper curriculum. It accounts for 24 percent of the exam's questions.
How to Register for This Exam
Test takers may register for the GACE Early Childhood Special Education General Curriculum exam in one of two ways: either over the phone or on the exam's official website. To register online, you must first set up an account at the exam's website. This registration method is available all throughout the year. You may register over the phone only during the work week (Monday through Friday), and only between the hours of 8:00 AM and 5:00 PM EST. You may not call the registration number during the holiday season.
You must complete the registration process no later than two days prior to whenever you would like to take the exam. All GACE exams include a fee; you must pay $53 total ($28 for the test center, $25 for registering) for the  Early Childhood Special Education General Curriculum exam. The ETS accepts payments via e-checks, PayPal, debit, and credit.

GACE Early Childhood Special Education General Curriculum Flashcards
Get complex subjects broken down into easily understandable concepts
Get Your Flashcards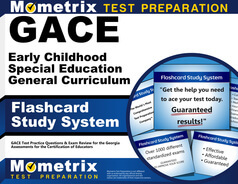 The Scoring Process
Test takers will receive an unofficial report of their scores once they complete the exam, provided that they requested a score report once the test ended. The official report will come later. You may find the date you will receive your official scores on the exam website. The range for passing score varies depending upon your goals. The passing score for "professional" certification is 250, while "induction" certification requires a score that sits between the range of 220 and 249.
Retesting
Retests are available to test takers who failed the exam. You have the option to either take a retest for one subtest, or for the full exam, depending upon your circumstances. In order to schedule a retest, you must first register through the official website. This may only take place after a full 30 days, at minimum, have passed since the date you originally took the exam.
How to Prepare
As your exam day draws ever closer, it is understandable if you feel a vast amount of pressure weighing down on you. What is the best way to study for this test? How can you ensure you earn the highest possible score? We at Mometrix Test Preparation want to help alleviate those worries. On this page, you will find our best study tools to help you understand the GACE Early Childhood Special Education General Curriculum exam from start to finish.
We have put together both a study guide and a practice test for you to work with. Our study guide is ideal if you aren't quite sure how to target your study approach or simply want a detailed run-through of each aspect of this exam. Our practice test is designed to give you firsthand exposure to the test's contents, so that you can learn more about its structure and how to approach its questions. Both tools are meant to provide you with the most thorough study experience possible. You may find links to these tools below:
We wish you well as you take on this exam and enter the next chapter of your professional journey. Happy studying!