GACE Special Education Adapted Curriculum Practice Test (083, 084, 583)
When it comes to education and learning, all students need and deserve teachers who are able to meet their needs with thoroughness and sensitivity. This principle holds especially true for special education students, who need more attention and help as they learn. By choosing to become a special education teacher, you will be helping thousands of students with special needs gain a stronger education as well as skills that will see them through the rest of their lives.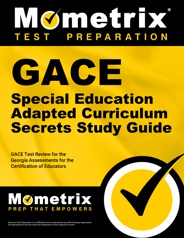 However, before you can step foot in the classroom as a professional, you must first earn a passing score on the GACE Special Education Adapted Curriculum exam. The GACE (Georgia Assessments for the Certification of Educators) is like many others of its kind, in that it evaluates whether you are ready to teach professionally. By passing this exam, you will prove yourself able to adequately meet the needs of your students.
Like most other GACE subject exams, the Special Education exam is divided into sections: Tests I and II. Both of these exams feature 75 questions each, all of which are multiple choice ("selected-response"). You will be given two hours to complete each test.
Both tests features their own distinct subjects, also known as "subareas." Test II covers Instruction (52 percent) and Planning the Learning Environment and Social Interactions (48 percent). Test I deals with Foundations and Professional Responsibilities (38 percent); Assessment (26 percent); and Development and Characteristics of Learners (36 percent).
To help you as you prepare for this important exam, the Mometrix Test Preparation team has composed two study tools: our GACE Special Education Adapted Curriculum practice test and GACE Special Education Adapted Curriculum study guide. Both of these tools are meant to help you achieve a more thorough understanding of how the GACE exam will work in terms of its structure and materials. In using them, we hope you can craft a better, stronger study plan that will help you to approach the real exam as effectively as you can on test day. Good luck!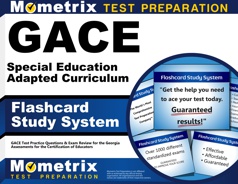 GACE Special Education Adapted Curriculum Study Guide
Mometrix Academy is a completely free resource provided by Mometrix Test Preparation. If you find benefit from our efforts here, check out our premium quality GACE Special Education Adapted Curriculum study guide to take your studying to the next level. Just click the GACE Special Education Adapted Curriculum study guide link below. Your purchase also helps us make even more great, free content for test-takers.