GACE Spanish Practice Test (141, 142, & 641)
Learning the basic rules of English is not enough nowadays. Many people immigrate to the United States in search of freedom and a better life. Many of these immigrants speak Spanish. In order to serve our growing Hispanic population, many companies are looking for candidates that are bilingual. Therefore, the ability to understand Spanish is a good skill to have. The state of Georgia needs Spanish teachers, so if you're looking to teach this language to students at any grade level, you will need to prove your proficiency by taking and passing the GACE Spanish exam.
The GACE Spanish exam is divided into two parts, which you can take at the same time if you desire. Test I has 40 questions, two which require constructed responses. You are given one hour and 35 minutes to complete this test. There are three subareas: reading, writing, and linguistics and cultures. You will be tested on your ability to comprehend the main ideas and support details of various texts, communicate orally and in writing, understand the difference in sounds and word choice when it comes to Spanish versus English, and convey an awareness of Spanish culture.
Test II has 38 questions, which must be completed in one hour. Two of these questions also require constructed responses. There are three subareas: listening, speaking, and linguistics and cultures. You will be assessed on your ability to speak naturally in a conversational style, respond appropriately, deliver presentations, understand the Spanish language sound system, look for similarities in the Spanish and English languages, and convey awareness of the Spanish culture.
To get an idea of what to expect on the GACE Spanish exam, try your luck at the GACE Spanish practice test. You'll get an idea of how well you would do on the real test. If there are some areas in which you can improve, now's the time to study. Make the most of your study time by using the GACE Spanish study guide. You'll be able to study more efficiently, so you'll feel better come test day.
Check Out Mometrix's GACE Spanish Study Guide
Get practice questions, video tutorials, and detailed study lessons
Get Your Study Guide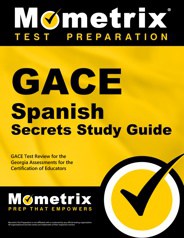 GACE Spanish Study Guide
Mometrix Academy is a completely free resource provided by Mometrix Test Preparation. If you find benefit from our efforts here, check out our premium quality GACE Spanish study guide to take your studying to the next level. Just click the GACE Spanish study guide link below. Your purchase also helps us make even more great, free content for test-takers.
GACE Study Guide
GACE Flashcards