GACE Curriculum and Instruction Practice Test (300)
In order to teach any grade level in Georgia – from preschool to 12th grade – you must take and pass the GACE Curriculum and Instruction exam. This exam will test your ability to develop an effective curriculum and assess students as learners. This assessment is for aspiring teachers who have already completed an educator preparation program approved by the State of Georgia.
You are given two hours and 45 minutes to complete the 103 questions on the GACE Curriculum and Instruction exam, three of which require you to construct your own response. The test is broken out into six subareas: curriculum and instruction, research, students as learners, assessment and professional practices. The final subarea – analysis – requires you to construct answers to three questions. This subarea accounts for 25% of your final score.
You will be tested on your ability to design and refine a curriculum, use resources and research to promote student learning, understand the factors that influence learning, how to teach students with diverse needs, use professional development and rigorous standards to help students continuously learn, and use assessment and feedback appropriately in order to improve the learning experience for students.
Effectively teaching students of all grade levels is no small feat. Studying for such an exam isn't much easier. The good news is that Mometrix Test Prep is here to help. Make things easier on test day by preparing with the GACE Curriculum and Instruction practice test. Instead of cramming and trying to remember everything, you'll see what basic concepts you need to know in order to succeed. You can also include a GACE Curriculum and Instruction study guide in your studying efforts to improve your score even more.
Check Out Mometrix's GACE Curriculum and Instruction Study Guide
Get practice questions, video tutorials, and detailed study lessons
Get Your Study Guide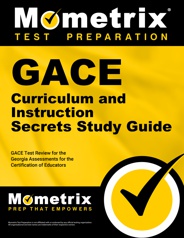 GACE Curriculum and Instruction Study Guide
Mometrix Academy is a completely free resource provided by Mometrix Test Preparation. If you find benefit from our efforts here, check out our premium quality GACE Curriculum and Instruction study guide to take your studying to the next level. Just click the GACE Curriculum and Instruction study guide link below. Your purchase also helps us make even more great, free content for test-takers.