GACE Media Specialist Practice Test (101, 102, & 601)
If you're interested in working at a school library, you'll be doing much more than checking out books to students. Today, librarians are referred to as media specialists, and not only do they have to be experts at books, but other forms of media as well, such as magazines, DVDs, posters, maps and the Internet. They must also be able to create not only a library, but an actual media center to benefit both students and teachers.
To become a media specialist for any grade level – from preschool to 12th grade – in Georgia, you'll need to pass the GACE Media Specialist exam. This exam has two parts, with each one lasting two hours. There are 80 questions in each part. Test I has two subareas: learning and teaching, and collection development. You will be tested on your knowledge of literature geared toward children and young adults. This involves familiarity with popular works and genres. You should also be able to design a curriculum that focuses on media as well as select and maintain appropriate resources and classify resources appropriately based on approved organizational methods.
Test II has three subareas: program administration, professional development and leadership, and information access and delivery. You will be tested on your ability to manage, organize and evaluate the media center, work with a budget, apply ethics, engage in professional development, educate teachers and parents, promote the media program to the community, understand the types of resources that can be used, and use the Internet and other applications and hardware.
A media specialist has so many duties, and in order to truly know what to expect on the test, you might want to take the free GACE Media Specialist practice test. For no cost, you can get a glimpse of the types of questions you can expect on test day. You can also gauge your knowledge, so you can see where you can improve. The GACE Media Specialist study guide can help in this regard. Learn how to study more effectively, so you can pass the exam the first time.
Check Out Mometrix's GACE Media Specialist Study Guide
Get practice questions, video tutorials, and detailed study lessons
Get Your Study Guide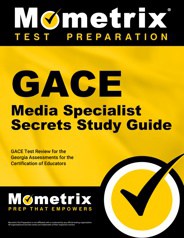 GACE Media Specialist Study Guide
Mometrix Academy is a completely free resource provided by Mometrix Test Preparation. If you find benefit from our efforts here, check out our premium quality GACE Media Specialist study guide to take your studying to the next level. Just click the GACE Media Specialist study guide link below. Your purchase also helps us make even more great, free content for test-takers.
GACE Study Guide
GACE Flashcards