GACE Geography Practice Test (036, 037, & 536)
It's important for Georgia junior high and high school students to understand the world around them. After all, Georgia is just one of 50 states, and the United States is just one of nearly 200 countries that make up the world. Geography instruction allows students to develop a broader view of the world and learn about maps, current events, regions, cultures, climates, ecosystems and more.
In order to teach students at the 6–12 grade levels, you must take and pass the GACE Geography exam. This exam consists of two tests. You are given two hours to complete each test, which have 60 questions. Test I has three subareas: geography literacy and tools, physical geography and environment and society. You will need to know about spatial analysis, locations of various countries on a map, current events, climate, landforms, ecosystems and the impact of humans on the environment.
Test II also consists of three subareas: human geography, regional geography and geography of Georgia. The test will include questions about population, migration patterns, agriculture, culture, economy, politics, regional characteristics, and physical, human and environmental geography as it relates to Georgia.
To prepare yourself for the test, it's a good idea to know what to expect. The GACE Geography practice test can help in this regard. This free practice test is just like the real thing. See how well you know geography concepts. It's likely you'll need some extra help in certain areas. If so, check out the GACE Geography study guide. It'll guide you through the test as well as provide you with study tips, so you can ace the test with confidence.
Check Out Mometrix's GACE Geography Study Guide
Get practice questions, video tutorials, and detailed study lessons
Get Your Study Guide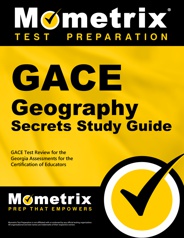 GACE Geography Study Guide
Mometrix Academy is a completely free resource provided by Mometrix Test Preparation. If you find benefit from our efforts here, check out our premium quality GACE Geography study guide to take your studying to the next level. Just click the GACE Geography study guide link below. Your purchase also helps us make even more great, free content for test-takers.
GACE Study Guide
GACE Flashcards