GACE Economics Practice Test (038, 039, & 538)
In order for students to succeed and prepare for life after high school, they must have a solid foundation of economics. Economics helps students understand their role as consumers as well as help them with personal finance so they can reduce debt. A passing score on the GACE Economics exam is a requirement for those planning to teach economics to Georgia students in grades 6–12.
The GACE Economics exam has two parts, which can be taken together or separately. You will be given two hours to complete each part, and there are 80 questions in each. Test I has two subareas: fundamental economic concepts (20%) and microeconomics (80%). You will be tasked with knowing the role of prices, factors of production, the production possibility curve, classifications of elasticity, comparisons of various economic systems, supply and demand, factors that determine market supply, the role of government in economics, interpretations of graphs, types of taxes, market structures, monopolies, labor demands and supply, and concepts of production.
Test II consists of three subareas: macroeconomics, international economics and personal finance. You will be tested on your knowledge of gross domestic product, economic growth and stability, inflation, consumer price index, unemployment cycles and rates, forms of federal government revenue, financial systems, money supply, economic growth, trade, currency, capital, saving, spending and investing.
To help with your studying, consider taking the GACE Economics practice test. Instead of guessing what will be on the test, this practice test shows you the types of questions you can expect to see. Combine it with the GACE Economics study guide offered by the Mometrix Test Prep Team, and you'll feel even more prepared when test day rolls around.
Check Out Mometrix's GACE Economics Study Guide
Get practice questions, video tutorials, and detailed study lessons
Get Your Study Guide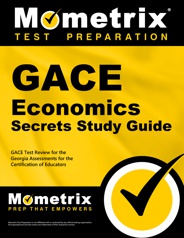 GACE Economics Study Guide
Mometrix Academy is a completely free resource provided by Mometrix Test Preparation. If you find benefit from our efforts here, check out our premium quality GACE Economics study guide to take your studying to the next level. Just click the GACE Economics study guide link below. Your purchase also helps us make even more great, free content for test-takers.
GACE Study Guide
GACE Flashcards