GACE Computer Science Practice Test (555)
In the past, the education field focused on three key subjects: reading, writing and arithmetic. Today, computer knowledge is a must for students of all ages. With the world advancing in technology at rapid speeds, computer literacy is an absolute requirement nowadays in order for students to succeed in future careers and life in general.
If you're interested in teaching computer skills to high schoolers in Georgia, you'll need to show you have what it takes by passing the GACE Computer Science exam. This three-hour test consists of 100 questions that cover three subareas: technology applications core, program design and development and programming language topics. Each subarea is weighted the same – 33.3%. The test covers terminology and concepts, use of hardware, software and accessories, databases, functions, storage, password management, use of spreadsheets and documents, telecommunications, collaborative tools, programming languages, software development, coding and algorithms.
High school students are being taught a wide range of computer skills nowadays, and in order to effectively teach them what they need to know, you'll need to prove your mastery of various computer skills. Get the help you need to pass the GACE Computer Science exam by taking the GACE Computer Science practice test. It won't count toward your score. If anything, you should be able to learn from it so you can achieve a high score on the real test. It's also recommended that you invest in the GACE Computer Science study guide to make good use of your studying time. The Mometrix Test Prep Team knows you live a busy life, so we have created these study materials to help you not only pass but get an excellent score with what little time you have to prepare.
Check Out Mometrix's GACE Computer Science Study Guide
Get practice questions, video tutorials, and detailed study lessons
Get Your Study Guide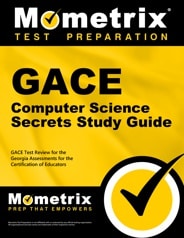 GACE Computer Science Study Guide
Mometrix Academy is a completely free resource provided by Mometrix Test Preparation. If you find benefit from our efforts here, check out our premium quality GACE Computer Science study guide to take your studying to the next level. Just click the GACE Computer Science study guide link below. Your purchase also helps us make even more great, free content for test-takers.
GACE Study Guide
GACE Flashcards