GACE Behavioral Science Practice Test (050, 051, & 550)
Behavioral sciences are fascinating subjects to learn and teach because they delve into how we act, think, and behave as human beings. Psychology, anthropology, and sociology are common subjects taught at the 6–12 grade levels in Georgia. If you're interested in teaching these subjects to students at the junior high and high school levels, you'll need to prepare to take the GACE Behavioral Science exam.
This exam consists of two tests, which can be taken together or individually. You are given two hours of testing time for each exam. Test I focuses primarily on psychology, with 80% of the questions relating to this subject. You will be tested on psychological approaches and research, biological foundations, behavior change, human development, personality, motivation and abnormal behavior. The remaining 20% of the test questions focus on anthropology. You will be asked about human history, evolution, communities, society and economic systems.
Test II focuses on anthropology and sociology. The anthropology portion consists of 20% of the test questions. The questions will test your knowledge of human culture, languages, belief systems and culture change. The sociology portion consists of 80% of the test and asks about research methods, theories, socialization, conformity, deviance, social institutions, demography and social stratification.
As you can see, there is a lot to learn, but don't stress! The Mometrix Test Prep Team makes it easy for you to study for the GACE Behavioral Science exam, so you can not only pass the first time, but get an excellent score. Try the GACE Behavioral Science practice test first to see how well you do. You'll get a better understanding of what you know and what you don't know. Next, use the GACE Behavioral Science study guide to reinforce your learning. You'll learn how to stay organized and manage your study time more efficiently for better results.
Check Out Mometrix's GACE Behavioral Science Study Guide
Get practice questions, video tutorials, and detailed study lessons
Get Your Study Guide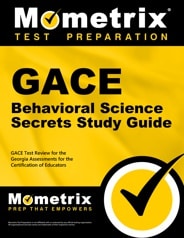 GACE Behavioral Science Study Guide
Mometrix Academy is a completely free resource provided by Mometrix Test Preparation. If you find benefit from our efforts here, check out our premium quality GACE Behavioral Science study guide to take your studying to the next level. Just click the GACE Behavioral Science study guide link below. Your purchase also helps us make even more great, free content for test-takers.
GACE Study Guide
GACE Flashcards