HiSET Test
The High School Equivalency Test (HiSET) is a new way for people who didn't finish high school to earn a diploma and get on track for college or a career. Test takers can choose to take the exam using a computer, or with pencil and paper. The exam has five parts: Math, Science, English, Social Studies, and Writing. All sections are multiple-choice, (40 – 50 questions) and the Writing section also requires test takers to write an essay. The HiSET test lasts several hours, and is not easy to pass. It's important to be thoroughly prepared for the exam on test day. Mometrix Academy provides a large number of free HiSET test videos you can use to get ready for the exam. Take advantage of them to maximize your score!
HiSET Test Prep Course
HiSET Practice Tests
HiSET Study Materials
Mometrix Academy is a completely free resource provided by Mometrix Test Preparation. If you find benefit from our efforts here, please consider buying one of our premium quality study guide or flashcard products to take your studying to the next level (just click one of the links below). Your purchase also helps us make even more great, free content for test-takers.
Want to Learn More About the HiSET Test? Visit Exampedia!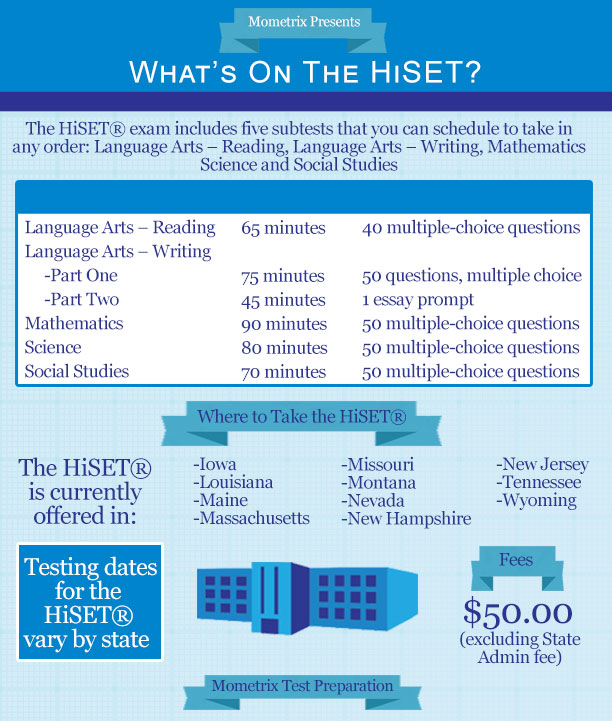 Provided by:
Mometrix Test Preparation
Last updated: 01/20/2016
Find us on Twitter: Follow @Mometrix