The Test of Essential Academic Skills (TEAS) measure basic essential skills in the academic content area domains of reading, math, science, and English and Language Usage. The four areas of the TEAS V exam contains 170 questions. The test-taker has four hours to complete the TEAS V exam.
The Reading section of the TEAS V exam contains a total of 42 questions within two subcontent areas; Paragraph and Passage Comprehension with 19 questions and Informational Source Comprehension. The Mathematics section has a total of 30 questions within four subcontent areas; Numbers and Operations with 19 questions, Algebraic Applications with only 4 questions, Data Interpretation has 3 questions and Measurement with 4 questions. The Science section of the TEAS V exam has a total of 48 questions and also has four subcontent areas; Human Body Science with 11 questions, Life Science with 15 questions, Earth and Physical Science with 14 questions and Scientific Reasoning with 8 questions. The English and Language Usage contains 30 questions and three subcontent areas; Grammar and Word Meanings in Context that has 15 questions, Spelling and Punctuation that has 9 questions and Structure with 6 questions.
There are also an additional 20 questions on the TEAS V exam that are unscored pre-test items.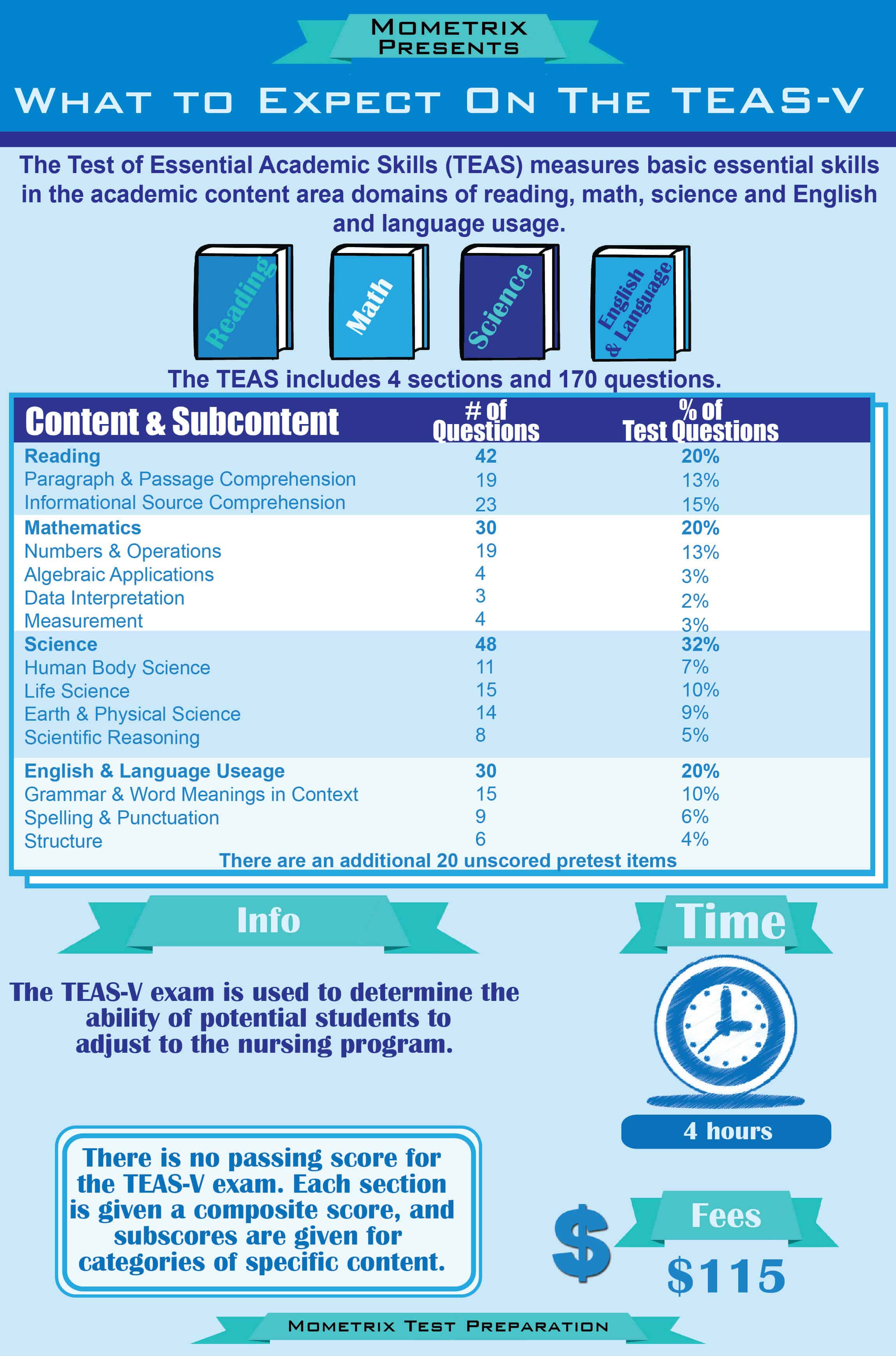 TEAS V Scores
The TEAS V exam is used to determine the ability of potential students to adjust to the nursing program. There is no passing score for the TEAS V exam. Each section is given a composite score, and subscores are given for categories of specific content.
How Much Does it Cost to Take the TEAS V Exam?
Individuals who are wishing to take the TEAS V exam prior to entrance to nursing school will be required to be a registration fee of $115.