Nursing can be a satisfying and fulfilling career path for those who enjoy science and want to help other people. When beginning the application process, it's important to remember that nursing schools can be quite competitive. Many programs only accept a few students each semester, who all have to pass a rigorous set of standards.
But don't let this deter you if nursing is a field you are truly passionate about! There are a multitude of resources and strategies you can employ to give yourself the best chance of being admitted to a nursing program.
We've contacted a variety of experts in nursing school admissions, including deans and instructors, to give their advice on the best practices you should consider when applying to nursing school:
1. Think about your "why" behind pursuing a career in nursing.
"The best advice about how to get into a nursing school is to successfully complete the required prerequisites while in high school, excel with academics and have good answers to interview questions about why nursing. These answers might be a desire/passion: to serve others, to advocate for the vulnerable; to enhance the health and well-being of others; to enable families to grow and develop; to foster healthy communities; to address leading health problems such as mental health issues, etc." – Judith Fitzgerald Miller, PhD, RN, FAAN – Dean, University of Missouri School of Nursing
"Make sure that nursing is the career that is the best match for your interests and abilities. There are many academic majors and careers that allow students to pursue their desire to help people or to be involved in health care." – Anita G. Hufft, PhD, RN – Dean, Texas Woman's University College of Nursing
2. Build a strong foundation in biology and chemistry.
"Nursing is as much a science as it is an art. Building a strong foundation in biology and chemistry is essential to success in any nursing program. Successful nursing applicants demonstrate that they've challenged themselves in these courses and done well." – Meredith Wallace Kazer, PhD, APRN, FAAN – Dean, Marion Peckham Egan School of Nursing and Health Studies
"My best advice is to excel in your science courses…Challenge yourself with AP science courses if offered." – Judy A. Beal, DNSc, RN, FAAN – Dean, Simmons College School of Nursing and Health Sciences
3. Research the admissions criteria for your nursing programs of interest.
"My best advice is to investigate the criteria for acceptance into the university and for admission into the nursing program. Then once admitted to the university, seek a mentor to help you navigate the programs and expectations. Success, in many cases, will depend on the GPA in the sciences. So work hard to achieve high grades and if you receive a low grade (C), check to see if the policy will permit a retake of the course and how that grade is calculated into the GPA." – Barbara Broome, PhD, RN, FAAN – Dean, Kent State University College of Nursing
"Focus on all prerequisite coursework and achieve high grades; this may mean slowing down a bit and taking fewer courses in order to meet academic and personal demands." – Anita G. Hufft, PhD, RN – Dean, Texas Woman's University College of Nursing
4. Highlight your unique experiences on your applications.
"There are so many people applying for nursing programs across the world. And while the need for nurses is high, the number of schools and places for clinical experiences remains a challenge. In order to set yourself apart from the other thousand students that have applied for nursing school, I suggest using every experience that you can to maximize your uniqueness on your application.
For example, I worked at a fast food restaurant in high school. This taught me customer service skills, responsibility, timeliness, cleanliness, and the value of food in relation to families and communities. That statement would appeal to the group chosen to review applications. Who knew that job at Burger King would get me accepted!" – LaTashia Kiel, MSN, RN, CEN-Instructor of Clinical Nursing-University of Texas at Austin School of Nursing
5. Spend time crafting a thoughtful personal statement.
"I sit on both undergraduate and graduate admissions committees. Most admissions decisions are made based on the following: rigor of the student's course work, overall GPA, SAT/ACT scores, demonstration of the ability to persevere (success in sports, a long-term relationship with a service organization, employment, etc), references, and clarity of the personal statement.
Applications all begin to look alike after a while with students who have similar transcripts, admissions exam scores, extracurricular activities, and references. That is why it is important to have a well-composed personal statement. The applicant should be able to fully answer the prompt, craft a compelling argument, and demonstrate that they know what professional nursing entails.
In addition, it is helpful if they have insight into the strengths that they would bring to the discipline. Simply wanting to help people or being impressed by the nurses who cared for their sick grandparent is not enough to convince the admissions committee that the student is a good fit for the program." – Elizabeth Crooks, DNP, RN, CNE-Instructor-The University of Alabama at Birmingham School of Nursing
6. Work or volunteer in a healthcare setting that you're interested in working in long-term.
"I would encourage future nursing students to work or volunteer within the healthcare setting in which they would like to practice in the future. Being able to speak to and understand entry-level nursing issues can give a student quite an advantage clinically, as well as assist them in their future learning. It is much easier to comprehend abstract nursing concepts when you possess some applicable healthcare experience." – Ann Deerhake MSN, RN, CNL, CCRN-Clinical Instructor of Practice-The Ohio State University College of Nursing
7. Prepare for admissions interviews (if required).

"Learn to give a 1-minute 'elevator pitch' about yourself, and use it when the interviewer says, 'Tell me about yourself.' Make eye contact and be confident. Make sure your clothing and appearance is appropriate; personal grooming and the way you dress are important. Use good posture. Be courteous and respectful to everyone you meet. Turn off your cell phone. Show interest in the program and a willingness to learn. Be yourself and be prepared with a story or two to share your experience, skills, and desire to be a nurse. Be positive–do not say anything bad about people or previous experiences (teachers, employers or other students)." – Patricia (Patty) Ravert, PhD, RN, CNE, ANEF, FAAN-Dean and Professor, Brigham Young University College of Nursing
8. Prioritize finding strong references.
"You need to have good references. However, your references should not be from family or friends, but from a professor, volunteer manager, or leadership (president of club)." – Jill Jordan-Lecturer-University of California, Los Angeles (UCLA) School of Nursing
9. Apply to multiple nursing programs using NursingCAS.
"Apply to more than one nursing program using NursingCAS® – an online centralized application system that allows the student to upload data once and apply to multiple nursing programs at one time." – Anita G. Hufft, PhD, RN – Dean, Texas Woman's University College of Nursing
10. Study for your nursing school entrance exam.
Many nursing programs require applicants to complete an entrance exam, the most common being the ATI TEAS, HESI A2, or Kaplan Nursing School Entrance Exam. Check out the links below to find study resources for your exam (both free and paid):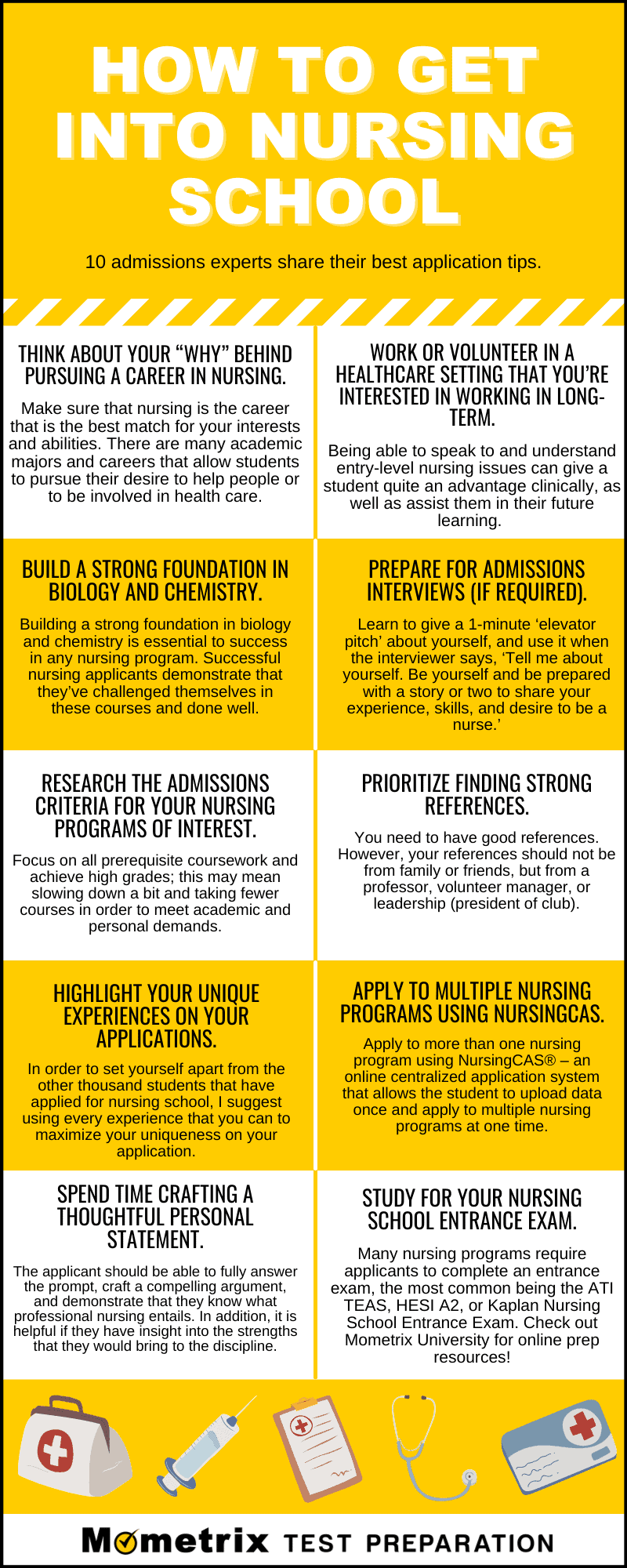 Editor's Note: This post was originally published in September 2016, but has been updated for clarity and relevancy.