TEAS Test Study Guide
Welcome to the TEAS study guide page! The links below will take you through our online TEAS test review.
Watch our TEAS study guide tutorials and brush up on any concepts you don't remember from your college classes. Pinpoint your strengths and weaknesses to get the most out of your studying for nursing school.
If you need more help or additional practice questions, upgrade with our TEAS book and flashcards.
Free TEAS Test Prep
Featured TEAS Exam Prep Lecture: Adding and Subtracting Exponents
TEAS Test Online Prep Course
If you are wanting to be fully prepared, Mometrix offers an online TEAS Prep Course. The course is designed to provide you with any and every resource you might want while studying. The TEAS Course includes:
106 Lessons Covering all the Topics
Over 1,600 TEAS Practice Questions
180+ Video Tutorials
311 Electronic Flashcards
Audio Mode for the Lessons
Money-back Guarantee
Free Mobile Access
and More!
The TEAS Prep Course is designed to help any learner get everything they need to prepare for their TEAS exam; click below to check it out.
Check Out Mometrix's ATI TEAS 7 Study Guide
Get practice questions, video tutorials, and detailed study lessons
Get Your Study Guide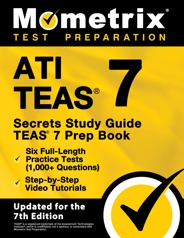 FAQs
What is on the TEAS?
The TEAS exam contains four sections. There is a Reading section that contains 45 questions that are timed for 55 minutes. The Mathematics section consists of 38 questions that are timed for 57 minutes. The Science section of the TEAS exam has 50 questions and are timed for 60 minutes. Finally, the English and Language Usage section has 37 questions which are timed for 37 minutes.
What is the composite score on the TEAS test?
The composite score for the TEAS test is your main score. This score is a combination of how well you did on all four sections of the TEAS test. Every school has different criteria for admission when it comes to your score, but most schools require your composite score to be at least 60% to 70%.
How long is the TEAS test results good for?
Scores for the TEAS test are valid for 24 months after you take the exam.
Can you use a calculator on the TEAS?
Calculators are allowed to be used on the TEAS exam. However, calculators will be provided for use. If you are taking the online version of the TEAS exam, the calculator will be a digital version on the computer.
Is the TEAS test all multiple choice?
The paper-and-pencil version of the exam consists of all multiple-choice questions. The computerized version of the TEAS 7 consists of five different question types: multiple-choice, multiple-select, supply answer, hot spot, and ordered response. There are 170 total questions on the TEAS test. However, your score will only be measured on 150 questions, while the other 20 are sample questions. You will not know which are scored questions and which are sample questions.
Can I go back to a question on the TEAS test?
Yes, you can return to a question you have completed or skipped but only in your current section.
How long do you have to take the TEAS?
The TEAS exam is timed for 209 minutes and contains just 170 questions. There is a 10-minute break after the second section that is not considered part of the 209 minutes allocated for the test.
Can you retake the TEAS?
If you didn't get the score you were expecting on the TEAS test, you are allowed to retake the exam. If you wish to retake the TEAS test, you may be required to wait 30 days before re-testing, depending on the school you will be attending. Some nursing schools will allow you to retake the TEAS test twice while other nursing schools may allow you to retake the test multiple times.
Check Out Mometrix's TEAS 7 Flashcards
Get complex subjects broken down into easily understandable concepts
Get Your Flashcards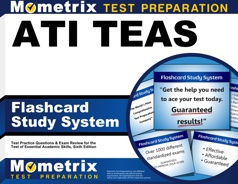 TEAS Study Guide Customer Success Stories
Our customers love the tutorial videos from Mometrix Academy that we have incorporated into our TEAS test book. The TEAS study guide reviews below are examples of customer experiences.
I bought this book under my mother's amazon account so I'm posting this as a 22 year old who had to take the ATI TEAS test for entrance into nursing programs. Overall, I think this book worked well. The reading, math and English language sections prepared me very well for the test. Compared to the test, the book's science section was good. I felt like I got some questions on the test that the science section touched on but didn't delve very deep into (mostly concerning with the endocrine system), but a majority of the science questions could be answered by reading and studying the book. I love that the book gave 3 practice tests. I tested myself before I started studying and after reading the book. The question wording and question types in this book were very similar to the actual test so I thought that was a plus. Also the actual test might've been easier than the practice tests. On all three practice tests from the book I got from 80%-85%, but on the actual test I scored a 91%. I don't know how much of my past education played a role in my ability to do well on the test. I recently graduated from college with a health related degree, but I do think that without this study guide I wouldn't have done as well, it helped me brush up on topics I had forgotten as well as teach me things I never knew (mostly relating to English grammar section). I probably studied over a period of 2 weeks on and off, but if you haven't been to school or taken class in a while (especially if science isn't your strong suit) I definitely recommend using this book and studying way ahead of time. Compared to the price of other books, this one is a bargain for how well it prepares you.

I wrote this long review because when I was looking for a book to study with there weren't many detailed reviews or many books to choose from because this version of the test is so new (they started giving it this year in August). I wanted to be helpful for the next person like myself. Hope this helps!
TEAS Study Guide – Max
Yesterday, I took my TEAS test after using this guide for approximately three weeks, and I am pleased to have earned an 88% with a national percentile rank of 97. First off, let me say I recommend what the others in the comments say as well. Take one practice test first and see where you stand. Then use the rest of the material to practice what you have missed.

So let me give you all a quick breakdown of the sections in this book.
Reading: the reading portion is very general and is something that I would recommend studying and practicing for using only the practice tests in the back. The reading questions on the TEAS test and in this book are highly similar. Focus on the author's purpose / tone. And always be able to identify the type of writing such as a narrative or expository work.

Math: The questions offered in this book are a little more difficult than the ones offered on the actual TEAS test. I felt that this book highly prepared me for this section [I scored a 100% c:]. A few things I found important to remember are conversion units for metric (the TEAS test offered SOME of the conversions but do not rely on them being there) and the rules for multiplying and dividing fractions. Since statistics is tested, albeit very slightly, I would recommend you study the regression charts and lessons for positive/negative skew.

Science: This is by far the hardest section on the actual test. Students should adequately review their A&P I&II notes along side of this book. The book focuses highly on anatomy and biological process, as well as very basic chemistry. Some topics I would recommend for students to reassess are: the components and anatomy of eukaryotes / prokaryotes, ionic and covalent bonds, the products of both mitosis and meiosis, and DNA replication.

English: the English section is not as difficult as the other sections, but when you are being graded out of 24 questions, it is imperative that you do well and score as many points possible. Test yourself with flash cards the most commonly misspelled words, prefixes and suffixes. Know how to find the implicit definition of a word using context as well. The book really helped me the most when it came to subject-verb agreements and pronoun-antecedents.

In conclusion, this is a wonderful guide that will wrack and plumb your brain for all of the information you should have learned up to this point. It is very short and 'to-the-point' in comparison to the other study guides available. Certainly consider picking up the official test guide from ATI, especially if you're still finishing up your pre-requisite courses. But if you're normally an adept student with your pre-requisites finished who wants a very straight-forward review, I highly recommend this guide over the rest.
TEAS Study Guide – Gordon
This is the only study guide I used, and I got a 92. I recommend using the first practice test as a starting point to determine what you need to study, then spend some time studying before taking the second and third practice tests. I really liked that there were explanations for the correct answers. It worked really well for me and have already recommended it to several others.
TEAS Study Guide – Rachel
So far it's WAY better than the "official" study guide... which pretty much just tells you "your heart pumps blood... Google it" plus then you gotta spend like 100 dollars on 2 practice tests that you can only take once. Plus you can't beat the free video reviews.
TEAS Study Guide – Customer
SHORT VERSION

I will start by saying this book WORKS! It is worth EVERY penny and does prepare you very well for the TEAS Test! I strongly recommend this book to anyone preparing for their TEAS Test (why else would you buy it). I studied with this book for less than 10 days (I didn't even study everyday), and I passed my test this morning. That is my short version - I will explain WHY the book is so effective below:

LONG VERSION

I am a college-level instructor myself, and so I like to think that I know what methods are effective when it comes to test preparation and studying. This book is designed to help you pass the TEAS Test - not just memorize the material - which is why it is so effective.

About one-half of the book is teaching material, and the other half are practice tests. Their explanations of the subjects are simple, clear, and understandable. They include video links and most of their videos are just as clear - they have hired some decent instructors.

The real shining, aspect of the book is how the practice tests are formatted. They clearly outline how many questions will be on the test and how much time you have, allowing you to "dry run" the test. Their answer key not only gives you the correct answer but also an explanation - this saves you from having to flip all the way back to the material to find the reason you missed a question - you are learning every time you use the book. Mometrix really thought it through.

They include 3 practice tests in the book with 2 more available online (these I didn't use myself). This is important since the TEAS Test is different every time, you need to be exposed to as many different questions as possible. In fact, several of the questions from the book appeared word-for-word on the test and most of them were the same types of questions.

My science and math scores were pathetic when I started and got better after just a few hours. I tested myself to make sure I wasn't just memorizing the answers to the tests - nope, I was learning more and more every time I studied. The book works - they got the formula down.

They combine EXCELLENT TEACHING with proper TEST PREPARATION - you will not be blind going into the TEAS Test. You will know exactly how to tackle it. The TEAS Test is a beast, however. So, the book is NOT PERFECT. But, it does prepare you extremely well and it still worth 5 stars in my opinion.

That is the end of the long version of my review. I thought I might also share some ADVICE on the TEAS Test itself:

ADVICE ON THE TEAS TEST

The Reading Section is not too difficult at all - the book prepares you very well for this section. Take your time, READ EVERYTHING. The biggest challenge is that it is tedious. But, these are EASY POINTS. So, STUDY WELL for the Reading but if it isn't your weakness, you can afford to spend more time on others.

The Math Section is not very difficult at all - the book might even over prepare you for it. There is plenty of time to double check your work and these can be EASY POINTS. In my experience, math is one of my weaknesses and my highest score was math - go figure. Despite this, if math is your weakness, STUDY HARD. Since there are only 36 questions, a missed answer costs you a lot more.

The Science Section was BRUTAL - which is saying a lot because anatomy is my strength. The reason why is because there are SO MANY different things they could ask you and every question is random and not connected to each other - its a complete random grab bag.The book prepares you AS BEST IT CAN and the things it does teach, you will remember and understand well. STUDY HARD.

The Language Section is DECEIVING and SHOULD BE FOCUSED ON HEAVILY, even if Reading is your strength. Language and English usage is easily misunderstood and can be incredibly confusing. Many questions seem relative and opinionated but there are rules to English just as precise as Math - but, again, they are easily misunderstood. It is also deceiving since there are only 28 questions - this makes errors more costly and they are NOT easy points.

This book not only teaches well but it lets you know what to expect - after going through it, you'll have a decent idea of how you will do (although the Science is a wild card). If Reading is NOT your weakness, I would suggest studying for Language, then Science, then Math, and then Reading. Read one section, or part of one section, then take that section's part of the first practice test. Next day, read more, then take the second test (this will ensure that you're not just memorizing test answers). Then, finish the section and take the third test. Start a new section and repeat while taking all the sections you have in the past. Anytime you answer a question you're not 100% sure about, mark it and read the explanation whether you got it or not. By the end of it, you'll be very well prepared for the actual test.

This was long but I hope it was helpful. Good luck!
TEAS Study Guide – Blazek
This product in its entirety really help me get the understanding I needed to achieve my goal in passing the Teas test. I've taken the test only once before and wish I had this book then. Thank you for the easy break down of study material and can't wait to give you the passing results. I'm more confident than I was the first time and feel better prepared. I recommend this book to anyone needing to pass the teas test to get into your nursing program. There are also some good reviews from nursing students on you tube about this study guide. Good luck everyone.
TEAS Study Guide – Short
This study material meets my needs. I really appreciate how it is very well organized with sections with "key ideas" and detailed answer explanations, along with including three ATI TEAS Practice Test. I truly appreciate the comprehensive list of topics included in this amazing book! Thank you very much, Mometrix!
TEAS Study Guide – Customer
This book is amazing, the materials are very easy to follow and instructions on how to take the exam are very helpful. I currently have two jobs so being able to have something that is easy to follow and explain concepts clearly, perfectly fit my needs. I am slowly building more confidence the more I read and solve practice questions in this book. I have already recommended this book to a friend and I hope she finds it just as useful as I have.
TEAS Study Guide – Augustine