Becoming a doctor is an extremely rewarding accomplishment, but the process of being admitted to medical school can be challenging. There are certain requirements that you must meet in order to be admitted into the medical school of your choosing, including certain MCAT scores, a certain GPA, required courses, health care experience and more.
Although it won't be easy, attending medical school is certainly a worthy pursuit that can be achieved with the right combination of interest in the field, proper planning, and willingness to work hard.
We've contacted 10 experts in medical school admissions to give their advice on the best practices that students should consider when applying to medical school:
How to get into Med School:
1. Understand your "why" for wanting to attend medical school.
"Be crystal clear about what you really want from this career–to simply get well-paid? Or it is where your true passion stays? That makes a huge difference." –Qi Chen M.D., Ph.D. – Assistant Professor of Physiology and Cell Biology-University of Nevada, Reno School of Medicine
"Look in the mirror and thoughtfully consider if the life of a physician is really for you. Are you prepared to always place the patient first – before family, friends, money, etc? Do you really like people and helping/serving them?"
-Stephen Schimpff MD – Semi Retired Professor of Medicine, Former Academic Hospital CEO and Author of Fixing The Primary Care Crisis – Reclaiming the Doctor Patient Relationship and Returning Decision-making to You and Your Doctor

2. Build strong relationships with your professors and fellow students.
"Develop relationships early on in your undergraduate school. This enables these people to write you far superior letters to support your application. If you just ask your senior English professor, who only knows you from your essays, the letter isn't going to say much. You need to give your letter writers the tools to write an excellent letter for you.
Make friends and keep them. Have some fun now and then. Medicine is a consuming profession, believe me, and having good friendships to get you through the application process are crucial. They are even more crucial in medical school itself and then afterwards in residency. No one makes it through this alone." -Paul J. Chestovich, MD – Assistant Professor of Surgery-University of Nevada, Reno School of Medicine
3. Look into programs that offer assistance with the med school application process.
"Prepare not to be accepted into med school, and consider alternate routes for admission. There are programs that help students better prepare for med school admission, but they vary. Some make no promise of a conditional acceptance, and merely offer an interview for medical school (and accept just a few). Others have a good reputation for placement into programs nationwide, but again offer no guarantees. A comprehensive list can be found here." -C. Garrison Fathman, MD – Professor of Medicine-Immunology and Rheumatology – Stanford University School of Medicine
4. Maintain an attitude of humility and passion for the field.
"You must be passionate and totally committed to medicine as you will be continuously challenged. It won't be easy. You must care about others above all things and always be willing to sacrifice self interests for them. [Finally], you must always have a humble heart regardless of your success." -Deborah C. German, M.D. – Vice President for Medical Affairs and Dean, University of Central Florida College of Medicine
"Don't be arrogant. A little modesty goes a very long way, especially in medicine. Recognize that you are requesting entry into a hallowed profession of which none of us are really worthy. Recognize that you have much to learn, as do we all." -Paul J. Chestovich, MD – Assistant Professor of Surgery-University of Nevada, Reno School of Medicine
5. Invest your time into several extracurriculars and practice leadership.
"Don't just check boxes with limited activities in areas you think medical schools want to see. We recognize box checkers. e.g. 50 hours of research –check; 20 hours of shadowing – check; 20 hours of volunteering at a hospital – check; 40 hours as a leader in my frat – check; etc. Nothing meaningful enough to be an enduring commitment of your time." -Gary LeRoy, M.D – Associate Dean, Wright State University Boonshoft School of Medicine
"Get involved in extracurriculars, but not too many. Pick a small handful of organizations to be involved with in college or in the community. Ideally at least one will allow you to exhibit some leadership skills. It is better to have a small number of activities which you were highly involved in rather than many of them where you are just a member."-Paul J. Chestovich, MD – Assistant Professor of Surgery-University of Nevada, Reno School of Medicine
6. Know the admission requirements for your program(s) of choice.
"[Medical schools] look for stellar academic achievement in college, high MCAT scores, quality clinical experiences with patients, leadership qualities, community service, and if interested, research experiences. Our 2016 Freshman Entering Class had an average undergraduate GPA of 3.72 with an average MCAT of 510."  -James J. Rosso – Admissions Adviser, The State University of New York, University at Buffalo, UB Jacobs Medical School
"Find/buy a copy of the AAMC Medical School Admissions Requirements book. This book has a 2-page description of each AAMC (American Association of Medical Colleges) Medical School which contains information about their educational goals, resources available, student life, and requirements for admission. Your premedical advisor may have a copy of this book for you to borrow or you may order it online through a source like Amazon.com." -The Office of Admissions – The University of Chicago Pritzker School of Medicine
7. Collect information from your school's pre-med advisor and the websites of your schools of interest.
"Make contact with the premedical advisor on your campus. He/she has a wealth of information about various medical schools and can often put you in touch with an 'alumni network' of graduates from your college who are now in medical school and have offered to speak to you about their experiences.
Visit the websites of the individual schools in which you are interested. There should be a section for "prospective" students, but check out the "current" student sections as well (if able to—some are password protected) to gain a sense of the activities and interests of their current students." -The Office of Admissions – The University of Chicago Pritzker School of Medicine
"Review the program's website, mission statement, and values. Look at their curriculum. Visit the school and request ahead of time to tour the medical campus."  -Danielle L. Thomas, M.Ed. – Assistant Director Office of Admissions & Medical Honors Program University of Florida | College of Medicine
8. Pick an undergraduate major that you really enjoy.
"Pick a major you truly enjoy and do well at it. If you love accounting, major in accounting. If you love music, major in music. If you love biology, major in biology. Definitely do NOT major in something just because it "prepares" you for medical school. If you enjoy it, you are more likely to be passionate about it. Get great grades in said field of study." -Paul J. Chestovich, MD – Assistant Professor of Surgery-University of Nevada, Reno School of Medicine
9. Utilize MCAT preparation materials.
"As admission is becoming more competitive, more applicants are participating in test prep courses. Those that don't can be at a significant disadvantage. The MCAT is one of the most popular ways for schools to screen applicants. Scores below a certain threshold are less likely to receive an interview." -Jared Heathman, MD – Houston Psychiatrist-Your Family Psychiatrist, PLLC
"Ace the MCAT. Your best bet is to take it one time and do well. Don't take it once as "practice" or other nonsense. Get study materials, prepare well in advance, take a review course – whatever you need to do. It is the only way the admission committees can compare apples to apples, since grading standards and fields of study vary." -Paul J. Chestovich, MD – Assistant Professor of Surgery-University of Nevada, Reno School of Medicine
Check out the Mometrix MCAT Secrets Study Guide (available in printed or ebook format).
10. Stay out of trouble.
"Nothing kills an otherwise good medical school application like having to explain an arrest. [There are] too many qualified applicants for them to waste a spot on someone with a questionable record, even if it was an isolated incident." -Paul J. Chestovich, MD – Assistant Professor of Surgery-University of Nevada, Reno School of Medicine
Becoming a doctor is not for the faint of heart, but we believe that you can do it so long as you're willing to put forth the necessary time, energy, and research. We hope this resource will serve as a helpful starting point as you work towards getting accepted into medical school. You can do this!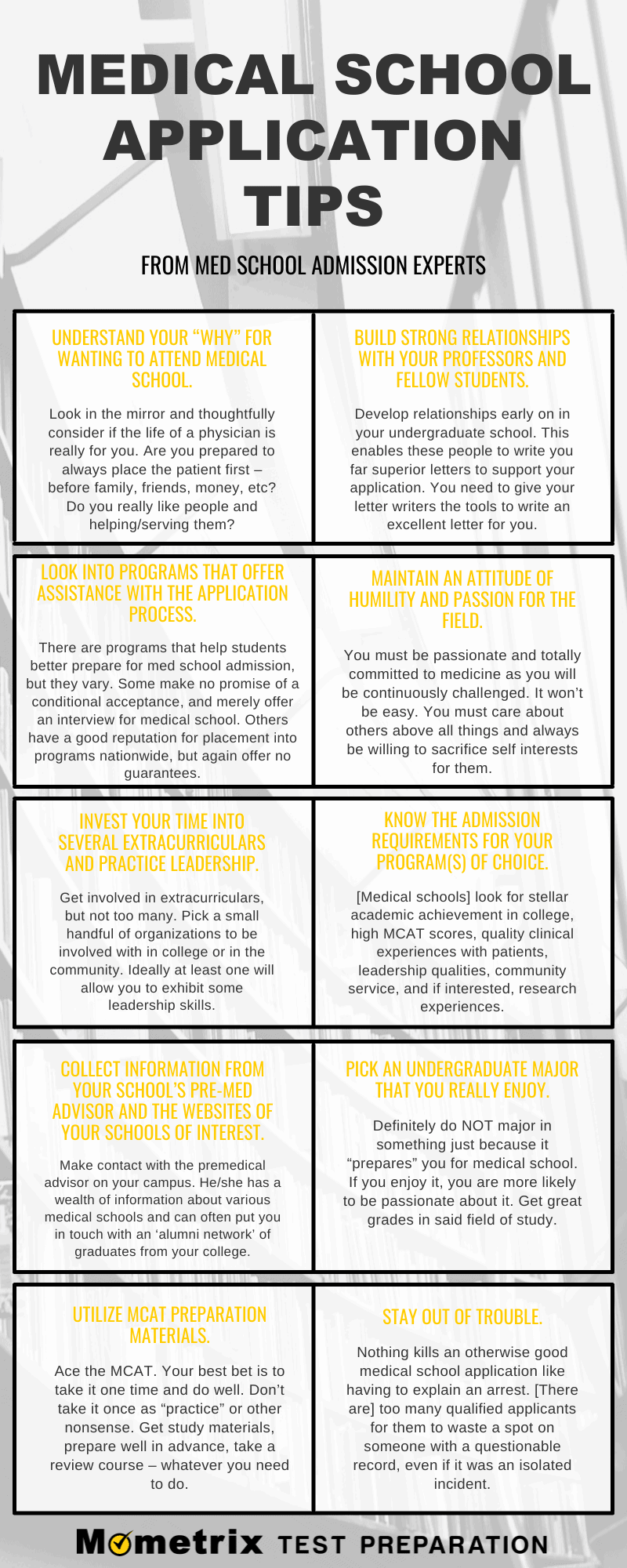 Editor's Note: This post was originally published in October 2016, but it has been updated for improved clarity and relevancy.