MCAT Test
The MCAT is an extremely rigorous and comprehensive exam measuring a candidate's understanding and skill across the core scientific subjects that form the foundation of medical knowledge and practice. It is required as part of your application to medical school across the United States and Canada.
MCAT Practice Questions
MCAT Prep Course
Check out Mometrix's MCAT Study Guide
Get practice questions, video tutorials, and detailed study lessons
Get Your Study Guide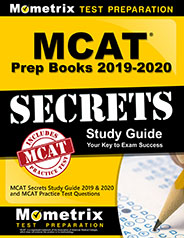 FAQs
What Do I Need for Registration?
There are 15 possible exam dates available throughout the year and testing centers are located across the United States and Canada. Anyone can register as there is no eligibility criteria. However, this is typically an exam you take after completing undergraduate studies. Much of the material covered includes things you would learn in your first few years of college.
You need to register as early as possible to ensure that you get the date you want because seats fill up quickly. You also need to make sure that you have everything you need to register on hand before you begin because if you delay during the process, your reservation will be deleted. So, before you begin registering, make sure you have the following:
Your government-issued ID that you plan to bring on exam day.
Your Visa or Mastercard that you will pay the fee with.
A list of three possible exam dates in order of your preference.
A list of three possible exam locations in order of your preference.
With this ready, you will be able to complete the registration process quickly without losing your reservation.
The registration fee is $315. However, the Association of American Medical Colleges (AAMC) does offer financial assistance for candidates who can provide proof that the fee is too much of a financial burden.
What Subjects Are Covered on the MCAT?
The MCAT is divided into four sections, each covering different foundational concepts and skills that you will need in order to succeed in medical school. The sections are as follows:
Biological and Biochemical Foundations of Living Systems
Chemical and Physical Foundations of Biological Systems
Psychological, Social, and Biological Foundations of Behavior
Critical Analysis and Reasoning Skills
Each of the first three sections measures a combination of your depth of knowledge about the subject and your analytical and research skills as they apply to that subject. The final section is strictly a measure of your critical analysis and reasoning skills in the form of reading comprehension.
What Will I Need on Test Day?
The total length of time to complete all sections of the MCAT is seven and a half hours. That includes a 30-minute break to eat. You must take all sections in one sitting and if you need to retake the test, you will have to retake all sections again.
The test is administered via computer and an onscreen calculator will be provided when necessary so do not bring your own.
The day before the exam, make sure to double-check your appointment and the location. All tests begin promptly at 8 A.M. You should arrive 30 minutes before this in order to check in and familiarize yourself with the testing center. Bring the following things with you:
A valid government issued ID.
A high protein snack (or small meal) for your 30-minute break.
A light sweater that you can easily put on and take off as needed.
How Is the MCAT Scored?
You will receive your scores about four weeks after you take the test. The exact date the scores will be released will be provided when you register for your exam. Your overall score for the entire MCAT will range between 472 and 528, with the average score being about 500.
While there is no minimum score required, the better you do, the better your chances of getting into the medical school you want. With that said, you should aim for a score of at least 510 in order to remain competitive.
However, you should do your own research to find out what the average MCAT score is for applicants accepted to the program you are applying for. Make this your personal target score. If you do not get the score that you were hoping for, you can retake the test. There is no set waiting period, but you do need to wait 48 hours after taking the test to schedule your next attempt.
How Should I Prepare for the MCAT?
The MCAT is a particularly intensive exam and since it takes over seven hours, you definitely do not want to do it more than once. That means it is especially important to be as prepared as possible come test day.
It also means that you probably won't want to take full length practice exams before the test. It's like training for a marathon, you don't actually want to run the full length of a marathon in preparation for it. Instead, you'll want to take practice tests of each individual section.
This way, you can get a good measure of your command of the material without exhausting yourself with repeated 7-hour practice sessions. Instead of practice exams, you should spend most of your time reviewing the foundational concepts and ideas included on the test, most of which you should have learned in your undergraduate courses.
To help you optimize your study sessions, you should work with a comprehensive study guide like the Mometrix study guide. It includes a thorough review of the core concepts and vocabulary you will need to be familiar with. It also provides insightful tips for making educated guesses on questions you don't know by using certain context clues and hints in the phrasing of the question and its possible answers.
For even better results, combine the study guide with a set of Mometrix flashcards. These flashcards were designed by experts who have done the research and honed in on the most important concepts and terms for the test. This way, you aren't wasting precious study hours writing up hundreds of flashcards or making flashcards for things that you might not even need to know.
Check out Mometrix's MCAT Flashcards
Get complex subjects broken down into easily understandable concepts
Get Your Flashcards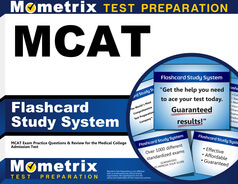 MCAT Study Guide
Mometrix Academy is a completely free MCAT review resource provided by Mometrix Test Preparation. If you find benefit from our efforts here, check out our premium quality MCAT study guide to take your studying to the next level. Just click the MCAT study guide link below. Your purchase also helps us make even more great, free content for test-takers.
*MCAT is a registered trademark of the Association of American Medical Colleges, which does not endorse Mometrix Academy or our methodology.
MCAT Study Guide Customer Success Stories
Our customers love the tutorial videos from Mometrix Academy that we have incorporated into our MCAT study guide. The MCAT study guide reviews below are examples of customer experiences.
I found this book to be useful and instructive in my studying for the MCAT. Thank you for putting together such a great learning tool!
MCAT Study Guide – Eva
This MCAT prep book has exceptional quality! Pages are crisp and clean which make a very nice writing surface! The book provides review questions and test secrets to help you during the actual exam!
MCAT Study Guide – Gavin
The size of this book can be scary, but don't be fooled! It's a well structured book, touches all the important points for the exam, has tests and strategies.
MCAT Study Guide – Tonny
This book is absolutely amazing. It has everything and anything you need help on to study for the MCAT. Everything is very well written out and explain thoroughly.
MCAT Study Guide – Customer
I'm very excited and well pleased with the study guide. It contain absolutely all the resources for an excellent preparation. I recommend this book and Mometrix product always.
MCAT Study Guide – Sade
This book is an extremely good guide and summary of everything that is needed to look over before the MCAT exam!
MCAT Study Guide – Shannon
I am very happy with the affordable price and tools located inside the book!
MCAT Study Guide – Customer
Very helpful guide. Really pinpoints areas of interest on MCAT exams and makes you feel well prepared.
MCAT Study Guide – Customer