Trying to figure out when to take the MCAT? Choosing the right test date and giving yourself enough time to prepare are extremely important steps in your medical college admissions process! Here are the MCAT test dates for 2023:
| MCAT Test Date | Registration Deadline |
| --- | --- |
| July 28, 2023 | Aug 29, 2023 |
| Aug 4, 2023 | Sept 6, 2023 |
| Aug 19, 2023 | Sept 19, 2023 |
| Aug 25, 2023 | Sept 26, 2023 |
| Aug 26, 2023 | Sept 26, 2023 |
| Aug 31, 2023 | Oct 3, 2023 |
| Sept 1, 2023 | Oct 3, 2023 |
| Sept 8, 2023 | Oct 13, 2023 |
| Sept 9, 2023 | Oct 13, 2023 |
Check Out Mometrix's MCAT Study Guide
Get practice questions, video tutorials, and detailed study lessons
Get Your Study Guide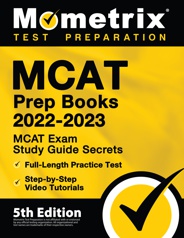 When Should I Register for the MCAT?
Although you have many opportunities to take the MCAT, you should not wait until the last minute to register.
Many factors go into deciding when to take your MCAT, some of which include:
Will you want to re-take the exam? Taking the MCAT earlier in the year gives you the option of retaking it at a later date if you get a score that you're not satisfied with.
When will you be attending medical school? Many examinees choose to schedule the exam the same year they apply to medical school.
Do you feel confident in your knowledge of the material? The MCAT tests you on a broad range of subjects including:

Psychology
Sociology
Biology
General and Organic Chemistry
First-semester Biochemistry
Many students choose to take the MCAT during the summer so that they can spend the upcoming school year focusing on course work. Taking the MCAT during the summer months gives students the opportunity to dedicate their time to studying for the exam.
For those wanting to go straight to medical school after they graduate college, they will need to take the MCAT May of their junior year so that they can submit their application in June. If you want to attend medical school with one year in between, you will need to take your MCAT May of your senior year, and then submit your application in June.
Taking the MCAT the summer after you graduate would mean two years between college and medical school. If this option works for you, then you will need to submit your application in June after you graduate college.
Check Out Mometrix's MCAT Flashcards
Get complex subjects broken down into easily understandable concepts
Get Your Flashcards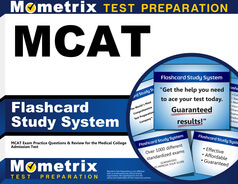 MCAT Test Preparation
Now that you have a complete list of 2023 MCAT exam test dates, and a good understanding of when to register for the exam, what comes next? Preparation! The most reliable means of ensuring you succeed on the MCAT exam is to carefully prepare using the most comprehensive test preparation materials on the market. Mometrix Test Preparation has everything you'll need in the complete MCAT Secrets study guide. The MCAT Secrets study guide includes authentic MCAT exam material, as well as expert tips designed to help you remember information, reduce test-day anxiety, and get the MCAT exam scores you need on your first attempt.
Along with the MCAT Secrets study guide, Mometrix Test Preparation also offers step-by-step tutorial videos, a comprehensive MCAT Practice Test, and a complete set of MCAT Exam Flashcards.
Remember, the better your MCAT scores, the better your likelihood of getting into the college or university of your choice. Plan ahead and let Mometrix Test Preparation help you prepare for your MCAT exam.