This is where your success begins.  We've taken all of our products, from study guides to practice tests, and placed them in online test prep courses for you.  Now students with every learning style, schedule, and need can have access to the resources that help them the most.  Log in (or register) and read through the lessons, take comprehension quizzes, watch video lessons, and track your progress.  Then, get our free app and pick up where you left off.  Mometrix University is the the prep that empowers.  
Lessons
Every lesson is packed full of only the information you need to know.  We know time is precious, so we don't want to waste yours.  As you take lessons, you will encounter video reviews to help you understand especially difficult concepts, get quizzed to ensure you are understanding, and have access to the audio version of the lesson, so you can listen while you do other things.
Practice Tests
Scientific research has shown a direct link between number of practice questions done and test performance.  We did not want to skimp on giving you what might be vital to your test prep.  That is why every Mometrix University course has eight full length practice tests, consisting of thousands of practice questions.  When we say Mometrix provides test prep that empowers, we mean it.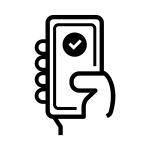 Mobile 
Sure, it is all well and good to have online studying, but most people use their smart phones for the majority of their online activity, so study resources should be tailored to people who live lives on the go.  We ensured that Mometrix University works just as well on a phone as it does on a laptop.  We even created a free app (available on iOS and Android devices), so you can read through lessons without internet access.  
Sign Up
Mometrix University offers study courses that will help you get the passing score that you're looking for. Click below to get more information on taking the courses available now. More courses such as the NCE, NCLEX, and HESI A2 will be available for students soon! For printed study guides, flashcards, or practice tests, visit this page.