The HESI A2 test will gauge students' academic readiness. The test will measure three different academic abilities; English Language, Math, and Science; however, these are not the only sections on the HESI Entrance Exam. There is also a Learner Profile portion which the test-makers use to improve the test in the future; in addition to, providing the nursing program information about the test taker's personality.
The HESI A2 test will include not only scored questions but also some pilot questions. Pilot questions are questions designed to improve the HESI Entrance Exam.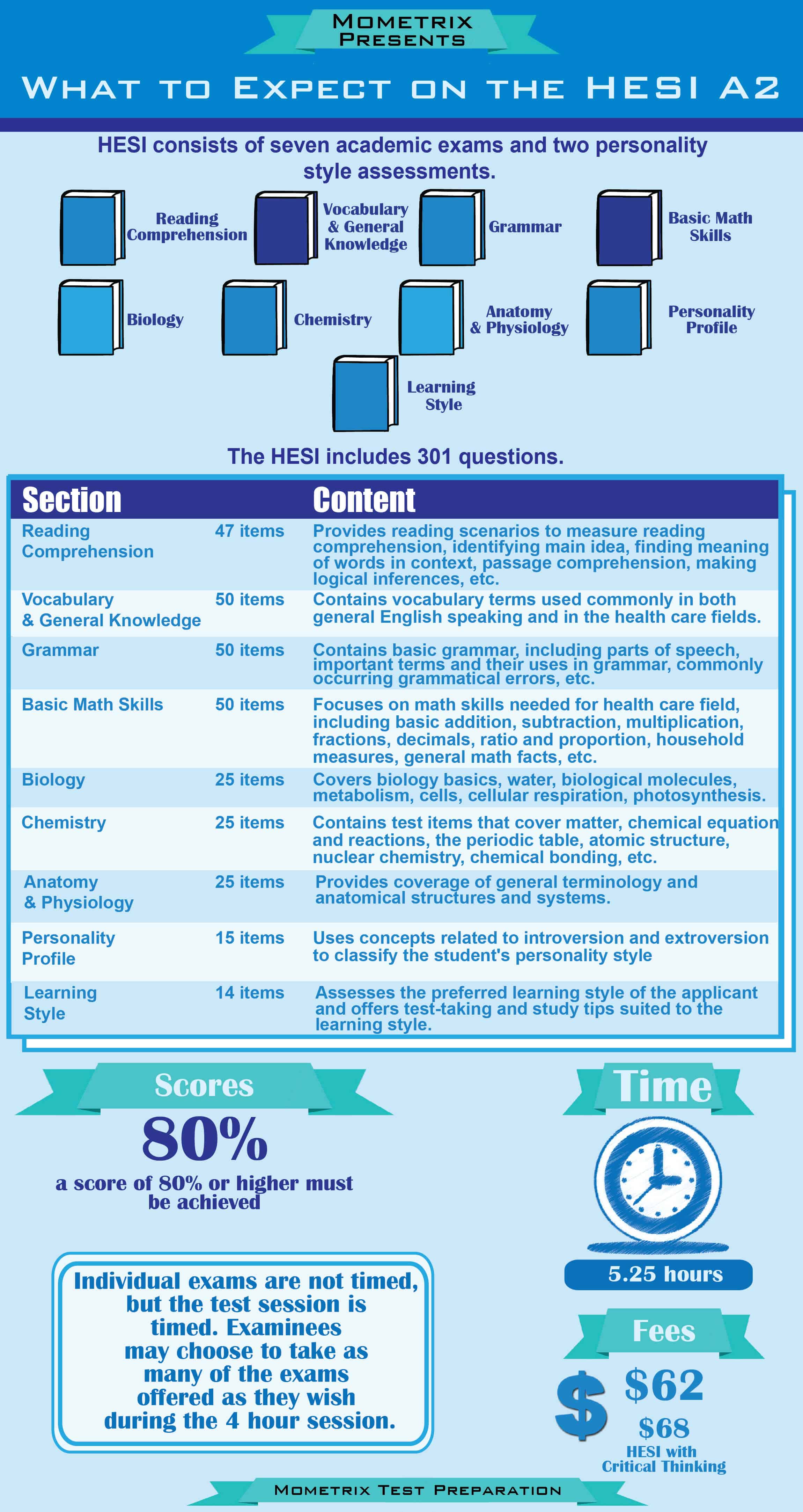 What to Expect on the HESI A2
The HESI A2 includes 301 questions within the 9 content areas and it timed for 5.25 hours.
Reading Comprehension
This section contains 47 questions. Provides reading scenarios to measure: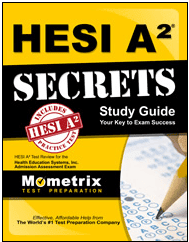 • reading comprehension
• identifying main ideas
• finding meaning of words in context
• passage comprehension
• making logical inferences
Vocabulary and General Knowledge
This section has a total of 50 questions and contains vocabulary terms that are used commonly in both general English speaking and in health care fields.
Grammar
The Grammar section contains 50 questions and contains basic grammar, including:
• parts of speech
• important terms and their uses in grammar
• commonly occurring grammatical errors
HESI English Practice Questions
Basic Math Skills
This section consists of 50 questions. It focuses on math skills needed for the healthcare field including:
• basic addition
• subtraction
• multiplication
• fractions
• decimals
• ratio and proportion
• household measures
• general math facts
Biology
The Biology section covers 25 questions that include: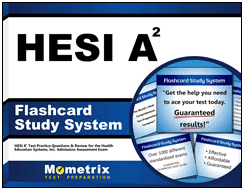 • biology basics
• water
• biological molecules
• metabolism
• cells
• cellular respiration
• photosynthesis
Anatomy and Physiology
This section has a total of 25 questions and includes the coverage of general terminology and anatomical structures and systems.
HESI A2 Anatomy and Physiology Practice Test
HESI A2 Anatomy and Physiology Review
Personality Profile
This section has 15 questions and it uses concepts related to the introversion and extroversion to classify the student's personality style.
Learning Style
The Learning Style section has 14 questions that assess the preferred learning style of the applicant and offers test-taking and study tips suited to the learning style.
HESI A2 Scores
To be considered as passing for the HESI A2 exam, the test-taker must achieve a score of 80% or higher.
Individual exams are not time, but the test session is timed. Examinees may choose to take as many of the exams offered as they wish during the 4-hour session.
HESI A2 Exam Fees
To take the HESI A2 exam, the test-taker must pay $62 when registering for the exam. If the test-taker wishes to also take the Critical Thinking portion of the exam, the total cost to take the exam is $68.