The College Board offers Accuplacer as a way to determine the skills of an incoming student. The test helps place students where they are most likely to thrive in their academic pursuits. It meets the assessment needs of community colleges, four-year colleges, technical schools, and high schools.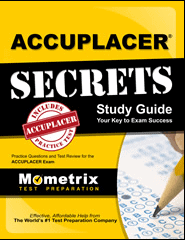 Accuplacer may determine whether a student goes directly into a college-level course or a remedial class. Preparation for the exam can help assure proper placement of students. The test can also establish a benchmark for a program, assess incoming high school students, and determine the needs of displaced workers. It can also play a role in an orientation program serving geographically-separated students.
The Accuplacer math section tests high school arithmetic and algebra and college-level math.  For your convenience, we have compiled several ACCUPLACER math videos for you to study all at once.